Development of Video Media in Prevention of Complications for Patients Undergoing Hernia Surgery
Keywords:
Development, Video media, Prevention of complications, Hernia surgery
Abstract
Inguinal hernia surgery is a common surgical procedure. The surgery can help patients live a normal life, but it may also cause complications. Therefore, knowledge about the prevention of complications for patients undergoing hernia surgery is vital. The purpose of this developmental research study was to develop video media for the prevention of complications for patients undergoing hernia surgery. The study participants were 42 patients diagnosed with an inguinal hernia who underwent hernia surgery. The study was conducted from March to October 2019. Research instruments included a development and design plan for the video media, a video media user opinion questionnaire, a demographic data questionnaire, a knowledge test on the prevention of complications of patients undergoing hernia surgery, and a video media satisfaction survey, all of which were validated by six content experts and three media experts. The content validity index of the knowledge test and the video media satisfaction questionnaire were .72 and .96, respectively. The efficiency of the video media was tested using one-to-one, small group, and field-based video media tests. Data were analyzed using descriptive statistics.
            The research findings revealed that the video media has an efficiency of 1.27, achieving Meguigans's standard criteria of 1.00. The user satisfaction of the video media was rated at the highest range for content, (mean 4.27-4.63), content design and presentation (mean 4.47-4.73), and usability (mean 4.67-4.70)
            The results of this study indicated that the video media developed for this study was effective in providing knowledge to assist in preventing complications in patients undergone hernia surgery.
Downloads
Download data is not yet available.
References
Alessi, S. M., & Trollip, S. R. (1991). Computer based instruction: Methods and development (2nd ed.). New Jersey: Prentice Hall.
Alobaidy, K. A. A., & Hussein, M. T. H. (2017). Significant factors influencing wound infection after inguinal hernia surgery. International Journal of Advanced Research in Biological Sciences, 4(10), 44-50.
Bouras, G., Burns, E. M., Howell, A. M., Bottle, A., Athanasiou, T., & Darzi, A. (2017). Linked hospital and primary care database analysis of the impact of short-term complications on recurrence in laparoscopic inguinal hernia repair. Hernia, 21(2), 191-198.
Brooks, D. C. (2014). Overview of complications of inguinal and femoral hernia repair. Up to Date, 36.
Chanmeesri, S. (2008). Information needed and received in perioperative patients (Master 's thesis). Prince of Songkhla University, Thailand. (in Thai)
Fitzgibbons, R. J., & Forse, R. A. (2015). Groin hernias in adults. New England Journal of Medicine, 372(8), 756-763.
Jungpanich, A. & Srisailaun, O. (2015). Effects of using daily care plan video teaching on clinical self-confidence and satisfaction of nursing students, Kuakarun Faculty of Nursing, Navamindradhiraj University. Kuakarun Jornal of Nursing, 22(1), 17-34. (in Thai)
Kamnon, K., Unahalekhaka, A., & Kasatpibai, N. (2012). Development of video media for prevention of tuberculosis transmission of newly diagnosed pulmonary tuberculosis patients. Nursing Journal, 39(2), 101-115. (in Thai)
Keifi, S., Shahriari, M., Baghersad, Z., Sheibani-Tehrani, D., & Rejalian, F. (2016). Effects of patient education program on the quality of nursing care and inpatient satisfaction in surgical wards of selected hospitals in Isfahan, Iran. Hospital Practices and Research, 1(4), 129-134.
Ketphak, N., Picheansathian, W., & Klunklin, A. (2011). Effects of information provision using video media on patients' knowledge and practices in prevention of nosocomial infection. Nursing Journal, 38(3), 98-109. (in Thai)
Kitsripisarn, S., & Peepratoom, B. (2012). Perceptions and needs for necessary knowledge about self care among patients with one day cataract surgery and caregivers. Thai Science and Technology Journal. 20(5), 437-448. (in Thai)
Laohavich, C., Choothakan, S. & Tiparaj, B. (2017). Effect of educational information with video compact disc on anxiety level of patients undergoing bronchoscopy. Ramathibodi Nursing Journal, 23(2), 195-207. (in Thai)
Limapongpas, B., Kokilanan, k., Thitipaisan, N., Sirisakulveroj, M., Yamsopee, W., Waipurintha, N., ... & Prasitthisuksom, A. (2015). Effects of preoperative instruction using multimedia in patients receiving spinal anesthesia. Journal of Health Science Research, 9(1), 2-7. (in Thai)
Lockey, J., & Hassan, M.-U. (2009). Holistic approach to pre-operative assessment for cataract patients. British Journal of Nursing, 18(5), 323-327.
Olsson, A., Sandblom, G., Fränneby, U., Sondén, A., Gunnarsson, U., & Dahlstrand, U. (2017). Impact of postoperative complications on the risk for chronic groin pain after open inguinal hernia repair. Surgery, 161(2), 509-516.
Phondee, N. (2018). Development of video media for preventing infections in cancer patients (Master's thesis). Graduate School, Chiang Mai University, Thailand. (in Thai)
Polkaew, J. & Rodpal, J, (2015). A Result of preparation program of knee replacement surgery to an anxiety of the elderly patients with knee osteoarthritis. Journal of Preventive Medicine Association of Thailand. 7(3), 251-261. (in Thai)
Seyedin, H., Goharinezhad, S., Vatankhah, S., & Azmal, M. (2015). Patient education process in teaching hospitals of Tehran University of Medical Sciences. Medical journal of the Islamic Republic of Iran, 29, 220.
Simons, M. P., Aufenacker, T. J., Berrevoet, F., Bingener, J., Bisgaard, T., Bittner, R., ... & Chowbey, P. K. (2017). World guidelines for groin hernia management.
Thammasorn, O., Karakate, C. & Keawsa, S, (2017). Effect of preparatory pre-operative coronary angiograph with chiangkham one stop service – two day care program on the knowledge, anxiety, satisfaction and cost of service in valvular hearth disease patient undergoing the anticoagulant drug. Journal of Health Science. 26(6), 1093-1102.
Townsend, C. M., Beauchamp, R. D., Evers, B. M., & Mattox, K. L. (2016). Textbook of Surgery E-Book: The Biological Basis of Modern Surgical Practice. Elsevier Health Sciences.
Viseskul, N. (2019). Development of media in nursing: Concepts and applications. Chiang Mai: Chotana Print. (in Thai)
Weiser, T. G., Haynes, A. B., Molina, G., Lipsitz, S. R., Esquivel, M. M., Uribe-Leitz, T., ... & Gawande, A. A. (2016). Size and distribution of the global volume of surgery in 2012. Bulletin of the World Health Organization, 94(3), 201.
Weyhe, D., Tabriz, N., Sahlmann, B., & Uslar, V. N. (2017). Risk factors for perioperative complications in inguinal hernia repair–a systematic review. Innovative Surgical Sciences, 2(2), 47-52.
Wiseman, J.T., Fernandes-Taylor, S., Barnes, M.L., Saunders, R.S., Saha, S., Havlena, Jeffrey, . . . Kent, C. K. (2015). Predictors of surgical site infection after hospital discharge in patients undergoing major vascular surgery. Journal of vascular surgery, 62(4), 1023-1031. e1025.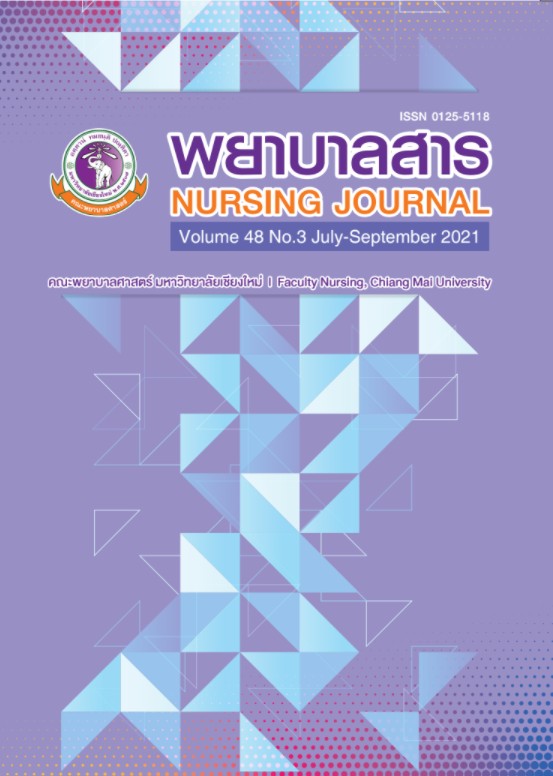 Downloads
License
บทความที่ได้รับการตีพิมพ์เป็นลิขสิทธิ์ของวารสารพยาบาลสาร
ข้อความที่ปรากฏในบทความแต่ละเรื่องในวารสารวิชาการเล่มนี้เป็นความคิดเห็นส่วนตัวของผู้เขียนแต่ละท่านไม่เกี่ยวข้องกับมหาวิทยาลัยเชียงใหม่ และคณาจารย์ท่านอื่นๆในมหาวิทยาลัยฯ แต่อย่างใด ความรับผิดชอบองค์ประกอบทั้งหมดของบทความแต่ละเรื่องเป็นของผู้เขียนแต่ละท่าน หากมีความผิดพลาดใด ๆ ผู้เขียนแต่ละท่านจะรับผิดชอบบทความของตนเองแต่ผู้เดียว