Thai Women with Intimate Partner Violence
Keywords:
Thai women, Intimate Partner Violence, Screening for violence, Role of nurses
Abstract
Currently, the problem of intimate partner violence among Thai women has been increasing every day. Most females have experienced some form of physical violence, sexual violence, emotional abuse, or threats. Furthermore, intimate partner violence affects women's physical and psychological state such that those who are abused by intimate partners suffer higher levels of mental health problems. The purpose of this article is to present the meaning of intimate partner violence, the types of violence, the cycle of violence, and the role of nursing. Nursing management of intimate partner violence includes screening and assessment for violence. Technology and digital interventions for intimate partner violence contribute to women's access to self-help resources.
Downloads
Download data is not yet available.
References
Alvarez, A., & Bachman, R. D. (2019). Violence: The enduring problem (3th ed.). London: SAGE.
Castle, D. J., & Abel, K. M. (2016). Comprehensive Women's Mental Health. London: Cambridge University Printing House.
Cavner, J. (2019). Recommendations for intimate partner violence screening and interventions. Women's Healthcare: A Clinical Journal for NP, 7(1), 44. Department of Women's Affairs and Family Development. (2020). Women and family situations. Retrieved from https://www.dwf.go.th
Department of Mental Health. (2020). New Normal. Retrieved fromhttps://www.dmh.go.th/news/view.asp?id=2288
Emezue, C. (2020). Digital or digitally delivered responses to domestic and intimate partner violence during COVID-19. JMIR Public Health and Surveillance, 6(3), e19831.
Emezue, C., & Bloom, T. L. (2021). PROTOCOL: Technology-based and digital interventions for intimate partner violence: A meta‐analysis and systematic review. Campbell Systematic Reviews, 17(1), e1132.
Franjic, S. (2020). Professionalism in Nursing. Saudi Journal of Nursing and Health Care, 3(9), 241-245.
Glass, N. E., Clough, A., Messing, J. T., Bloom, T., Brown, M. L., Eden, K. B., & Grace K. T. (2021). Longitudinal impact of the my Plan app on health and safety among college women experiencing partner violence. Journal of Interpersonal Violence. doi: 10.1177/0886260521991880
Gosangi, B., Park, H., Thomas, R., Gujrathi, R., Bay, C. P., Raja, A. S., & Orgill, D. P. (2021). Exacerbation of physical intimate partner violence during COVID-19 pandemic. Radiology, 298(1), E38-E45.
Gosselin, D. K. (2019). Family and intimate partner violence: Heavy hands (6thed.). Chennai: Pearson India Education Services.
Miller, E., & McCaw, B. (2019). Intimate partner violence. New England Journal of Medicine, 380(9), 850-857.
Peltzer, K., & Pengpid, S. (2017). Associations between intimate partner violence, depression, and suicidal behavior among women attending antenatal and general outpatient's hospital services in Thailand. Nigerian Journal of Clinical Practice, 20(7), 892-899.
Ricci, S. S. (2021). Essentials of maternity, Newborn, and women's health nursing (5thed.).Philadelphia: Wolters Kluwer.
Sanitphot, P. (2017). Battered woman syndrome. Journal of Criminology and Forensic Science, 3(2), 69-75. (in Thai)
Sripichyakan, K. (2015). Nursing care of women inflicted by family violence. Chiang Mai: Krongchang Printing. (in Thai)
Tubtha, P. (2015). Intimate partner violence against women in Mae Sot Municipal Tak Province (Unpublished dissertation). Chiang Mai University, Thailand. (in Thai)
Thananowan, N., & Vongsirimas, N. (2014). Association between intimate partner violence and women's mental health: Survey evidence from Thailand. Pacific Rim International Journal of Nursing Research, 18(1), 3-15.
The World Health Organization. (2021) Violence against women. Retrieved from www.who.int/reproductivehealth/topics/violence/en/
United Nations. (2018). Global, regional and national prevalence estimates for intimate partner violence. Retrieved from https://www.who.int/health-topics/violence-against-women.
Udmuangpia, T., Yu, M., & Bloom, T. (2020). Intimate partner violence screening intention instrument for Thai nursing students: A principal component analysis. Journal of Clinical Nursing, 29(23-24), 4748–4758. https://doi.org/10.1111/jocn.15515
Wollast, R., Riemer, A. R., Gervais, S. J., Grigoryan, L., Bernard, P., & Klein, O. (2021). How cultural orientation and self-compassion shape objectified body consciousness for women from America, Belgium, Russia, and Thailand. The Journal of the International Society for Self and Identity, 20(7), 930-950.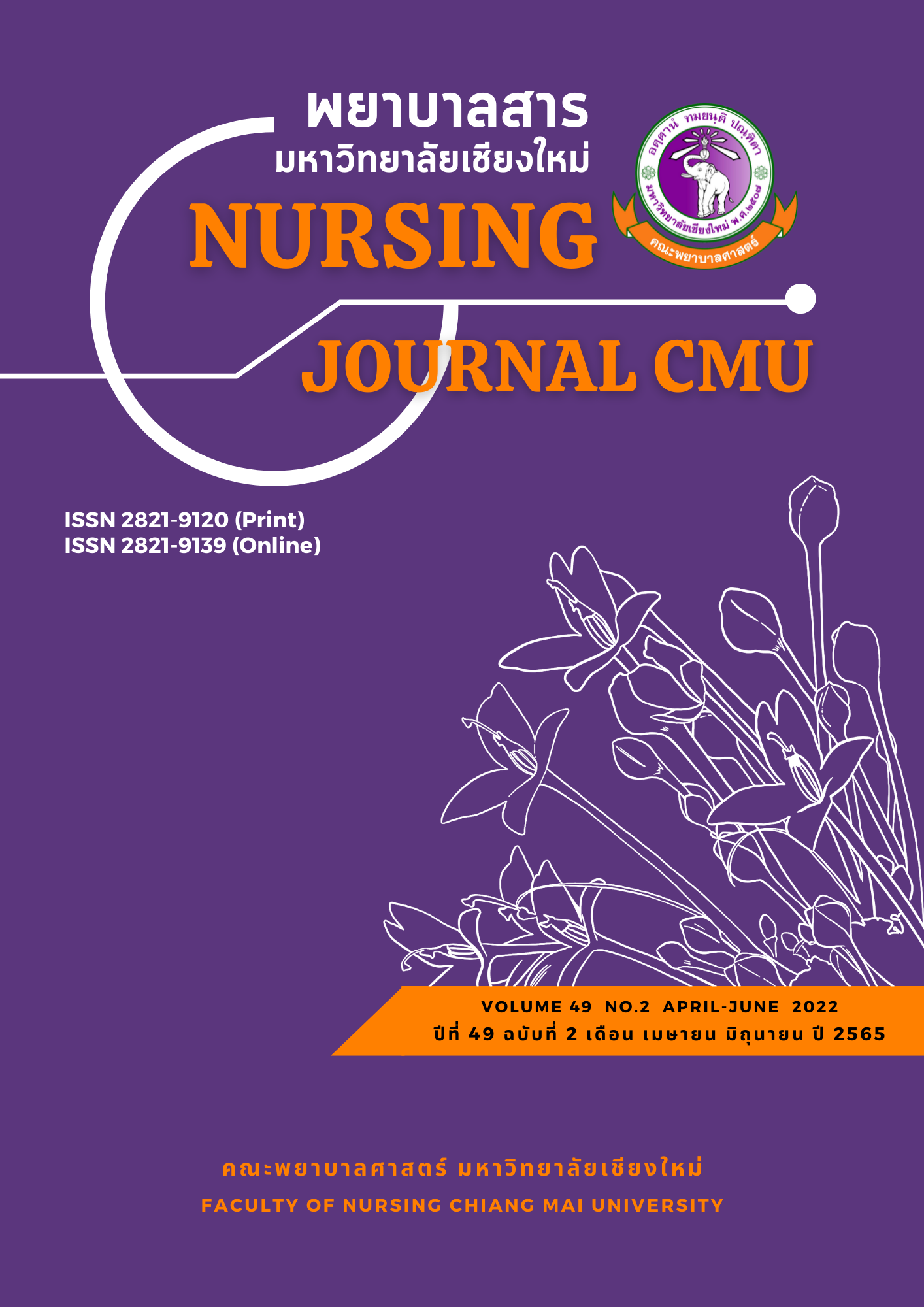 Downloads
License
Copyright (c) 2022 Nursing Journal
This work is licensed under a Creative Commons Attribution-NonCommercial-NoDerivatives 4.0 International License.
บทความที่ได้รับการตีพิมพ์เป็นลิขสิทธิ์ของวารสารพยาบาลสาร
ข้อความที่ปรากฏในบทความแต่ละเรื่องในวารสารวิชาการเล่มนี้เป็นความคิดเห็นส่วนตัวของผู้เขียนแต่ละท่านไม่เกี่ยวข้องกับมหาวิทยาลัยเชียงใหม่ และคณาจารย์ท่านอื่นๆในมหาวิทยาลัยฯ แต่อย่างใด ความรับผิดชอบองค์ประกอบทั้งหมดของบทความแต่ละเรื่องเป็นของผู้เขียนแต่ละท่าน หากมีความผิดพลาดใด ๆ ผู้เขียนแต่ละท่านจะรับผิดชอบบทความของตนเองแต่ผู้เดียว