The Development of an Intravenous Injection Arm Model
Keywords:
Development, Intravenous injection arm model, Nursing student, Practice
Abstract
Intravenous injection is one of the nursing activities that nursing students must practice on the unit. Therefore, the development of an intravenous injection arm model for practicing in the laboratory is important for helping enhance students' confidence and develop more skills to practice nursing activities. This was a research and development study which aimed to develop an intravenous injection arm model and to evaluate its quality. The study sample consisted of 133, 3rd year nursing students in the Bachelor of Nursing Program, along with 5 nursing instructors. The tools were an interview form for the opinions of nursing instructors and nursing students, and the quality assessment questionnaire. The content validity (CVI) of the tools was 0.95 and the Cronbach' s alpha coefficient was 0.97. Data were analyzed using descriptive statistics.
The results of the study revealed that the information that could be used to develop the model included the circulatory system, the size of the arm, and the blood system. Some problems and obstacles were that wooden materials were too hard, and wrapped rubber gloves were too lightweight and easily torn when moving. Therefore, the researchers developed the new intravenous injection arm model which was tried out and tested for quality. Overall, the quality of the new model was at a high level, and it was able to represent the external structure of a real arm (  = 4.35, SD = 0.66), with the proper proportions and colors (  = 4.25, SD = 0.51), and was easy to move (  = 4.12, SD = 0.67).
This results of the study suggested that this innovation can be used in nursing practice for enhancing the intravenous injection skills of nursing students.
Downloads
Download data is not yet available.
References
Bannaasan, B. (2017). Portable adult arm model for nursing students' venipuncture and peripheral intravenous cannulation practice. Thai Journal of Nursing Council, 32(3), 38-49.
Chawha, W. (1999). Teaching materials. Bangkok: Odeon Store.
Chamara, C., Busamongkul, P., Kosarat, P., & Paydee, S. (2019). Development of the innovation's model for injection into muscles of the thigh and blood collection at the heel of neonatal on the satisfaction among nursing students. Retrieved from https://nursemis2.ratchathani.ac.th/file_re/0jTvVcSWed43154.pdf
Chotiban, P., Nawsuwan, K., Nontaput, T., & Rotneam, J. (2013). Innovation of assisted models for practicing basic nursing skills. Princess of Naradhivas University Journal,5(3).1-12.
Choeychom, S., & Rungchiwattanakorn., D. (2015). The use of innovative arm puppets in the practice of intravenous fluid therapy of nursing students. Ramathibodi Nursing Journal, 21(3), 395-407.
Dale, E. (1969). Audio visual method in teaching (4 th ed.). New York: Holt Rinehart and Winston.
Duangrat, B., Yantarapakorn, A., JirasinTipok, T., Sayorwan, W., & Rattanawibolsuk, N. (2009).
Development of arm model to practice rubber suture skills. Journal of Public Health and Development, 7(1), 47-60.
Faculty of Nursing Chiang Mai University. (2018). Student handbook bachelor of nursing program academic year 2018. Chiang Mai: Author.
Kengthong, C., (2017). Documents for lectures on teaching materials. Bangkok: Institute for Technical Education Development.
Krejcie, R.V., & D.W. Morgan. (1970). Determining sample size for research activities. Educational and Psychological Measurement, 30 (3), 607-610.
Kunaviktikul, W. (2015). Teaching and learning in the discipline of nursing in the 21st century. Nursing Journal, 42(2), 152-156.
Ministry of Education. (1999). National education act B.E. Bangkok: Siamsport Syndicate Public.
Nonthapha, R. (2002). Documents for teaching media and teaching technology.
Bangkok. Department of Educational Technology. Lecture Documents Course 059400. Chiang Mai University.
Rumwang, N., Hamchayat, M., & Loeysak, B. (2011). The effects of using arm model and imitated blood vessel on the ability to perform venous puncture procedure in nursing students of Phrapokklao Nursing College, Chanthaburi. Retrieved from http://www.org.rbru.ac.th/~researchs/Proceeding/2554(no.05)_proceedings_full.pdf
Srisatidnarakul, B. (2004). The methodology in nursing research. Bangkok: U & I Intermedia.
Tunsiri, P., Prasertwang, S., Katikhan, R., Tripul., J., & Pinsakol, C. (2014). The effectiveness of the teaching techniques of injection by using a newly produced models. Retrieved from https://oldweb.western.ac.th/media/attachments/2018/03/02/2.pdf
Viseskul, N. (2019). Development of teaching-learning media in nursing: Concept and application. Chiang Mai: Chotana Print.
Yimyam, S., & Karnasuta, S. (2016). Developing a FON CMU breast model as a teaching. Nursing Journal, 40(4), 56-67.
Žižlavsk, O. (2013). Past, present and future of the innovation process. International Journal of Engineering Business Management, 5, 47. doi: 10.5772/56920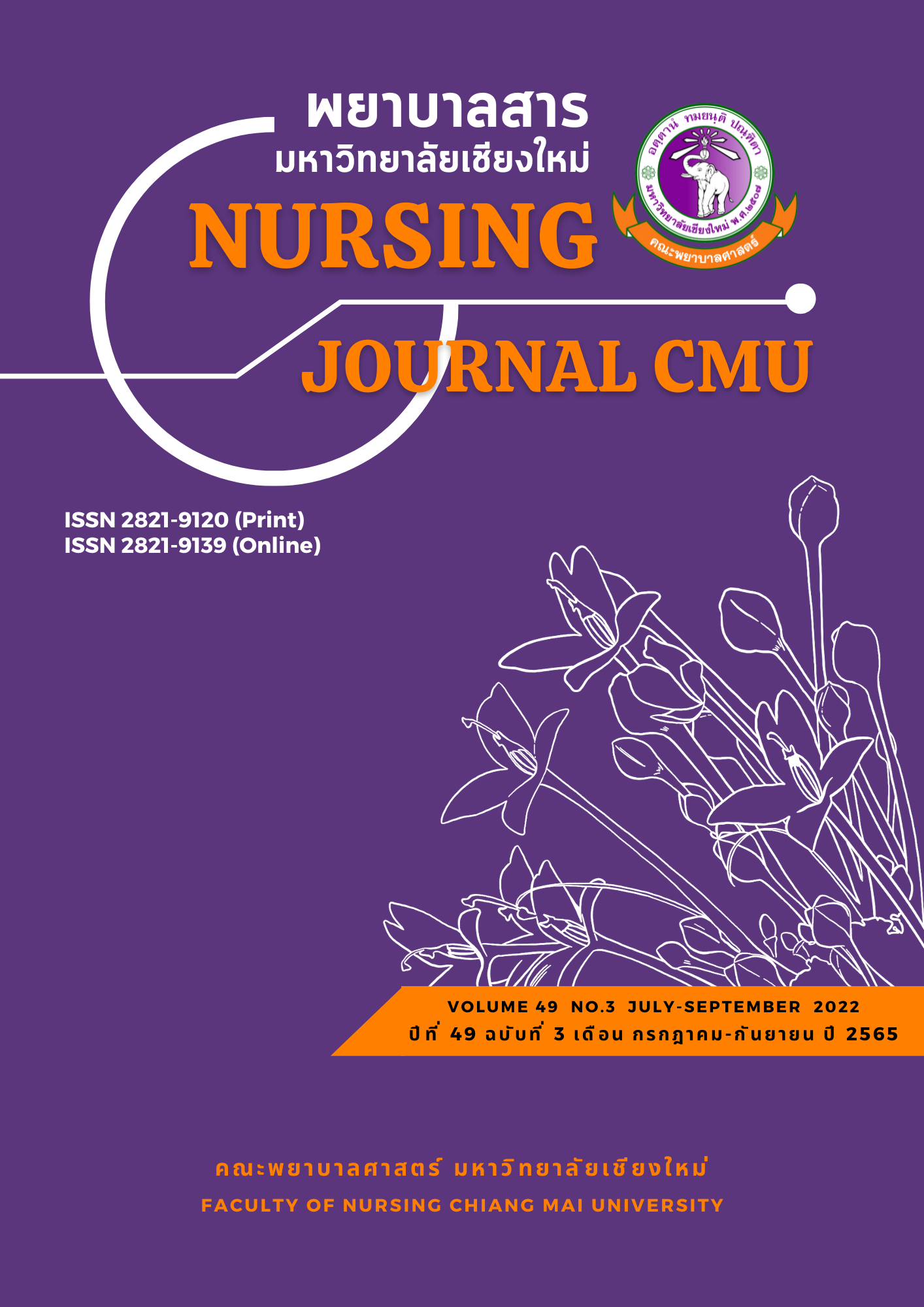 Downloads
License
Copyright (c) 2022 Nursing Journal
This work is licensed under a Creative Commons Attribution-NonCommercial-NoDerivatives 4.0 International License.
บทความที่ได้รับการตีพิมพ์เป็นลิขสิทธิ์ของวารสารพยาบาลสาร
ข้อความที่ปรากฏในบทความแต่ละเรื่องในวารสารวิชาการเล่มนี้เป็นความคิดเห็นส่วนตัวของผู้เขียนแต่ละท่านไม่เกี่ยวข้องกับมหาวิทยาลัยเชียงใหม่ และคณาจารย์ท่านอื่นๆในมหาวิทยาลัยฯ แต่อย่างใด ความรับผิดชอบองค์ประกอบทั้งหมดของบทความแต่ละเรื่องเป็นของผู้เขียนแต่ละท่าน หากมีความผิดพลาดใด ๆ ผู้เขียนแต่ละท่านจะรับผิดชอบบทความของตนเองแต่ผู้เดียว