Enhancing Motivational Protection for COVID-19 Among Children with Chronic Illness: Nurses' Roles
Keywords:
Chronic child, Covid 19, Protection Motivation, Role of nurses
Abstract
The spread of COVID-19 is a worldwide problem that greatly affects the lives and well-being of people in Thailand, having a wide impact both in terms of economy, society and well-being. Coronavirus is easily spread through inhalation of large droplets and is more severe for people with chronic illness. In children with chronic illnesses, especially those with respiratory disease, obesity, diabetes, or heart disease, as well as immunocompromised children or those receiving immunosuppressants, there is a high risk of infection. With children who are sick from COVID-19 infection, it is more severe than for children with normal health conditions due to the pathology of the disease. Not only will a child be affected but they can also be a burden on family and society. The effect depends on the control of symptoms and the severity of the disease at that time. Therefore, preventing COVID-19 among children with chronic illness is the very important. Nurses play an important role in health care for children with chronic illness. This article presents COVID-19 prevention guidelines by using the Protection Motivation Theory which consist of perceived severity, perceived vulnerability, response efficacy and self-efficacy and which need to be appropriately applied to children with chronic illnesses of each age range, including caregivers to raise awareness and lead to effective actions to prevent COVID-19 infection.
Downloads
Download data is not yet available.
References
Alagawany, M., Attia, Y. A., Farag, M. R., Elnesr, S. S., Nagadi, S. A., Shafi, M. E., ... Abd El-Hack, M. E. (2021). The strategy of boosting the immune system under the COVID-19 Pandemic. Retrieved from https://www.frontiersin.org/articles/10.3389/fvets.2020.570748/full
Arayapong, N. (2021). Clinical manifestation and risk factors of severity in children with coronavirus disease 2019. Medical Journal of Srisaket Surin Buriram Hospitals, 36(3), 663-673. (in Thai)
Ashikkali, L., Carroll, W., & Johnson, C. (2020). The indirect impact of COVID-19 on child health. Pediatrics and Child Health, 30(12), 430-437.
Banluesin, S. (2021). Review report: The global impact of the COVID-19 outbreaks, NCDs and related factors-19 on NCDs and related factors on a global scale. Nonthaburi: Division of Non-Communicable Diseases, Department of Disease Control. (in Thai)
Boechat, J. L., Wandalsen, G. F., Kuschnir, F. C., & Delgado, L. (2020). COVID-19 and pediatric asthma: Clinical and management challenges. International Journal of Environmental Research and Public Health, 18(3), 1093. doi.org/10.3390/ ijerph18031093.
Browne, N. T., Snethen, J. A., Greenberg, C. S., Frenn, M., Kilanowski, J. F., Gance-Cleveland, B., … Lewandowski, L. (2021). When pandemics collide: The impact of COVID-19 on childhood obesity. Journal of Pediatric Nursing, 56(2021), 90-98.
Chaosurin S., Kasemsiri J., Chewwattana W., Manipantee S., & Chuchan N. (2021). The impact of the coronavirus disease 2019 (COVID-19) pandemic on children with chronic diseases and guidelines for providing care. Vajira Nursing Journal, 23(2), 97-107. (in Thai)
Chobpradit, S. (2020). Covid 19 crisis affect social change. Journal of Chaiyaphum, 3(2),1-14. (in Thai)
Corner, M., & Norman, P. (2005). Predicting health behavior: Research and practice with social cognition models. New York: Bell & Bain.
De Souza, T. H., Nadal, J. A., Nogueira. R. J. N., Pereira, R. M., & Brandao, M. B. (2020). Clinical manifestations of children with COVID-19: A systematic review, Pediatric Pulmonology, 55,1892–1899. doi: 10.1002/ppul.24885
Department of Disease Control. (2021). Coronavirus disease-19 (covid 19). Retrieved from https://ddc.moph.go.th/viralpneumonia/index.php (in Thai)
Evliyaoglu, O. (2020). Children with chronic disease and COVID-19. Turkish Archives of Pediatrics, 55(2), 93-4. doi: 0.14744/TurkPediatriArs.2020.57805
Hacker, K. A., Briss, P. A., Richardson, S., Wrigh, J., & Peterson, R. (2021). COVID-19 and chronic disease: The impact now and in the future. Public Health Research, Practice, and Policy, 18 (E62), 1-6. doi.org/10.5888/pcd18.210086
Iftikhal, A. (2017). The effects of applying protection motivation theory in terms of disease prevention behaviors liver fluke in grade Ban Nong Hoi School, Muang District, Sakon Nakhon Province. Journal of the office of DPC 7 Khon Khan, 24(3), 75-87. (in Thai)
Klein, J. D., Koletzko, B., EL-Shabrawi, M. H., Hadjiipanayis, A., Thacker, N., & Bhutta, Z. (2020). Promoting and supporting children's health and healthcare during COVID-19 – international paediatric association position statement. Archives of Disease in Childhood, 105, 620-624. doi: 10.1136/arch dis child-2020-319370
Lee, A. J., & Purshouse, K. (2021). COVID-19 and cancer registries: Learning from the first peak of the SARS-CoV-2 pandemic. British Journal of Cancer, 124(11), 1777-1784.
Manmana, S., Iamsisithaworn, S., & Uttayamakul, S. (2020). Coronavirus disease-19 (covid 19). Journal of Bamrasnaradura Infectious Disease Institute, 14(2), 124-133. (in Thai)
Musraket, K., Musraket, R., & Musraket, K. (2021). New normal life and self-care techniques to strengthen immunity during the COVID-19 pandemic. Journal of Health and Nursing Education, 27(1), 206-218. (in Thai)
Piaget, J. (1997). The moral judgment of the child. New York: Simon and Schuster.
Poompu, B., & Hornboonherm, P. (2018). Selfcare behaviors in school age patient with chronic illness. Journal of Mahasarakham University, 14(1), 14-23. (in Thai)
Pouraboli, B., Abedi, H. A., Abbaszadeh, A., & Kazemi, M. (2017). The burden of care:
Experience of parents of children with thalassemia. Journal of Nursing and Care, 6(2), 1-8. doi: 10.4172/2167-1168.1000389
Rajabkhah, K., Soodejani, M. T., Mahmudimanesh, M., Gheshlaghi, L. A., & Tabatabaei, S. M. (2020). Prevention of covid 19 in children and neonates: A review. Archives of Preventive Medicine, 5(1), 026-030. doi.org/10.17352/apm.000015
Roncon, L. Z. M., Rigatelli, G., & Zuliani, G. (2020). Diabetic patients with COVID-19 infection are at higher risk of ICU admission and poor short-term outcome. Journal of Clinical Virology, 127, 104354.
Roger, R. W., Maddux, J. E. (1983). Protection motivation and self-efficacy: A revised Theory of fear appeals and attitude change. Journal of Experimental Social Psychology, 19, 469-479.
She, J., Liu, L., & Liu, W. (2020). Covid 19 epidemic: Disease characteristics in children. Journal of Medical Virology, 1-8. doi: 10.1002/jmv.25807
Siriboriruk, J., & Prueksaritanond, S. (2020). COVID-19 is public health problem worldwide, including Thailand. Burapha Journal of Medicine,7(1), 89-95. (in Thai)
Wallace, M., Woodworth, K. R., Gargano, J. W., Scobie, H. M., Blain, A. E., Moulia, D., … Oliver, S. E. (2021). The advisory committee on immunization practices' interim recommendation for use of Pfizer-BioNTech COVID-19 vaccine in adolescents aged 12–15 years. Morbidity and Mortality Weekly Report, 70(20),749-752.
Williamson, E. J., Walker, A. J., Bhaskaran, K., Bacon, S., Bates, C., Morton, C. E., ... Goldacre, B. (2020). Factors associated with COVID-19-related death using open SAFELY. Nature, 584(7821), 430-436.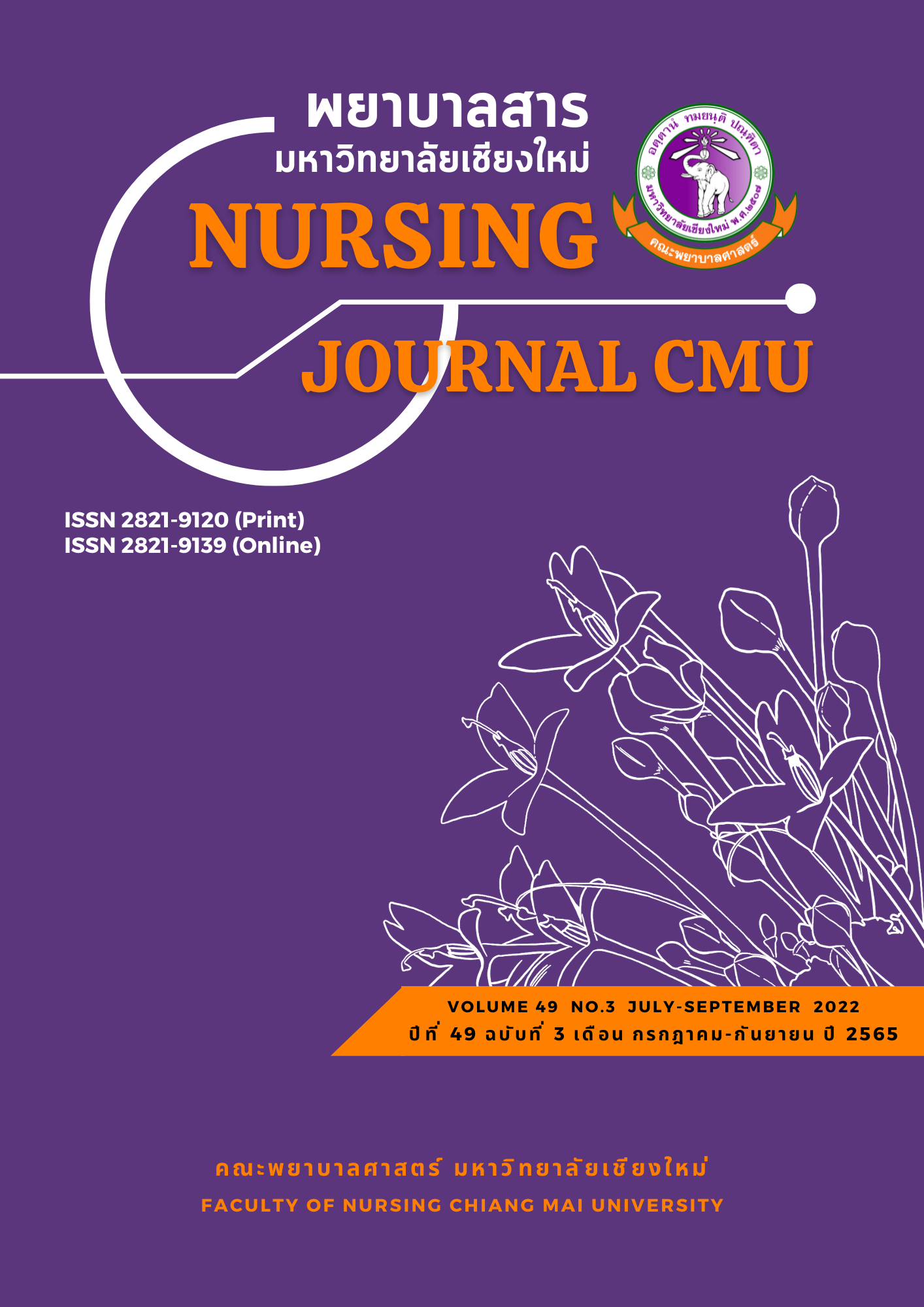 Downloads
License
Copyright (c) 2022 Nursing Journal
This work is licensed under a Creative Commons Attribution-NonCommercial-NoDerivatives 4.0 International License.
บทความที่ได้รับการตีพิมพ์เป็นลิขสิทธิ์ของวารสารพยาบาลสาร
ข้อความที่ปรากฏในบทความแต่ละเรื่องในวารสารวิชาการเล่มนี้เป็นความคิดเห็นส่วนตัวของผู้เขียนแต่ละท่านไม่เกี่ยวข้องกับมหาวิทยาลัยเชียงใหม่ และคณาจารย์ท่านอื่นๆในมหาวิทยาลัยฯ แต่อย่างใด ความรับผิดชอบองค์ประกอบทั้งหมดของบทความแต่ละเรื่องเป็นของผู้เขียนแต่ละท่าน หากมีความผิดพลาดใด ๆ ผู้เขียนแต่ละท่านจะรับผิดชอบบทความของตนเองแต่ผู้เดียว