Ethical Leadership of Head Nurses and Organizational Citizenship Behaviors as Perceived by Nurses in Regional Hospitals
Keywords:
Ethical leadership, Organizational citizenship behaviors, Nurses, Regional hospital
Abstract
Ethical leadership refers to leaders' behaviors in their job resulting in the common good and inspiring followers to behave ethically. The purpose of this cross-sectional correlation study was to examine the ethical leadership of head nurses as perceived by nurses and the organizational citizenship behaviors of nurses, as well as the relationships between them. The study sample was comprised of 460 nurses working in southern regional hospitals. The research instruments included: 1) a demographic data form; 2) a Ethical Leadership questionnaire (5-point rating scale); and 3) an Organizational Citizenship Behaviors questionnaire (7-point rating scale). The reliability of the second and third instruments was .98 and .87, respectively. Data were analyzed using descriptive statistics and Spearman's rank correlation analysis.
          The results revealed that the overall ethical leadership of head nurses as perceived by nurses was at a high level. The overall organizational citizenship behaviors of nurses were at a high level. The findings also showed that the ethical leadership of head nurses was moderately positively and statistically correlated with the organizational citizenship behaviors of nurses (r = .526, p = .001).
Based on the findings of this study, head nurses who demonstrate a commitment to ethical leadership will inspire nurses to display organizational citizenship behaviors. Therefore, it is necessary to develop programs and strategies for helping head nurses to better understand ethical leadership and foster ethical climates in their units.
Downloads
Download data is not yet available.
References
Aloustani, S., Atashzadeh-Shoorideh, F., Zagheri-Tafreshi, M., Nasiri, M., Barkhordari-Sharifabad, M., & Skerrett, V. (2020). Association between ethical leadership, ethical climate and organizational citizenship behavior from nurses' perspective: A descriptive correlational study. BMC Nursing, 19(1), 1-8.
Anchaleeumnuyporn, P. (2018). Guidelines for engagement and good membership behavior of personnel organizations in Metta Pracharak Hospital (Wat Rai Khing). Journal of Management Science Nakhon Pathom Rajabhat University, 5(1), 14-30. (in Thai)
Bandura, A. (1986). Social foundations of thought and action. Englewood Cliffs, NJ: Prentice–Hall.
Brown, M. E., Treviño, L. K., & Harrison, D. (2005). Ethical leadership: A social learning perspective for construct development and testing. Organizational Behavior and Human Decision Processes, 97, 117-134.
Emadifar, A. (2010). Examining the ethical leadership style of managers from Mashad Ferdowsi University staff's point of view and its relationship with their empowerment. Ferdowsi University of Mashhad.
Intaratate, N., Intaraprasong, B., Pattara-Archachi, J., & Jirathummakoon. S. (2014). Abusive leadership and organizational justice perceptions affecting organizational citizenship behavior of professional nurses in one tertiary hospital. Journal of Public Health, 44 (3), 237-249. (in Thai)
Kaffashpoor, A., & Sadeghian, S. (2020). The effect of ethical leadership on subjective wellbeing, given the moderator job satisfaction (a case study of private hospitals in Mashhad). BMC Nursing, 19(1), 1-8.
Karakate, P. (2019). Factors predicting organizational citizenship behaviors among generation Y nurses, government university hospitals (Unpublished master's thesis). Chiangmai University, Thailand. (in Thai)
Lilek, T., Chukumnerd, P., & Thongsuk, P. (2022). Factors predicting of work engagement among Generation Y nurses in tertiary hospitals, Southern Thailand. Songklanagarin Journal of Nursing, 42(1), 35-38. (in Thai)
Mostafa, A. M. S. (2018). Ethical leadership and organizational citizenship behaviours: The moderating role of organizational identification. European Journal of Work and Organizational Psychology, 27(4), 441-449.
Muangprasert, S. (2009). Head nurses' moral actions perceived and experienced by head nurses and nurse subordinates in Regional Hospitals, Southern Thailand (Unpublished master's thesis). Prince of Songkla University, Thailand. (in Thai).
National Health Development Plan Administration Committee Ministry of Health. (2016). National health development plan No.12 (2017-2021). Retrieved from http://wops.moph.go.th/ops/oic/ data/20161115144754_1_.pdf (in Thai).
National Statistical Office. (2021). Report on the 2017 survey of the older persons in Thailand. Retrieved from http://www.nso.go.th/sites/2014 (in Thai)
Podsakoff, P. M., MacKenzie, S. B., Moorman, R. H., & Fetter, R. (1990). Transformational leader behaviors and their effects on followers' trust in leader, satisfaction, and organizational citizenship behaviors. The Leadership Quarterly, 1(2), 107-142.
Pommala, W., Sritoomma, N., & Wongkhomthong, J. (2018). The components of ethical leadership of nursing division head at advanced hospitals under ministry of public health. Journal of The Royal Thai Army Nurses, 19(1), 214-224. (in Thai)
Rattanarungsi, S., Pinyo, T., & Intraramanee, S. (2019). The guideline on the promotion of organizational citizenship behavior of government teachers under the office of the Secondary Educational Service Area 3, Nonthaburi Province. Journal of Industrial Education, 18(2), 165-176. (in Thai)
Rattikarnsuka, J., & Oumtanee, A. (2014). Nursing management of head nurses receiving the outstanding award. Journal of The Royal Thai Army Nurses, 15(2), 179-186. (in Thai)
Rukngam, T., & Waranusantkul, S. (2016). The relationship of leadership style and perceived organizational climate to organizational citizenship behavior with organizational commitment as a moderator: A case study of nursing personnels in Government University Hospital. Journal of Social Sciences and Humanities, 42(2), 125-147. (in Thai)
Sawangdee, K. (2017). Crisis of nursing shortage in health service facilities under office of permanent secretary, Ministry of public health: Policy recommendations. Journal of Health Science, 26(2), 456-468. (in Thai)
Sinjaru, T. (2006). Statistical research and analysis by SPSS (5th Ed.). Bangkok: V. Interprint. (in Thai)
Sripinkaew, K., & Wisesrith, W. (2019) A study of good governance of head nurses in general hospitals. Thai Red Cross Nursing Journal, 12(1), 127-143. (in Thai)
Thailand Nursing and Midwifery Council. (2007). The regulation of the nursing and midwifery council on ethic conduct of nursing and midwifery profession B.E. 2550. Retrieved from http://www.tnmc.or.th/images/userfiles/files/K012.PDF (in Thai)
Viseschoochatkul, N., & Nonthanathorn, P. (2020). The influence of servant leadership and organizational citizenship behavior on effectiveness of patient units as perceived by registered nurses, Pramongkutklao Hospital. Journal of the Association of Researchers, 21(3), 75-85. (in Thai)
Wongratana, C. (2010). Statistics technique for research. Nonthaburi: Thai Neramitkij Inter Progressive.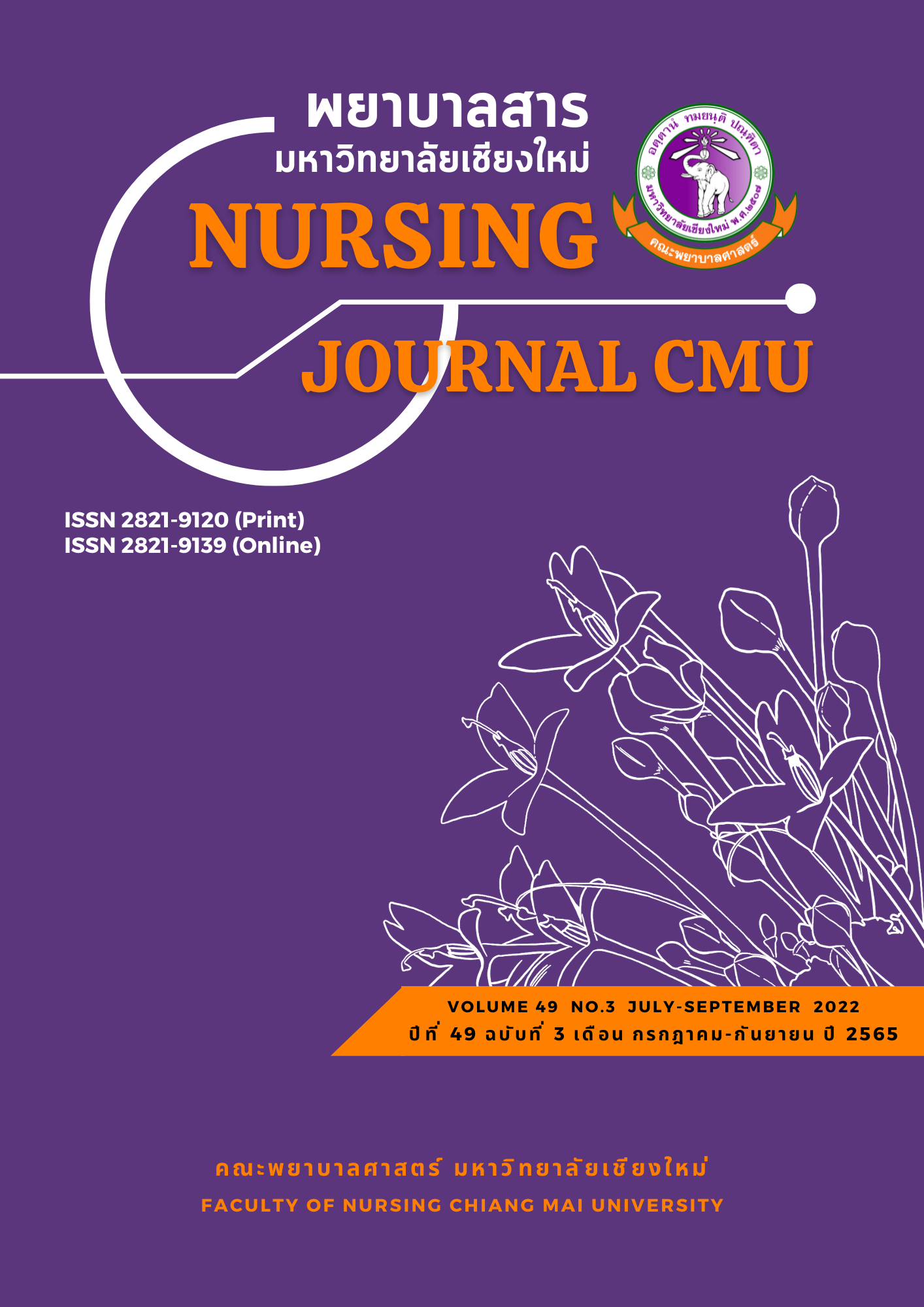 Downloads
License
Copyright (c) 2022 Nursing Journal
This work is licensed under a Creative Commons Attribution-NonCommercial-NoDerivatives 4.0 International License.
บทความที่ได้รับการตีพิมพ์เป็นลิขสิทธิ์ของวารสารพยาบาลสาร
ข้อความที่ปรากฏในบทความแต่ละเรื่องในวารสารวิชาการเล่มนี้เป็นความคิดเห็นส่วนตัวของผู้เขียนแต่ละท่านไม่เกี่ยวข้องกับมหาวิทยาลัยเชียงใหม่ และคณาจารย์ท่านอื่นๆในมหาวิทยาลัยฯ แต่อย่างใด ความรับผิดชอบองค์ประกอบทั้งหมดของบทความแต่ละเรื่องเป็นของผู้เขียนแต่ละท่าน หากมีความผิดพลาดใด ๆ ผู้เขียนแต่ละท่านจะรับผิดชอบบทความของตนเองแต่ผู้เดียว