The Development of Family and Community Health Leaders for Elderly Care
Keywords:
Development, Family and community health leader, Elderly care
Abstract
Family and community health leaders are individuals who are capable of solving family health problems and participating in community work. This participatory action research aimed to develop family and community health leaders for elderly care. The research was conducted in Jomthong subdistrict, Maunge district, Phitsanulok, and was composed of 2 phases. Phase 1 involved designing lessons by a knowledge management process according to a health promotion pattern comprised of health responsibility, physical activities, nutrition, interpersonal relation, spiritual development, and stress management from 40 community practitioners divided into 5 groups, with 8 people in each group. Phase 2 was comprised of 6 lessons, delivered to 38 participants selected by purposive sampling related to the inclusion criteria, to develop and evaluate the learning outcomes and learning process. Research instruments included the Community Health Leader for Elderly Care lessons, a learning outcomes test, and an assessment of satisfaction with the lesson and knowledge management forms. The data were analyzed using content analysis, inductive analysis, descriptive analysis and paired sample t-test.
         The results showed that the 6 lessons designed by the community practitioners consisted of exercise for elderly, food for elderly, interaction to promote health for elderly, mental management for elderly, and stress management for elderly. The outcomes after the lessons found overall average scores were significantly higher (p < .01). The average scores before and after learning were 13.61 and 23.16, respectively. Satisfaction with the learning process was at a high level ( = 4.59, SD = 0.58).   
         The study findings suggest that family and community health leaders developed by the knowledge management process from family and community organizations by a participatory process can be a tool for creating responsibility to promote or solve holistic health problems of the elderly.
Downloads
Download data is not yet available.
References
Angkhasuwaphala, N. (2010, February). Community participation in elderly health care. National Conference on Ageing and Elderly Proceeding "Happy elderly society by health and environment" at OrPorRor Building, King Chulalongkorn Memorial Hospital. (in Thai)
Chalardlon, T., Moolsart, S., & Lawang, W. (2017). The development of a health promotion activity model for elderly in the ban pong elderly klungpunya club. Nursing Journal of the Ministry of Public Health, 27(2), 154-167. (in Thai)
Chankham, W., Buajaroen, H., & Oasvichean, C., (2015). Elderly care system model by community and local government with self-management case study: Targnam Sub-district local government, Inburee District, Sing Buree Province. Research Journal for Spatial Development, 7(3), 1-20. (in Thai)
Department of Health. (2013). Guidelines for the training of elderly caregivers for 70 hours. Bangkok: National publishing house of Buddhism. (in Thai)
Faculty of Engineering Prince of Songkla University, Hat Yai. (2014). Active learning process techniques: From assessment. Songkla: Numsin Advertising. (in Thai)
Faculty of Medicine Siriraj Hospital. (2020). KM Definition. Bangkok: Mahidol University. (in Thai)
Jomthong Subdistrict Administrative Organization. (2021). Annual performance report 2020. Rome: Italy.
Moffett, S., & McAdam, R. (2009). Knowledge management: A factor analysis of sector effects. Journal of Knowledge Management, 13(3), 44-59.
Murdaugh, C. L., Pender, N. J., & Parsons, M. A. (2019). Health promotion in nursing practice (8th ed.). New York: Pearson.
National Statistic Office. (2022). The 2021 survey of the older person in Thailand. Bangkok: National Statistic Office. (in Thai)
Numprasert, S. (2015). Knowledge management. Bangkok: SE-EDUCATION. (in Thai)
Oba, N., Homsuwan, R., & Boonlue, C. (2021). Development of family caregivers' knowledge and skills regarding older adults' care. Journal of Faculty of Nursing Burapha University, 29(1), 13-24. (in Thai)
Office of the National Economic and Social Development Council. (2019). The forecast population project of Thailand for 2010-2040. Bangkok: Author. (in Thai)
Public Health Strategic Development Group. (2020). Situation of the Thai elderly 2020. Bangkok: Foundation of Thai Gerontology Research and Development Institute. (in Thai)
Rungsawang, T., Tongtanunam, Y., Nusawat, J., & Panpin, S. (2020). The competency development of elderly care managers in Nonthaburi Province: A monitoring and evaluating research study. Journal of Health Science Research, 14(2), 93-104. (in Thai)
Social Committee, Children's Affairs, Youth, Women, Elderly, Disabled and Underprivileged
National Legislative Assembly. (2016). Summary of the roundtable discussion on shortage of personnel in caring for the elderly. in academic document No.27 (28-30). Bangkok: Author. (in Thai)
Thanakwang, K., & Soonthorndada, K. (2008). Family relations and health promotion behavioramong older people in Nan Province. Journal of the Medical Association of Thailand, 91(7), 1102-1108. (in Thai)
Therawut, A. (2010). Action research. (3th ed.). Ubon Ratchattani: Youngsawat intergroup. (in Thai)
Watanabe, M. R., & Senoo, D. (2010). Shaping knowledge management: Organization and national culture. Journal of Knowledge Management, 14(2), 214-217.
Young, R. (2010). Knowledge management tools and techniques manual. Tokyo, Japan: Asian Productivity Organization.
Zarit, S., & Femia, E. (2008). Behavioral and psychosocial interventions for family caregivers.Journal of Social Work Education, 44(3), 47-53. (in Thai)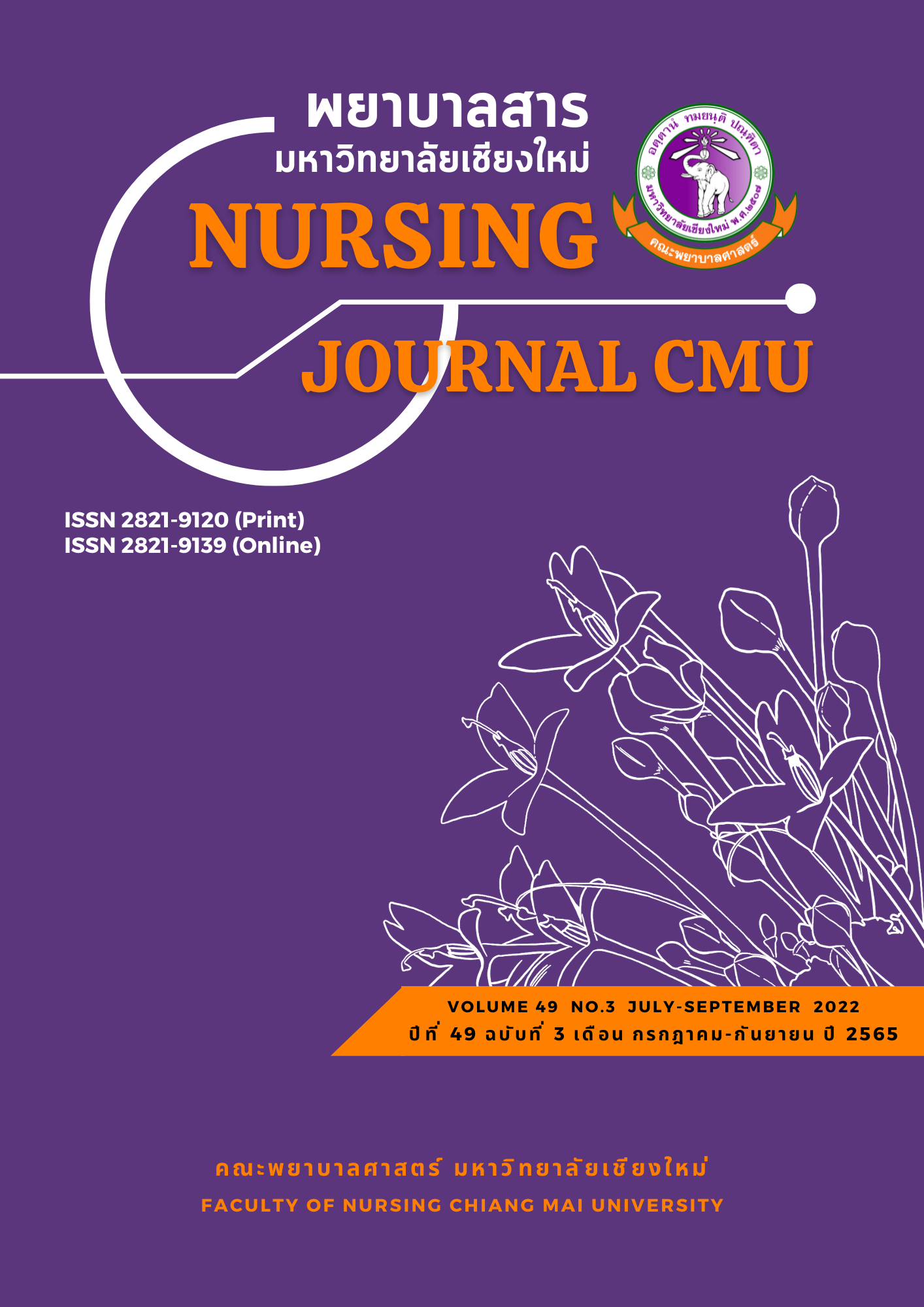 Downloads
License
Copyright (c) 2022 Nursing Journal
This work is licensed under a Creative Commons Attribution-NonCommercial-NoDerivatives 4.0 International License.
บทความที่ได้รับการตีพิมพ์เป็นลิขสิทธิ์ของวารสารพยาบาลสาร
ข้อความที่ปรากฏในบทความแต่ละเรื่องในวารสารวิชาการเล่มนี้เป็นความคิดเห็นส่วนตัวของผู้เขียนแต่ละท่านไม่เกี่ยวข้องกับมหาวิทยาลัยเชียงใหม่ และคณาจารย์ท่านอื่นๆในมหาวิทยาลัยฯ แต่อย่างใด ความรับผิดชอบองค์ประกอบทั้งหมดของบทความแต่ละเรื่องเป็นของผู้เขียนแต่ละท่าน หากมีความผิดพลาดใด ๆ ผู้เขียนแต่ละท่านจะรับผิดชอบบทความของตนเองแต่ผู้เดียว