Occupational fatigue management in professional nurses at Phra Nakhon Si Ayutthaya hospital
Keywords:
occupational fatigue, professional nurse, occupational fatigue management
Abstract
      This mixed-methods research aimed: 1) to study occupational fatigue and recovery of professional nurses at Phra Nakhon Si Ayutthaya Hospital, 2) to compare occupational fatigue and recovery of professional nurses in different departments, and 3) to explore their management guidelines for occupational fatigue. The subjects were professional nurses at Phra Nakhon Si Ayutthaya Hospital, and the sample comprised 2 groups: 1) two hundred and thirty-nine professional nurses from outpatient departments, inpatient departments, and intensive care units who answered questionnaires, and 2) nine professional nurses who were directly experienced in occupational fatigue management and attended a focus group discussion. Research data were analyzed by descriptive statistics, one way analysis of variance (one way ANOVA), and pair-based multiple comparisons, and content analysis.
      The results of this study illustrated as follows: The total average of occupational fatigue and recovery scores were at the moderate level; and the nurses from focus discussion group also revealed physical mental and emotional dimensions of fatigue. Professional nurses who worked for intensive care units had significantly higher overall fatigue but lower recovery than other departments. The occupational fatigue management of professional nurses were divided into 3 levels. (1) The individual level such as adequate sleep, doing activities on holidays, (2) The organizational level, such as creating an occupational fatigue management model, efficient work process arrangement, proper shift scheduling, job morale and motivation enhancement, Finally, 3) the central agency level for example, the government sector should set standard control of tangible occupational fatigue management, proper manpower both nursing and other staffing.
      Suggestion: Healthcare administrators have an important role in supporting and reorganizing the work system in order to reduce fatigue in the professional nurses.
Downloads
Download data is not yet available.
References
Bruner K, Onchonga V, Savage M, Stevens T. Nurse Fatigue: Dangerous for Nurses and Patients. Kentucky nurse. 2015;63(4):13.
Canadian Nurses Association. Nurse fatigue and patient safety. Ontario: Registered Nurses' Association of Ontario; 2010.
United States Department of Laber OSaHA. Long Work Hours,Extended or Irregular Shifts,and Eorker Fatigue. 2020 [cited 2020 Jan 5]. Available from: https://www.osha.gov/SLTC/ workerfatigue/hazards.htmlU.
Chaiard J, Deeluea J, Suksatit B, Songkham W, Inta N. Short sleep duration among Thai nurses: Influences on fatigue, daytime sleepiness, and occupational errors. J Occup Health. 2018:2017-0258-OA.
Rogers, Hwang W-T, Scott LD, Aiken LH, Dinges DF. The working hours of hospital staff nurses and patient safety. Health Aff. 2004;23(4):202-12.
Dembe AE, Delbos R, Erickson JB. Estimates of injury risks for healthcare personnel working night shifts and long hours. BMJ Qual Saf. 2009;18(5):336-40.
Hughes RG, editor. Patient safety and quality: an evidence-based handbook for nurses. Rockville (MD): Agency for Healthcare Research and Quality (US); 2008 Apr. Available from: https://www.ncbi.nlm.nih.gov/books/NBK2651/
Rose DM, Seidler A, Nubling M, Latza U, Brahler E, Klein EM, et al. Associations of fatigue to work-related stress, mental and physical health in an employed community sample. BMC psychiatry. 2017;17:167.
Chen J, Davis KG, Daraiseh NM, Pan W, Davis LS. Fatigue and recovery in 12‐hour ayshift hospital nurses. J Nurs Manag. 2014;22(5):593-603.
Cochran KR. A measure of perceived fatigue among nurses in western North Carolina: NC: Gardner-Webb University; 2014.
Scott LD, Engoren CA, Engoren MC. Association of sleep and fatigue with decision regret among critical care nurses. Am J Crit Care. 2014;23(1):13-23.
Caruso CC, Condon ME. Night shifts and fatigue: coping skills for the working nurse. Am J Nurs. 2006;106(8):88.
Steege LM, Pinekenstein B. Addressing occupational fatigue in nurses: a risk management model for nurse executives. J Nurs Adm. 2016;46(4):193-200.
Noakes TD. Fatigue is a brain-derived emotion that regulates the exercise behavior to ensure the protection of whole body homeostasis. Front Physiol. 2012; 3:82. doi: 10.3389/fphys.2012. 00082. PMID: 22514538; PMCID: PMC3323922
Junyotha A, Chantanakul S, Chaikittiporn C, Siri S. Fatigue and factors related to fatigue among registered nurses in a tertiary hospital. Journal of The Royal Thai Army Nurses. 2017;Volume 18 Supplement May - August 2017:166-74.( in Thai)
Panchuwong T, Bunlikikul T. Fatigue and fatigue management during the fundamentals of nursing practicum for nursing students at Thai red cross college of nursing. Thai Red Cross Nursing Journal. 2010;1-3. ( in Thai)
Winwood. Manual for the Occupational Fatigue, Exhaustion Recovery scale,(OFER15) n.p.; 2005.
Process of translation and adaptation of instruments [Internet]. 2020. Available from: https://www.who.int/substance_abuse/research_tools/translation/en/.
Sawaengdee K. Crisis of nursing shortage in health service facilities under office of permanent secretary, Ministry of Public Health: Policy Recommendations. Journal of Nursing, Siam University. 2017;26(2):456-68. ( in Thai)
Yamma C. Sleep Problems, Fatigue and work efficiency among registered nurse at King Chulalongkorn Memorial Hospital. J Psychiatr Assoc Thailand. 2013; 58(2):183-96. ( in Thai)
Winwood, Winefield, Lushington. Work‐related fatigue and recovery: the contribution of age, domestic responsibilities and shiftwork. J Adv Nurs. 2006;56(4):438-49.
Uppanisakorn S, Boonyarat J. caring for intensive care unit patients: application of the FASTHUG and BANDAIDS concepts. Thai Journal of Nursing Council. 2014;29(3):19-30. ( in Thai)
Yodchai K, Oumtanee A, Chinnawong T. Sleepiness in professional nurse: Effects of fatigue and quality of sleep. Jounal of Faculty of NursingKKU. 2007;30(2):38-48.
Bangxang JN. Resident burnout: prevalence and associated factors in rajavithi hospital. J Psychiatr Assoc Thailand. 2019;64(1): 61-76. ( in Thai)
Hanson PG, Fahlman J, Lemonde M. Quality worklife-Quality healthcare collaborative (QWQHC) environmental scan. 2007. [document on the Internet].[update 2020; cited 2020 Jan 14] Available from: https://www.hhr-rhsca/ en/tools/library/english-french/quality-worklife-quality-healthcare-collaborative-qwqhc-environmental-scan-coalition-pour-la-qualite-de-vie-au-travail-et-des-soins-de-sante-de-qualite-analyse-contextuelle/visit.html.
Ministry of Labour. Safety, occupational health, and environment at work act B.E. 2554 (2011). The Government Gazette. Vol. 128, Part 4a (January 17, 2011).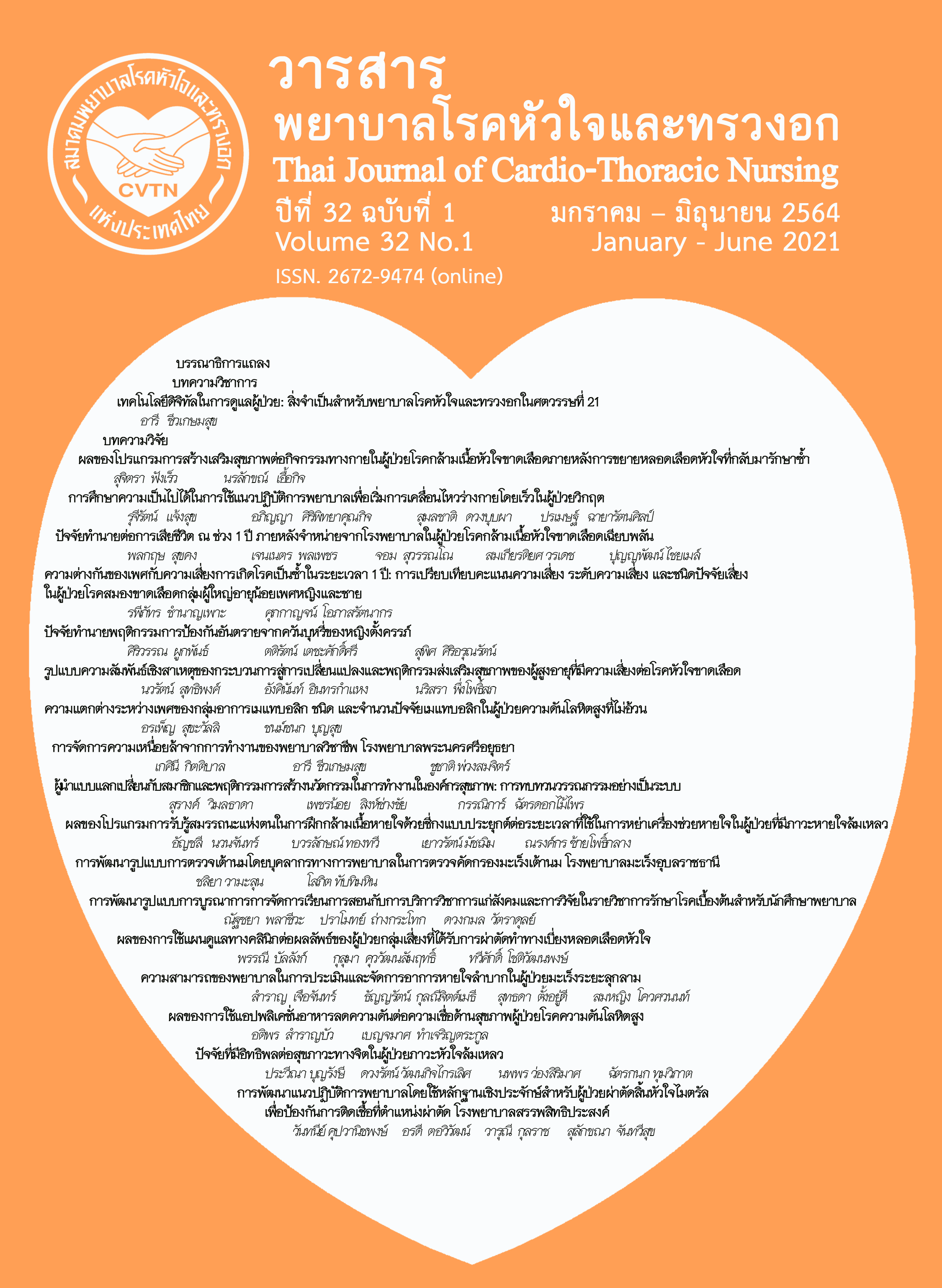 Downloads
Section
Research Articles
License
บทความนี้ยังไม่เคยตีพิมพ์หรืออยู่ในระหว่างส่งไปตีพิมพ์ในวารสารอื่นๆ มาก่อน และกองบรรณาธิการขอสงวนสิทธิ์ในการตรวจทาน และแก้ไขต้นฉบับตามเกณฑ์ของวารสาร ในกรณีที่เรื่องของท่านได้ได้รับการตีพิมพ์ในวารสารฉบับนี้ถือว่าเป็น ลิขสิทธิ์ของวารสารพยาบาลโรคหัวใจและทรวงอก