The Prevalence of Mild Cognitive Impairment (MCI) Among Elderly People in Samphraeng Community, Phra Nakhon District, Bangkok
Keywords:
mild cognitive impairment, dementia, risk factors, elderly people
Abstract
       This descriptive research aimed to study the prevalence and risk factors associated with mild cognitive impairment (MCI), a high-risk condition for dementia. The sample consisted of 70 elderly people. Data was collected by questionnaires, namely the Activities of Daily Living scale (ADL), Thai Geriatric Depression Scale (TGDS-15), Thai Mental State Examination (TMSE), Montreal Cognitive Assessment (MoCA), and Montreal Cognitive Assessment - Basic (MoCA-B). Descriptive statistics, which were used to study the prevalence. The Chi-Square Test and Fisher's Exact Test were used to study the risk factors associated with mild cognitive impairment (MCI).
            The results revealed that the prevalence of mild cognitive impairment (MCI) in elderly people was 47.1%. The significant risk factors associated with mild cognitive impairment (MCI) were age, marital status, years of education, hypertension, and the use of drugs to control blood pressure.
            The results of this research suggest the importance of screening for mild cognitive impairment (MCI) in elderly people, which should be studied in more diverse and comprehensive groups. In addition, health care should be promoted, especially risk factors affecting the brain, to maintain or restore cognition and to mitigate the incidence of dementia.
Downloads
Download data is not yet available.
References
World Health Organization. Dementia [Internet]. 2020 [cited 2021 Aug 5]. Available from: https://www.who.int/news-room/fact-sheets/detail/dementia.
Muangpaisan W. Dementia: prevention, assessment and care. Bangkok: Parbpim; 2013. (in Thai).
Livingston G, Huntley J, Sommerlad A, Ames D, Ballard C, Banerjee S, et al. Dementia prevention, intervention, and care: 2020 report of the Lancet Commission [Internet]. 2020 [cited 2021 Jul 29]. Available from: https://www.thelancet.com/action/showPdf?pii=S0140-6736%2820%2930367-6.
Institute of Geriatric Medicine. Standard guidebook and implementation of clinical gerontology for quality health facilities. Bangkok: The Agricultural Cooperative Federation of Thailand; 2016. (in Thai).
Wongpakaran N, Wongpakaran T. Prevalence of major depressive disorder and suicide in long-term care facilities: a report from Northern Thailand. Psychogeriatrics 2012;12(1):11 - 7.
Kanjananopinit S, Charoensak S, Keawpornsawan T. The study of psychometric properties of cognistat Thai version. J Psychiatr Assoc Thailand 2014;59(4):409-18.
Tangwongchai S, Phanasathit M, Charernboon T, Akkayagorn L, Hemrungrojn S, Phanthumchinda K, Nasreddine ZA. The validity of Thai version of the Montreal Cognitive Assessment (MoCA-T). International Psychogeriatric Association 14th International Congress; 2009 Sep 1-5; Montreal Canada.
Julayanont P, Tangwongchai S, Hemrungrojn S, Tunvirachasakul C, Phanthumchinda K, Hongsawat J, et al. The montreal cognitive assessment - basic: a screening tool for mild cognitive impairment in illiterate and low - educated elderly adults. J Am Geriatr Soc 2015; 63(12):2550-4.
Subindee S, Sritanyarat W. Mild cognitive impairment in older persons with chronic illness attended at a chronic care clinic of a primary care unit Khon Kaen Province. Journal of Nursing Science and Health 2014;37(1):43-50. (in Thai)
Xue J, Li J, Liang J, Chen S. The prevalence of mild cognitive impairment in China: a systematic review. Aging Dis 2018;9(4):706-15. doi: 10.14336/AD.2017.0928
Praison P, Chuajedton P. Factors related to mild cognitive impairments in elderly people in Chiang Rai province. Thai Journal of Nursing Council 2017;32(1):64-80. (in Thai)
Petersen RC, Lopez O, Armstrong MJ, Getchius TSD, Ganguli M, Gloss D, et al. Practice guideline update summary: mild cognitive impairment: Report of the Guideline Development, Dissemination, and Implementation Subcommittee of the American Academy of Neurology. Neurology 2018;90(3):126-35. doi: 10.1212/WNL.0000000000004826
Assantachai P. Nervous system changes [Internet]. 2014 [cited 2020 Jul 23]. Available from: http://www.si.mahidol.ac.th/project/geriatrics/knowledge_article/knowledge_healthy_2_008.html.
(in Thai)
Biddle KD, Jacobs HIL, d'Oleire Uquillas F, Zide BS, Kirn DR, Properzi MR, et al. Associations of widowhood and β-amyloid with cognitive decline in cognitively unimpaired older adults. JAMA Netw Open 2020;3(2):e200121. doi: 10.1001/jamanetworkopen.2020.0121.
Yaribeygi H, Panahi Y, Sahraei H, Johnston TP, Sahebkar A. The impact of stress on body function: a review. EXCLI J 2017;16:1057-72. doi: 10.17179/excli2017-480.
Pedraza OL, Montes AMS, Sierra FA, Montalvo MC, Munoz Y, Diaz JM, et al. Mild cognitive impairment (MCI) and dementia in a sample of adults in the city of Bogotá. Dement Neuropsychol 2017;11(3):262-9. doi: 10.1590/1980-57642016dn11-030008.
Sukkul A, Tangwongchai S. Cognitive reserve in retired employees at internal medicine outpatient clinic, Metropolitan Electricity Authority Hospital. Chulalongkorn Medical Bulletin 2019;1(5):501-13.
(in Thai)
Surawan W. Prevalence of dementia and factors associated with dementia in the elderly, Nam-Phong District, Khon Kaen Province. KKU Journal for Public Health Research 2017;10(2):58-69. (in Thai)
Wang ZT, Xu W, Wang HF, Tan L, Tan CC, Li JQ, et al. Blood pressure and the risk of dementia: a dose-response meta-analysis of prospective studies. Curr Neurovasc Res 2018;15(4):345-58. doi: 10.2174/1567202616666181128114523.
Chaiyodsilp S. Drugs that cause dementia [Internet]. 2015 [cited 2020 Jul 23]. Available from: https://drsant.com/2015/03/anticholinergic.html. (in Thai)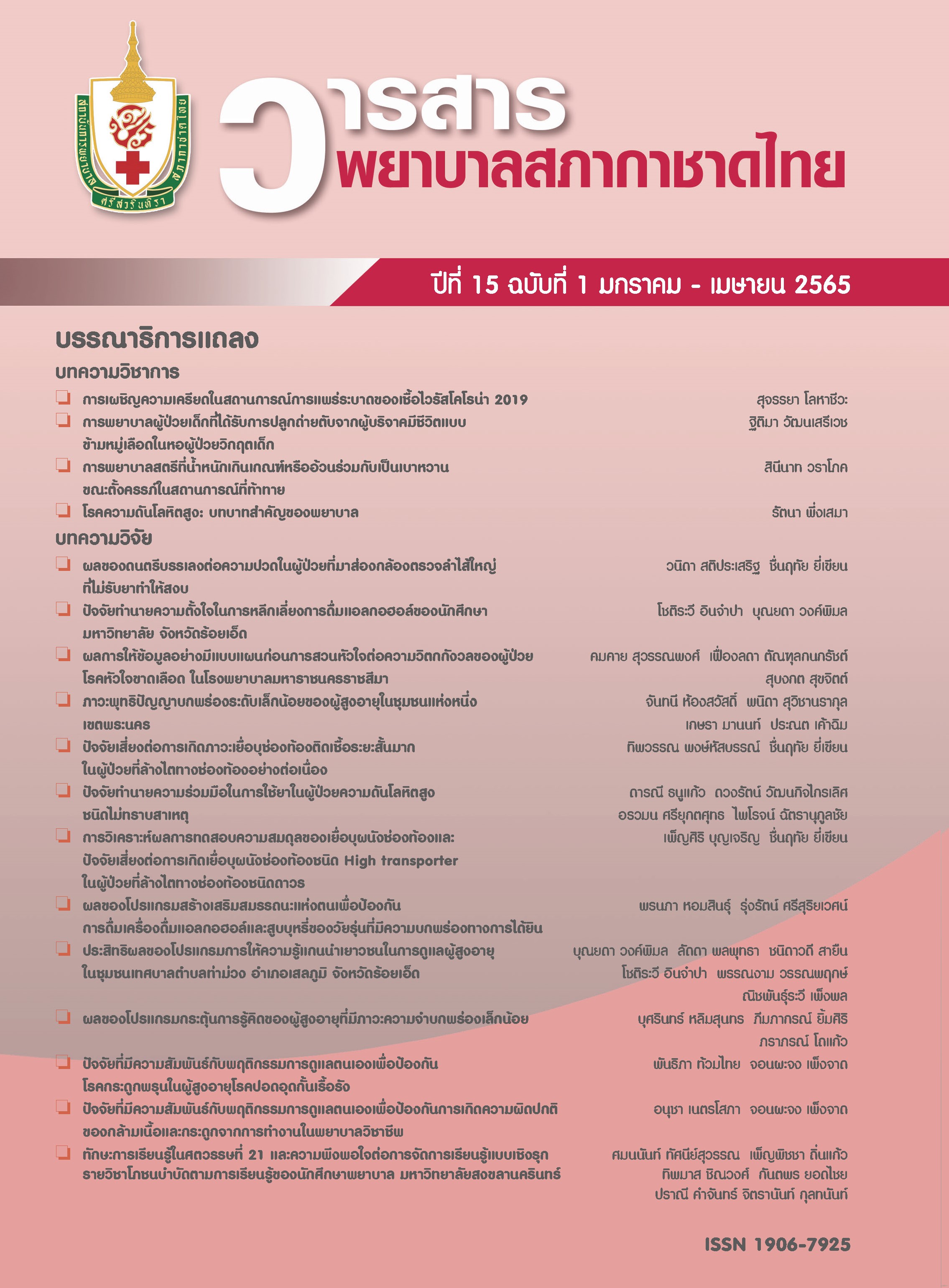 Downloads
Section
บทความวิจัย (Research Report)
License
Copyright (c) 2022 Srisavarindhira Thai Red Cross Institute of Nursing
This work is licensed under a Creative Commons Attribution-NonCommercial-NoDerivatives 4.0 International License.
เนื้อหาบทความหรือข้อคิดเห็นต่างๆ ในวารสารพยาบาลสภากาชาดไทยนี้ เป็นความคิดเห็นของผู้เขียนบทความ ไม่ใช่ความเห็นของกองบรรณาธิการ หรือสถาบันการพยาบาลศรีสวรินทิรา สภากาชาดไทย