Hypertension: The Important Role of Nurse
Keywords:
hypertension, healthy lifestyle, role of nurse
Abstract
         Hypertension is a main health problem around the world, and its prevalence is increasing day by day, mostly due to food consumption behaviors and unhealthy life styles. If clients cannot control their conditions, the complications could affect physical, psychosocial, and economic issues, as well as cause premature death. Clients with uncontrolled conditions are still high because of multiple factors including the clients themselves, health care providers, and health care systems. High blood pressure can be reduced by both pharmacological treatment and healthy lifestyle modifications. This article described the strategies of healthy lifestyle modifications in order to prevent hyptertension and decrease high blood pressure. There were nine ideal health behaviors noted as follows: 1) weight reduction, 2) dietary modification for health, 3) salt and sodium reduction in meals, 4) choosing drinks wisely, 5) quitting smoking, 6) regular physical activity, 7) stress reduction, 8) practicing meditation / mindfulness in daily life, and  9) avoid environmental toxicity.                      
Downloads
Download data is not yet available.
References
Department of Disease Control, Bureau of Non-Communicable Diseases, Public Health
System Development Group. Campaign issues for World Hypertension Day 2018 [Internet]. 2018 [cited 2020 Oct 16]. Available from: www.thaincd.com/document/file/info/non-communicable-disease/ประเด็นสารวันความดันโลหิตสูง_61.pdf (in Thai)
World Health Organization (WHO). A global brief on hypertension Silent killer, global public health crisis [Internet]. 2013 [cited 2020 Oct 16]. Available from: apps.who.int/iris/handle/10665/79059
Aekplakorn W, editor. Report of the 5th Thai health survey by physical examination 2014. Nonthaburi: Graphic and Design Font publisher; 2016. (in Thai)
Digital Government Development Agency (Public Organization) (DGA). Non-Communicable diseases [Internet]. 2020 [cited 2020 Oct 16]. Available from: https://hdcservice.moph.go.th/hdc/reports/page.php?cat_id=6a1fdf282fd28180eed7d1cfe0155e11 (in Thai)
Thai Hypertension Society. 2019 Thai guidelines on the treatment of hypertension. [Internet]. 2019 [cited 2020 Oct 16]. Available from: thaihypertension.org/files/HT%20guideline%202019.with%20watermark.pdf (in Thai)
Unger T, Borghi C, Charchar F, Khan NA, Poulter NR, Prabhakaran D, et al. 2020 International society of hypertension global hypertension practice guidelines. Hypertension 2020;75(6):1334-57. doi: 10.1161/HYPERTENSIONAHA.120.15026.
Chobanian AV, Bakris GL, Black HR, Cushman WC, Green LA, Izzo JL Jr, et al. The seventh report of the Joint National Committee on prevention, detection, evaluation, and treatment of high blood pressure: The JNC 7 report. JAMA 2003;289(19):2560–72 doi: 10.1001/jama.289.19.2560. Epub 2003 May 14.
Otang-Mbeng W, Otunola GA, Afolayan AJ. Lifestyle factors and co-morbidities associated with obesity and overweight in Nkonkobe Municipality of the Eastern Cape, South Africa. J Health Popul Nutr 2017;36(1):22. doi: 10.1186/s41043-017-0098-9.
Blumenthal JA, Sherwood A, Smith PJ, Mabe S, Watkins L, Lin PH, et al. Lifestyle modification for resistant hypertension: the TRIUMPH randomized clinical trial. Am Heart J 2015;170(5):986-94. doi: 10.1016/j.ahj.2015.08.006
Hill D. 18: Appetite awareness training with Dr. Linda Craighead [Internet]. 2017 [cited 2020 Oct 16]. Available from:
https://offtheclockpsych.com/2017-3-20-appetite-awareness-training-with-dr-linda-craighead/
National Heart Lung and Blood Institute. Description of the DASH eating plan [Internet]. 2015 [cited 2020 Oct 16]. Available from:
https://www.nhlbi.nih.gov/health/health-topics/topics/dash.
Sukolpuk M, Thanirut S, Radabutr M, Dechpoonyachit P, Muntraporn A. Health promotion strategies to prevent and control high blood pressure. J Royal Thai Army Nurses 2018;19(3):54-61. (in Thai)
Brooks CJ, Barrett J, Daly J, Lee R, Blanding N, McHugh A, et al. A Community-Level sodium reduction intervention, Boston, 2013–2015. Am J Public Health 2017;107(12):1951–7. doi: 10.2105/AJPH.2017.304070
Chaiyodsilp S. The medical community is changing the standard for hypertension a big time again [Internet]. 2020 [cited 2020 Oct 16]. Available from: https://visitdrsant.blogspot.com/2020/08/2020.html?=1 (in Thai)
Piano MR. Alcohol's effects on the cardiovascular system. Alcohol Res 2017;38(2):219-41.
Jewpattanakul Y, Samai T. Thai family alcohol consumption. J Royal Thai Army Nurses 2014;15(2):305-11. (in Thai)
Nejati S, Zahiroddin A, Afrookhteh G, Rahmani S, Hoveida S. Effect of group mindfulness-based stress-reduction program and conscious yoga on lifestyle, coping strategies, and systolic and diastolic blood pressures in patients with hypertension. J Tehran Heart Cent 2015;10(3):140-8.
Nascimento LS, Santos AC, Lucena JMS, Silva LGO, Almeida AEM, Brasileiro-Santos MS. Acute and chronic effects of aerobic exercise on blood pressure in resistant hypertension: study protocol for a randomized controlled trial. Trials 2017;18:250. doi: 10.1186/s13063-017-1985-5
Mushtaq M, Najam N. Coping strategies of stress used by people suffering from hypertension. Pakistan J Psychol 2014;45(2):3–22.
Rainforth MV, Schneider RH, Nidich SI, Gaylord-King C, Salerno JW, Anderson JW.
Stress reduction programs in patients with elevated blood pressure: a systemic review and meta-analysis. Curr Hypertens Rep 2007;9(6):520-8.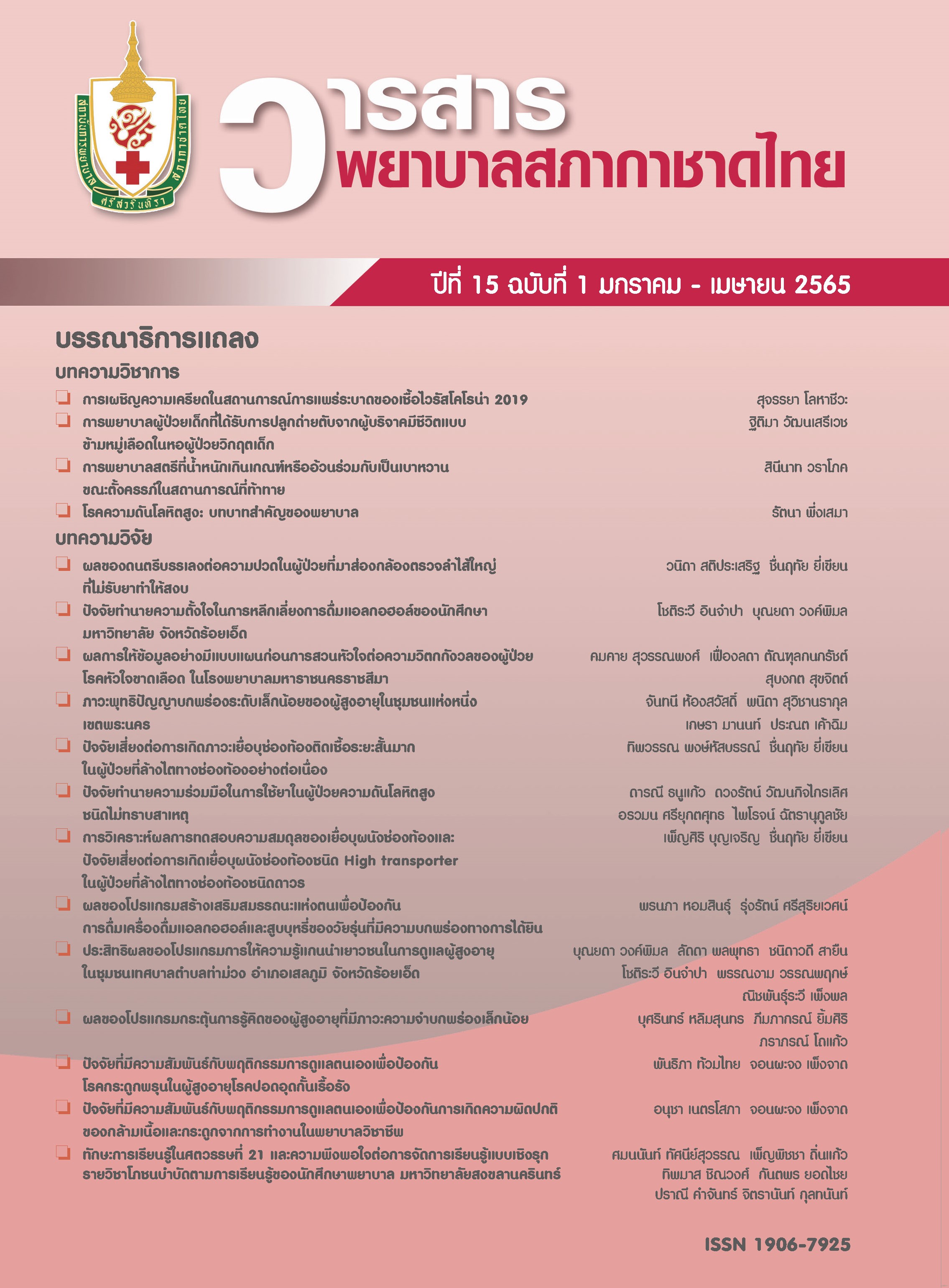 Downloads
Section
Academic Articles
License
Copyright (c) 2022 Srisavarindhira Thai Red Cross Institute of Nursing
This work is licensed under a Creative Commons Attribution-NonCommercial-NoDerivatives 4.0 International License.
เนื้อหาบทความหรือข้อคิดเห็นต่างๆ ในวารสารพยาบาลสภากาชาดไทยนี้ เป็นความคิดเห็นของผู้เขียนบทความ ไม่ใช่ความเห็นของกองบรรณาธิการ หรือสถาบันการพยาบาลศรีสวรินทิรา สภากาชาดไทย