Effectiveness of an Education Program for Youth Leaders in Providing Care for Elderly People in Tha-Muang Subdistrict Community, Selaphum District, Roi Et province.
Keywords:
elderly care in community, education program, attitude, skill
Abstract
            The purpose of this quasi-experimental research aimed to study the effectiveness of an education program for youth leaders in providing care for elderly people. The participants were 51 youth leaders at Tha-Muang school, Tha-Muang Sub-district, Selaphum District, Roi Et province, and they were selected by simple random sampling with a lottery method. The study was conducted during March to June 2020 by using knowledge, attitude and skill questionnaires. Data were analyzed by percentage, mean, standard deviation and paired  t-test.
            The study results showed that most of the youth leaders were female (60.8%). About 28% of them were 16 years old and 47.1% were studying in secondary school (Matayom 2). All of them were Buddhist. After participating in the twelve-week educational program, the youth leaders had higher mean scores of knowledge, attitude, and skill in providing care for elderly people in the community, compared to those in the pre-experiment significantly at a level of .05. The findings will be useful for those involved to apply the activities for enhancing the knowledge, attitude, and skill in providing care for elderly people by youth leaders. These findings will lead to the effective caring of elderly people in communities.
Downloads
Download data is not yet available.
References
National Statistical Office Ministry of Digital Economy and Society. Report on the 2017 survey of the older person in Thailand. Bangkok: National Statistical Office; 2018. (in Thai)
Chokevivat V. Caring for home bound and bed bound elders. Bangkok: Thai Health Promotion Foundation; 2017. (in Thai)
Teerawichichainan B, Pothisiri W, Knodel J, Prachuabmoh V. Thailand's older persons and their well-being. Bangkok: HelpAge International; 2019. (in Thai)
Waichompu N, Boontud R, Singweratham N. Elderly health promotion by three main concepts. The Southern College Network Journal of Nursing and Public Health 2019;6(2): 262-9. (in Thai)
Miller CA. Nursing for wellness in older adult. 8th ed. Philadelphia: Wolters Kluwer; 2021.
Artsanthia J, Pomthong R. The trend of elderly care in 21st century: challenging in nursing care. J Royal Thai Army Nurses 2018;19(1):39-46. (in Thai)
Artsanthia J, Kampraw P. Modality of care for the older adults in community. J Royal Thai Army Nurses 2014;15(3):123-7. (in Thai)
Kangchai W, Subgranon R, Sumngern C, Chantakeeree C. Research report: Development of student leader for caring the elderly in Saensuk Municipality (second year). Chonburi: Nursing Faculty Burapa University; 2015. (in Thai)
Songsri C. Elderly care in Thailand context. Research and Development Health System Journal 2016;9(3):86-97. (in Thai)
Bloom BS. Taxonomy of education objective: the classification of educational goals: Handbook II: Affective domain. New York: David Mckay; 1964.
Tha-Muang Health Promoting Hospital. Registration of the elderly for the year 2019. Roi-Et: Tha-Muang Health Promoting Hospital; 2019. (in Thai)
Kon LC. Student attitudes and educational support in caring for older people--a review of literature. Nurse Educ Pract 2012;12(1):16-20.
Best JW. Research in Education. 3rd ed. New Jersey: Prentice Hall; 1977.
Phinyo P, Phinyo K, Janhauna S, Aphiphatkan W, Sayawat T, Akkarsetsakull A. The effectiveness of self-efficacy enhancement program on knowledge, attitudes and behaviors of the village health volunteers providing the long term care for the elders, Khon Kaen province. Songklanagarind J Nurs 2017;37(3):109-20. (in Thai)
Gaire B, Khagi BR. Attitude of the youth towards the elderly people in the selected community in Lalitpur district of Nepal. Medphoenix 2020;5(1):46-53. doi: https://doi.org/10.3126/medphoenix.v5i1.31399
Lasuka D, Khampolsiri T, Sucamvang K, Chintanawat R. Development of Leader's potential in holistic health promotion process of aging in the community. Thai Journal of Nursing Council 2011;26(special issue):59-69. (in Thai)
Oba N, Homsuwan R, Boonlue C. Development of family caregivers' knowledge and skills regarding older adults' care. The Journal of Faculty of Nursing Burapha University 2021; 29(1):13-24. (in Thai)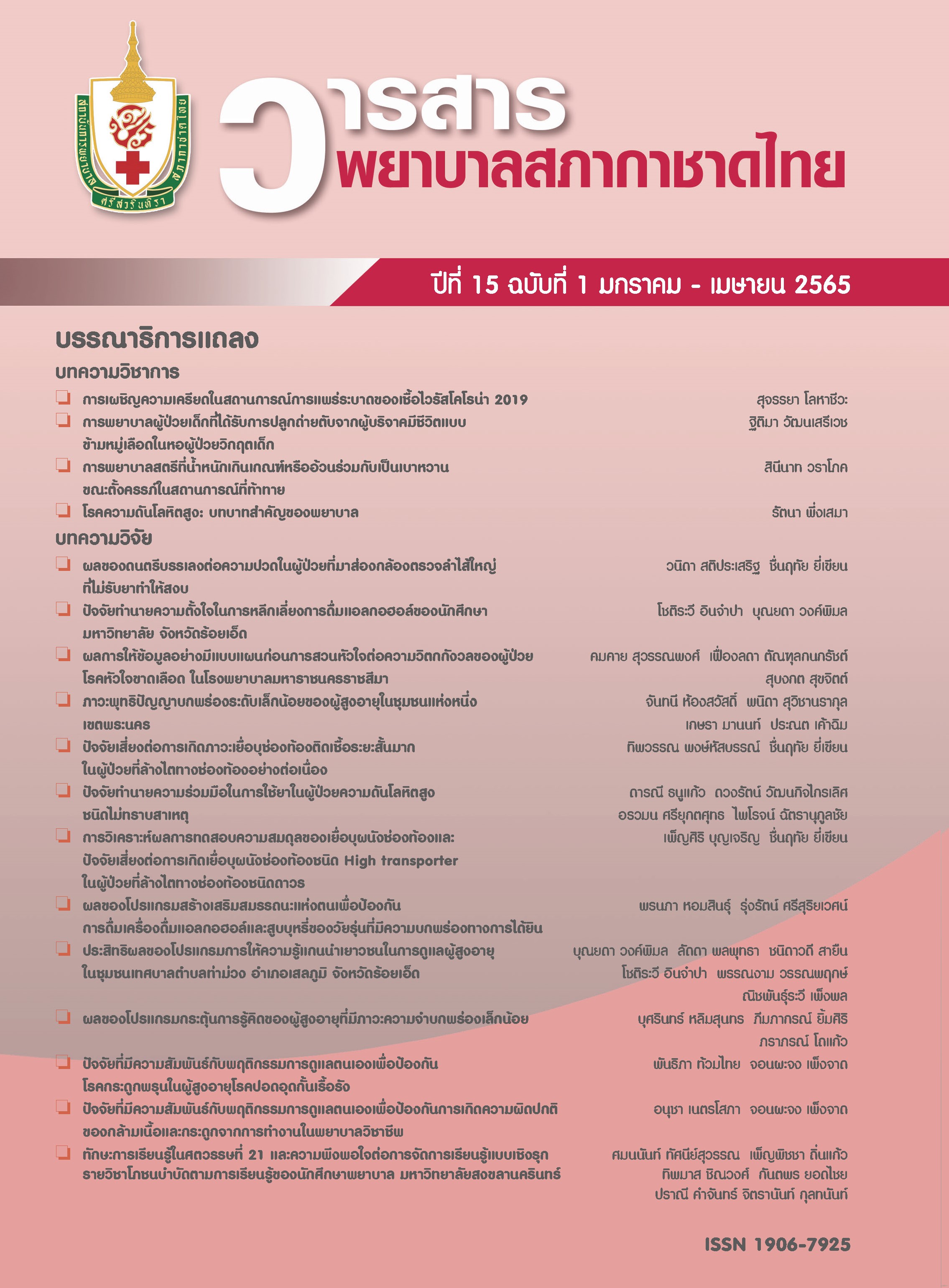 Downloads
Section
บทความวิจัย (Research Report)
License
Copyright (c) 2022 Srisavarindhira Thai Red Cross Institute of Nursing
This work is licensed under a Creative Commons Attribution-NonCommercial-NoDerivatives 4.0 International License.
เนื้อหาบทความหรือข้อคิดเห็นต่างๆ ในวารสารพยาบาลสภากาชาดไทยนี้ เป็นความคิดเห็นของผู้เขียนบทความ ไม่ใช่ความเห็นของกองบรรณาธิการ หรือสถาบันการพยาบาลศรีสวรินทิรา สภากาชาดไทย