Nursing Care for Children with ABO-Incompatible Living Donor Liver Transplantation in a Pediatric Intensive Care Unit
Keywords:
ABO-incompatible liver transplantation, critically ill pediatric patient, pediatric nursing
Abstract
               Liver transplantation is an effective treatment for chronic and acute liver failure in children. However, liver transplantation faces the difficulty of a lack of blood groups with matching donors, which leads to cross blood group liver transplants from living donors to maintain liver function. Pediatric patients undergoing cross-blood liver transplantation need to be admitted to a pediatric intensive care unit to monitor symptoms and complications such as bleeding; liver rejection; biliary complications; infection; pain and discomfort. Also included are administering immunosuppressive drugs and promoting family engagement in patient care. Nurses can play an integral role in preoperative care and postoperative care until the patient's clinical signs are stable and they are discharged from the intensive care unit. Hence, this article reviewed the knowledge about ABO-incompatible living donor liver transplantation in children and complications, along with nursing care for pre-operation, post-operation, and case study. This could help patients receive continuing treatment and have a better quality of life.
Downloads
Download data is not yet available.
References
Siriraj Liver Transplant Center. Should you know about liver transplantation? [Internet]. 2021 [cited 2021 Feb 12]. Available
from: https://www.si.mahidol.ac.th/th/division/SiLTx/knowledge detail.asp?id=3 (in Thai)
Rummler S, Bauschke A, Bärthel E, Jütte H, Maier K, Ziehm P, et al. Current techniques for AB0-incompatible living donor liver transplantation. World J Transplant 2016;6(3):548-55.
Honda M, Sugawara Y, Kadohisa M, Shimata K, Sakisaka M, Yoshii D, et al. Long-term outcomes of ABO-incompatible pediatric living donor liver transplantation. Transplantation 2018;102(10):1702-9.
Chen G, Sun J, Wei S, Chen Y, Tang G, Xie Z, et al. Simultaneous ABO-incompatible living-donor liver transplantation and splenectomy without plasma exchange in China: two case reports. J Int Med Res 2017;45(6):2146-52.
West LJ. Antibodies and ABO-incompatibility in pediatric transplantation. Pediatr Transplant 2011;15(8):778-83.
Egawa H, Teramukai S, Haga H, Tanabe M, Mori A, Ikegami T, et al. Impact of rituximab desensitization on blood-type-incompatible adult living donor liver transplantation: a Japanese multicenter study. Am J Transplant 2014;14(1):102-14.
Mahmud N. Selection for liver transplantation: indications and evaluation. Curr Hepatol Rep 2020:19(3):203-12
Treepongkaruna S. Pediatric liver transplantation: ICU care. Bangkok: Department of Pediatrics, Faculty of medicine Ramathibodi hospital, Mahidol university; 2017. (in Thai)
Kim JM, Kwon CH, Joh JW, Kang ES, Park JB, Lee JH, et al. ABO-incompatible living donor liver transplantation is suitable in patients without ABO-matched donor. J Hepatol 2013;59(6):1215-22.
Komolmit P, Nivatvongs S, Sritangsirikul S. Know about liver disease, know about liver transplantation liver unit, King Chulalongkorn Memorial Hospital. 2nd ed. Bangkok: Amarin Printing and Publishing; 2007. (in Thai)
Nivatvongs S. Suggestions liver transplant surgery for people [Internet]. (n.d.) [cited 2020 Nov 17]. Available
from: https://www.organdonate.in.th/assets/files/liver.pdf (in Thai)
Lee CF, Cheng CH, Wang YC, Soong RS, Wu TH, Chou HS, et al. Adult living donor liver transplantation across ABO-incompatibility. Medicine (Baltimore) 2015;94(42):e1796. doi:10.1097/MD0000000000001796
Narumoto S, Sakamoto S, Sasaki K, Hirata Y, Fukuda A, Uchiyama T, et al. ABO-incompatible liver transplantation for children under 2 years of age: A case report and a single-center review. Pediatr Transplant 2019;23(1):e13308. doi:10.1111/petr.13308
Mendes M, Ferreira AC, Ferreira A, Remédio F, Aires I, Cordeiro A, et al. ABO-incompatible liver transplantation in acute liver failure: a single Portuguese center study. Transplant Proc 2013;45(3):1110-5.
Mysore KR, Himes RW, Rana A, Teruya J, Desai MS, Srivaths PR, et al. ABO-incompatible deceased donor pediatric liver transplantation: Novel titer-based management protocol and outcomes. Pediat Transplant 2018;22(7):e13263. doi:10.1111/petr.13263
Abad CL, Lahr BD, Razonable RR. Epidemiology and risk factors for infection after living donor liver transplantation. Liver Transplant 2017;23(4):465-77.
Moini M, Schilsky ML, Tichy EM. Review on immunosuppression in liver transplantation. World J Hepatol 2015;7(10):1355-68.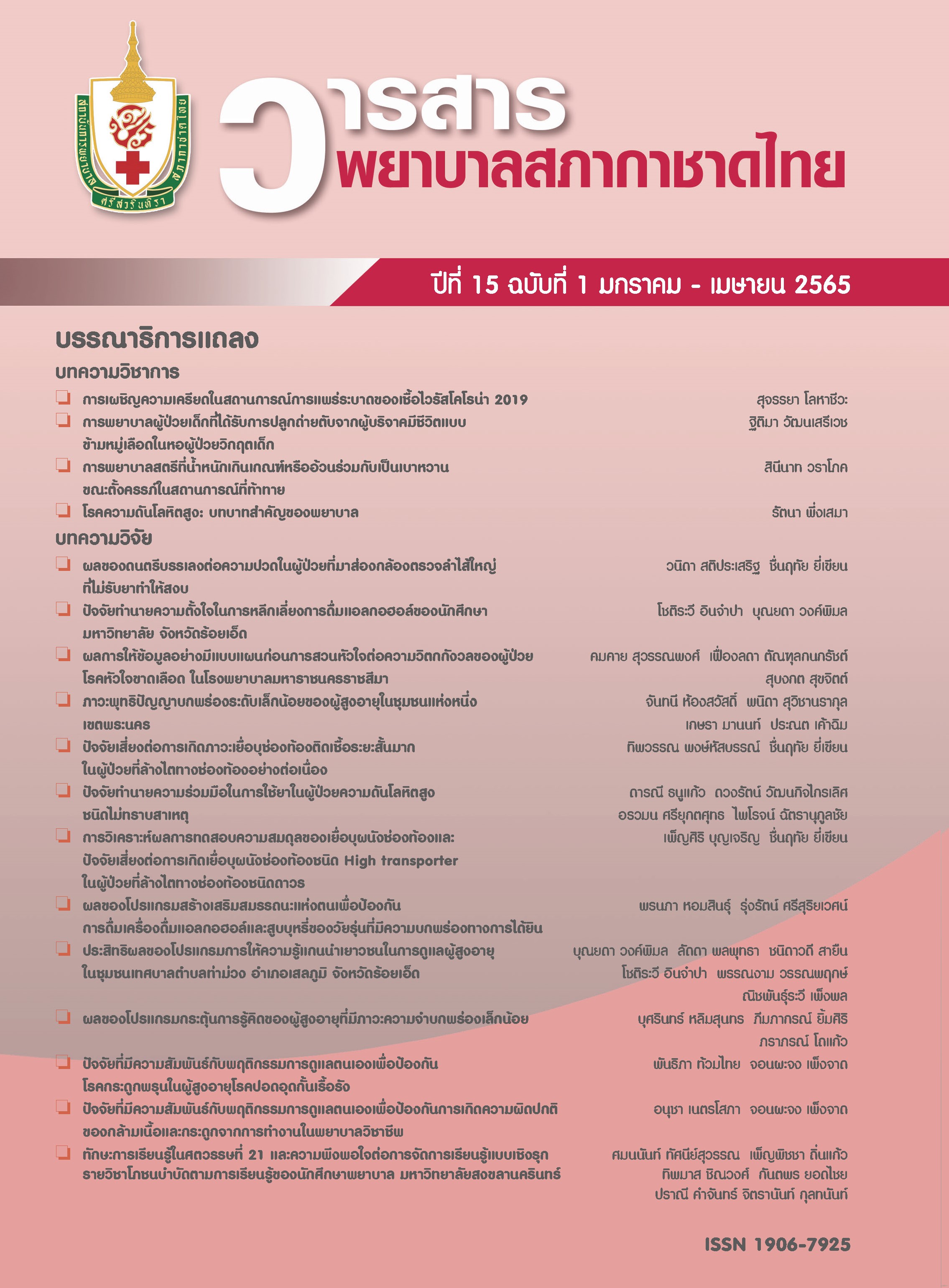 Downloads
Section
Academic Articles
License
Copyright (c) 2022 Srisavarindhira Thai Red Cross Institute of Nursing
This work is licensed under a Creative Commons Attribution-NonCommercial-NoDerivatives 4.0 International License.
เนื้อหาบทความหรือข้อคิดเห็นต่างๆ ในวารสารพยาบาลสภากาชาดไทยนี้ เป็นความคิดเห็นของผู้เขียนบทความ ไม่ใช่ความเห็นของกองบรรณาธิการ หรือสถาบันการพยาบาลศรีสวรินทิรา สภากาชาดไทย