Nursing Care for Overweight or Obese Pregnant Women with Diabetes Mellitus in a Challenging Situation
Keywords:
diabetes in pregnancy, overweight or obesity, challenging situation, nursing care
Abstract
               Diabetes mellitus, or simply diabetes, is a complication which is often found in pregnant women who are obese. Those who are diagnosed with need special health care for controlling weight gain and maintaining blood glucose at a normal level, as well as preventing other complications. The changeable situation of the COVID-19 pandemic has impacted antenatal care and follow up blood glucose in hospitals, and health behaviors and outcomes of pregnant women. Moreover, progression of communication technology has also been negatively affected which is a double-edged sword in health care. For advantages, progression of communication technology as telehealth in COVID-19 pandemic situation. These are useful in counsel and education in health issues and follow up on blood glucose. However, pregnant women can easily access health information through the internet; pregnant women may obtain inaccurate and inappropriate health information which could influence behaviors and outcomes related to health. Therefore, health literacy is an important issue. This article presents the impact of diabetes on pregnant women's health, as well as the fetus and newborn, during the COVID-19 pandemic, progression of communication technology, and nursing process for overweight or obese pregnant women with diabetes that are relevant to a challenging situation
Downloads
Download data is not yet available.
References
International Diabetes Federation. IDF diabetes atlas. 10th ed. [Internet]. 2021 [cited 2022 Jan 29]. Available from: https://diabetesatlas.org/idfawp/resource-files/2021/07/IDF_Atlas_10th_Edition_2021.pdf
Yuen L, Saeedi P, Riaz M, Karuranga S, Divakar H, Levitt N, et al. Projections of the prevalence of hyperglycaemia in pregnancy in 2019 and beyond: Results from the International Diabetes Federation Diabetes Atlas, 9th ed. Diabetes Res Clin Pract 2019;157:157841. doi: 10.1016/j.diabres.2019.107841
Scott-Pillai R, Spence D, Cardwell CR, Hunter A, Holmes VA. The impact of body mass index on maternal and neonatal outcomes: a retrospective study in a UK obstetric population, 2004-2011. BJOG. 2013;120(8):932-9.
Aekplakorn W, editor. The report of Thailand population health examination survey VI 2019-2020. Bangkok: Graphic-System; 2021. (in Thai)
Siriarunrat S, Tachasuksri T, Deoisres W. Prevalence and factors affected to excessive gestational weight gain among pregnant women in the Eastern part to Thailand. Journal of Public Health Nursing 2018;32(3):19-36. (in Thai)
Zanardo V, Tortora D, Sandri A, Severino L, Mesirca P, Straface G. COVID-19 pandemic: impact on gestational diabetes mellitus prevalence. Diabetes Res Clin Pract 2022;183:109149. doi: 10.1016/j.diabres.2021.109149.
Eskenazi B, Rauch S, Lurlaro E, Gunier RB, Rego A, Gravett MG, et al. Diabetes mellitus, maternal adiposity, and insulin-dependent gestational diabetes are associated with COVID-19 in pregnancy: the INTERCOVID study. Am J Obstet Gynecol 2021:S0002-9378(21)02696-X. doi: 10.1016/j.ajog.2021.12.032.
Moradi F, Ghadiri-Anari A, Enjezab B. COVID-19 and self-care strategies for women with gestational diabetes mellitus. Diabetes Metab Syndr 2020;14(5):1535-9.
Kuske S, Schiereck T, Grobosch S, Paduch A, Droste S, Halbach S, et al. Diabetes-related information-seeking behaviour: a systematic review. Syst Rev 2017;6(1):212.doi: 10.1186/s13643-017-0602-8.
Nawabi F, Krebs F, Vennedey V, Shukri A, Lorenz L, Stock S. Health literacy in pregnant women: a systematic review. Int J Environ Res Public Health 2021;18(7):3847. doi: 10.3390/ijerph18073847.
Moore LE. Diabetes in pregnancy the complete guide to management. Cham: Springer; 2018.
OuYang H, Chen B, Abdulrahman AM, Li L, Wu N. Associations between gestational diabetes and anxiety or depression: a systematic review. J Diabetes Res 2021. :9959779. doi: 10.1155/2021/9959779.
Violante-Cumpa JR, Lavalle-Gonzalez FJ, Mancillas-Adame LG, Avili-Hipoloto ED, Violante-Cumpa KA. Gestational diabetes mellitus and COVID-19, clinical characteristics and review of the literature. Prim Care Diabetes 2021;15(5):887-9.
Lapolla A, Dalfrà MG, Burlina S. Vaccination against COVID-19 infection: the need of evidence for diabetic and obese pregnant women. Acta Diabetol 2021;58(12):1581-5.
Lipkind HS, Vazquez-Benitez G, DeSilva M, Vesco KK, Ackerman-Banks C, Zhu J, et al. Receipt of COVID-19 vaccine during pregnancy and preterm or small-for-gestational-age at birth-eight integrated health care organizations, United States, December 15, 2020-July 22, 2021. MMWR Morb Mortal Wkly Rep 2022;71(1):26-30.
Sayakhot P, Carolan-Olah M. Sources of information on gestational diabetes mellitus, satisfaction with diagnostic process and information provision. BMC Pregnancy Childbirth 2016;16:287. doi 10.1186/s12884-016-1067-9
Nutbeam D. Defining, measuring and improving health literacy. Health Evaluation and Promotion 2015;42(4):450-5.
American Diabetes Association. Management of diabetes in pregnancy: standards of medical care in diabetes-2020. Diabetes Care 2021;44 (Suppl 1):s200-10.
Vasile FC, Preda A, Stefan AG, Vladu MI, Fortofoiu M, Clenciu D, et al. An update of medical nutrition therapy in gestational diabetes mellitus. J Diabetes Res 2021;2021. https://doi.org/10.1155/2021/5266919
Government of South Australia. Frequently asked questions: COVID-19 vaccination and pregnancy, planning a family, and breastfeeding [Internet]. 2022 [cited 2022 Jan 26]. Available from: https://www.sahealth.sa.gov.au/wps/wcm/connect/b60afec9-f418-
b73-99ef-0e07e582664b/20220120-+COVID-19+Vaccination+for+Pregnancy+and+ Breastfeeding.pdf MOD=AJPERES&CACHEID=ROOTWORKSPACE-b60afec9-f418-4b73-99ef-0e07e582664b-nVRK82S
Gharachourlo M, Mahmoodi Z, Akbari Kamrani M, Tehranizadeh M, Kabir K. The effect of a health literacy approach to counselling on the lifestyle of women with gestational diabetes: a clinical trial. F1000Res 2018;7:282. doi: 10.12688/f1000research.13838.1.
Fryer K, Delgado A, Foti T, Reid CN, Marshall J. Implementation of obstetric telehealth during COVID-19 and beyond. Matern Child Health J 2020;24(9):1104-10.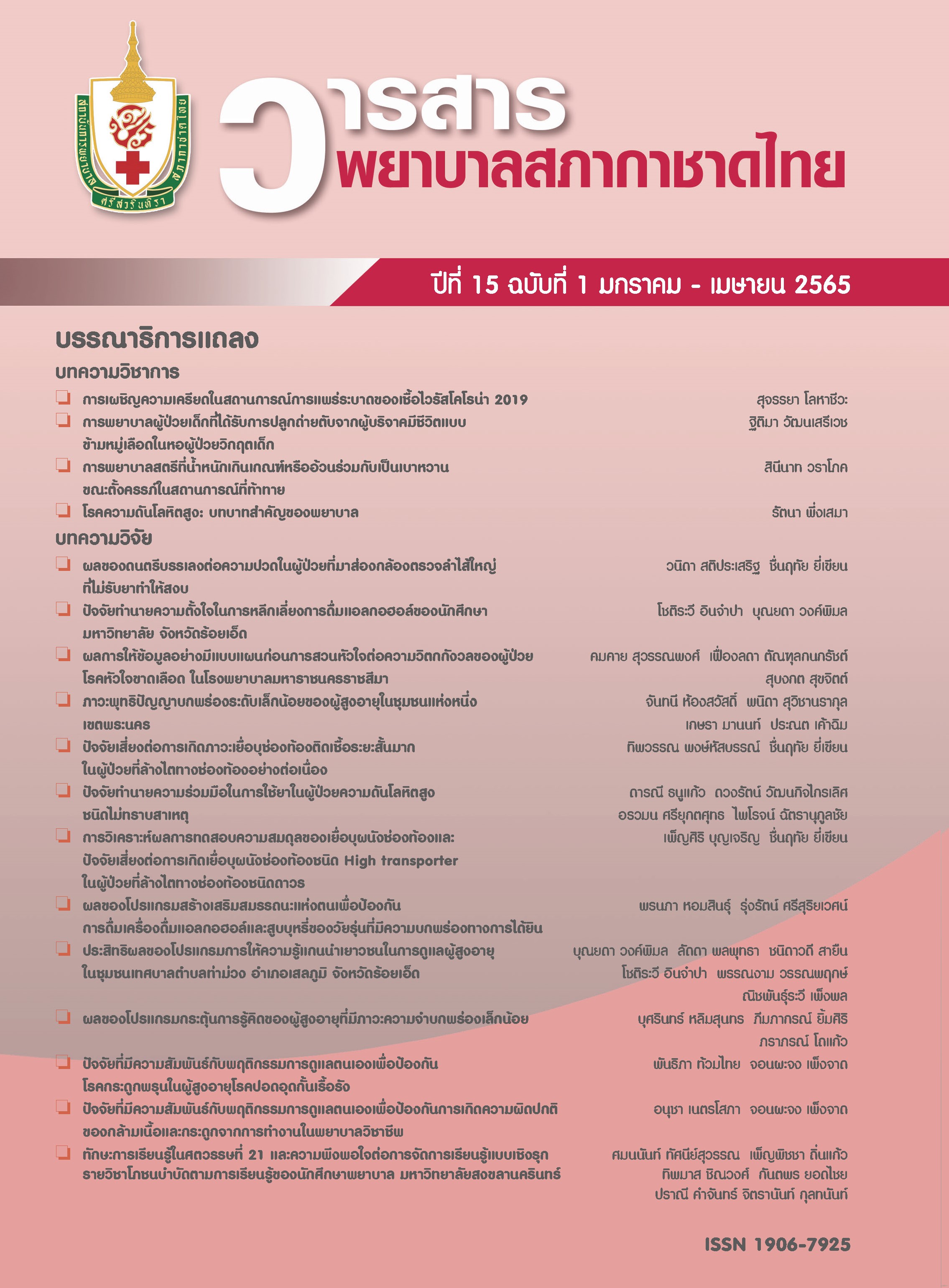 Downloads
Section
Academic Articles
License
Copyright (c) 2022 Srisavarindhira Thai Red Cross Institute of Nursing
This work is licensed under a Creative Commons Attribution-NonCommercial-NoDerivatives 4.0 International License.
เนื้อหาบทความหรือข้อคิดเห็นต่างๆ ในวารสารพยาบาลสภากาชาดไทยนี้ เป็นความคิดเห็นของผู้เขียนบทความ ไม่ใช่ความเห็นของกองบรรณาธิการ หรือสถาบันการพยาบาลศรีสวรินทิรา สภากาชาดไทย