Recurrence of Psychiatric Patient Hospitalization: The Nursing Role in Continuing Care
Keywords:
psychiatric patient, recurrence, psychiatric nurse
Abstract
               Psychiatric diseases are chronic diseases that require continuing care. Some may require lifelong care in cases of diseases that cannot be cured. The deterioration of personality will occur gradually after each illness. Furthermore, patients will not recognize the underlying reality causing symptoms of hallucinations, aggression, depression, poor hygiene, and unemployment. In fact, most patients will refuse to accept the fact of the illness, resulting in refusal of treatment and intermittent drug use, leading to even more severe symptoms. Currently, it is found that, in Thailand, 70% of psychiatric patients undergo recurrent treatment. Therefore, it is important that psychiatric patients receive continuing care to prevent recurrence of hospitalization.
                Nursing activities in the continuing care system for psychiatric patients are important, guidelines for effective continuing care are needed. Continuing care should be continually given from admission until discharge from the hospital.  The ability to provide this care for psychiatric patients requires the cooperation of the healthcare team. It is also important that, when patients are ready to go home, they are given appropriate referrals for the provision of continuing care in order to reduce readmission, and to allow patients to live in the community as long as possible. The desired result is to achieve a better quality of life for patients, family, and their communities.
Downloads
Download data is not yet available.
References
1. The Department of Mental Health, Ministry of Health. Thailand Annual report 2018. [Internet]. 2018
[cited 2020 Feb 1]. Available from: www.dmh.go.th/report/dmh/rpt_year/view.asp?id=410 (in Thai)

2. Choorat N. The study of causes and ways to prevent a recurrence of schizophrenic patients in the community of Pi-leng District Health Care Promoting Hospitals which Experiencing Unrest Situation in the Southern Provinces of Thailand. Princess of Naradhiwas University Journal of Humanities and Social Sciences 2016;3(1):24-36. (in Thai)

3. Meijei V, Gagg D, Kahn S, Grypdonck F. Relapse prevention in patients with Schizophrenia. Arch Psychiatr Nurs 2003;17(3):117-25.

4. Thongsai S. Caring for schizophrenic patients in a sustainable Thai social context. Journal of Nursing Division 2015;42(3):159-67. (in Thai)

5. Sadock BJ, Sadock VA. Synopsis of psychiatry: behavioral sciences/clinical psychiatry. 11th ed. Philadelphia: Lippincott; 2015.

6. Wattanasiri O, Sripusito S. The development of process of continuity care in schizophrenia patient by interdisciplinary team and care giver network of Kamphaeng Phet Hospital. Journal of Nursing Division 2013;40(1):67-83. (in Thai)

7. Suttichaichot C, Kulsri S, Piboonarluk W. The effect of motivation enhancement program
in schizophrenia patients on medication adherence behaviors, Somdet Chaopraya Institute of
Psychiatry. The Journal of Psychiatric Nursing and Mental Health 2013;27(3):75-86. (in Thai)

8. Chaiyalap S, Viriyakosol A. Home visit to patients with mental illness in the community after returning to society. Kuakarun Journal of Nursing 2014;21(Suppl):139-54. (in Thai)

9. Shives LR. Basic concepts of psychiatric-mental health nursing. 8th ed. Philadelphia: Lippincott Williams & Wilkins; 2012.

10. Somjai P. Development of discharge planning for patients with schizophrenia, Nakhonsawan
Rajanagarindra Psychiatric Hospital [Master of Nursing Science. Mental Health and Psychiatric Nursing]. Chiang Mai: Chiang Mai University; 2007. (in Thai)

11. Chunthai K. Standard of psychiatric nursing and mental health. Chiang Mai: Printing house; 2013. (in Thai)

12. Phongpipattanapan P. Experiences in the role of nurses in providing primary care service at community hospitals. Songkla: Health System Research and Development, Prince of Songkla University; 2001. (in Thai)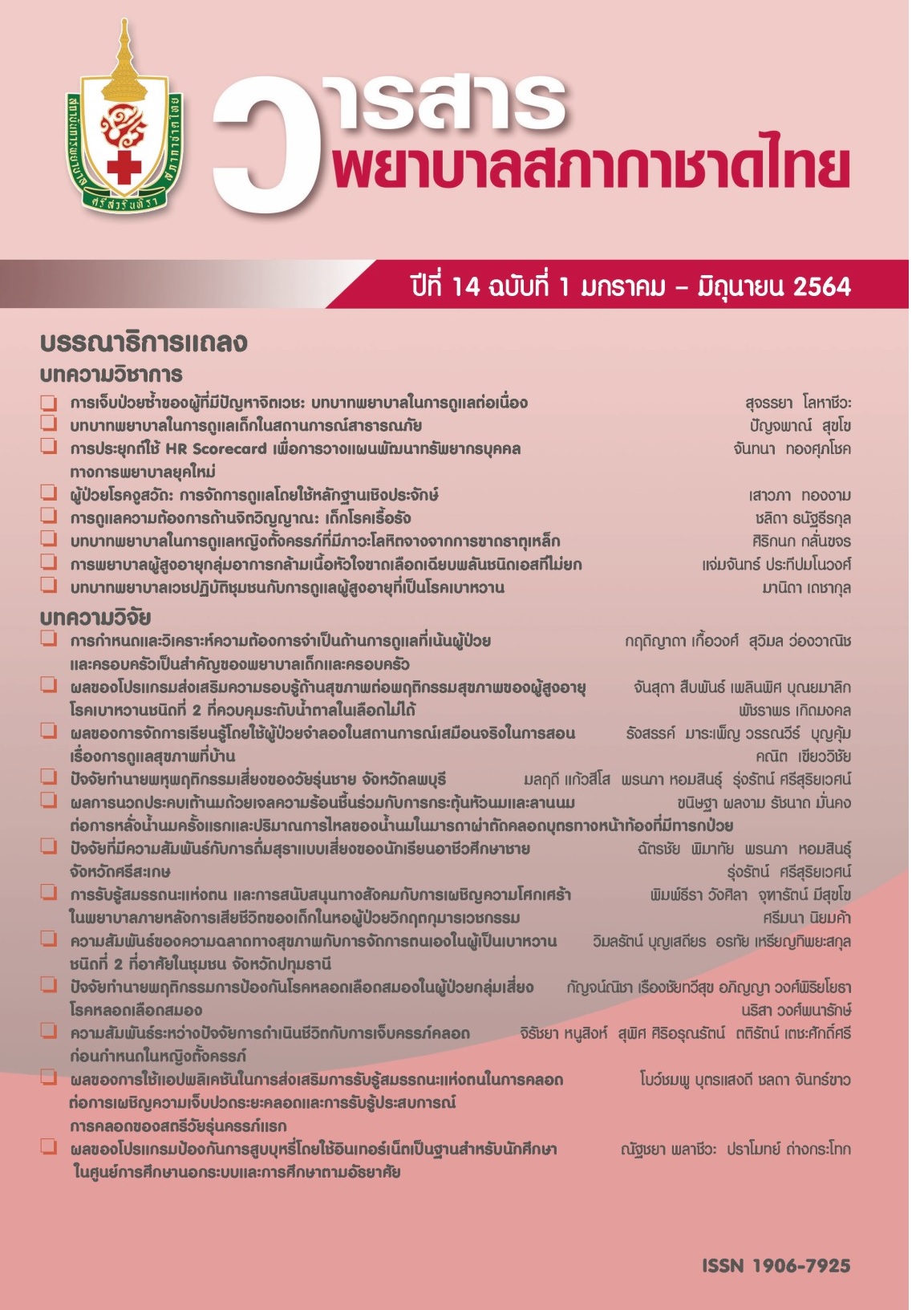 Downloads
Section
Academic Articles
License
เนื้อหาบทความหรือข้อคิดเห็นต่างๆ ในวารสารพยาบาลสภากาชาดไทยนี้ เป็นความคิดเห็นของผู้เขียนบทความ ไม่ใช่ความเห็นของกองบรรณาธิการ หรือสถาบันการพยาบาลศรีสวรินทิรา สภากาชาดไทย