Attending to The Spiritual Needs of Children with Chronic Diseases
Keywords:
spirituality, children, chronic disease
Abstract
                Children with chronic diseases who spend their time in and out of hospitals are usually deeply affected by their illnesses. If these children receive high quality personalized care, especially spiritual care form nurses who are closest to the children, they will be more capable of handling the situation more appropriately. In other words, these children will gain spiritual well-being. In contrast, when this type of personalized quality care is lacking, the children will experience spiritual distress. This article presents a case study carried out through O'Brien's framework in order to analyze and illustrate the nurse's role in helping to attend to the spiritual needs of children with chronic diseases.
Downloads
Download data is not yet available.
References
1. Drutchas A, Anandarajah G. Spirituality and coping with chronic disease in pediatrics. R I Med J (2013) 2014;97(3):26-30.

2. Alpert PT. Spirituality goes beyond religiosity: a much needed practice in nursing. Home Health Care Manag Pract [Internet]. 2010 [cited 2010 Sep 22];22:140-3. Available from: http://journals.sagepub.com/doi/pdf/10.1177/1084822309343867

3. Withers A, Zuniga K, Van Sell SL. Spirituality: concept analysis. Int J Nurs Clin Pract [Internet]. 2017 [cited 2018 Sep 22];4:234. Available from: doi.org/10.15344/2394-4978/2017/234

4. Carroll MM. Conceptual models of spirituality. Social Thought 2001;20(1-2):5-21.

5. Cavendish R, Luise B, Russo D, Mitzeliotis C, Bauer M, McPartlan Bajo MA, et al. Spiritual perspectives of nurses in the United States relevant for education and practice. West J Nurs Res 2004;26(2):196-212.

6. Narayanasamy A, Clissett P, Parumal L, Thompson D, Annasamy S, Edge R. Responses to the spiritual needs of older people. J Adv Nurs [Internet]. 2004 [cited 2018 Oct 20];48:6-16. Available from: https://doi.org/10.1111/j.1365-2648.2004.03163.x

7. Buck HG. Spirituality: concept analysis and model development. Holist Nurs Pract 2006;20(6):288-92.

8. O'Brien ME. Spirituality in nursing: standing on holy ground. 5th ed. Burlington (MA): Jones and Barlett Learning; 2014.

9. Barros Meireles C, Chaves Maia L, Linhares Mina VA, Martins Cardoso Novais M, Cartaxo Peixoto J, Brasil Sampaio Cartaxo M, et al. The influence of spirituality in pediatric cancer management: a systematic review. Int Arch Med [Internet]. 2015 [cited 2018 Sep 22]. Available from: https://doi.org/10.3823/1634

10. Bentzen N. WONCA dictionary of general/family practice. Trondheim, Norway: WONCA International Classification Committee; 2003.

11. Bernell S, Howard SW. Use your words carefully: What is a chronic disease? Front Public Health [Internet]. 2016 [cited 2018 Oct 10];4:159:1-5. Available from: https://www.ncbi.nlm.nih.gov/pmc/articles/PMC4969287/

12. MedicineNet. Definition of chronic disease [Internet]. 2016 [cited 2018 Oct 10]. Available from:https://www.medicinenet.com/script/main/art.asp?articlekey=33490

13. Australian Institute of Health and Welfare. Chronic diseases [Internet]. 2016 [cited 2018 Oct 10]. Available from: http://www.aihw.gov.au/chronic-diseases/

14. Walker C. Recognising the changing boundaries of illness in defining terms of chronic illness: a prelude to understanding the changing needs of people with chronic illness. Aust Health Rev 2001; 24(2):207-14.

15. Anderson T, Davis C. Evidence-based practice with families of chronically ill children: a critical literature review. J Evid Based Soc Work 2011;8(4):416-25.

16. Egnew TR. A narrative approach to healing chronic illness. Ann Fam Med [Internet]. 2018 [cited 2018 Oct 12];16:160-5. Available from: http://www.annfammed.org/content/16/2/160.full

17. Pilaikiat R, Ritarom J, Bootjun T. Spiritual care for chronic illness patients: experiences of professional nurses [Internet]. 2009 [cited 2020 Aug 3].Available from: https://he02.tci-thaijo.org/index.php/TJONC/article/view/2555/2384 (in Thai)

18. Nye R. Spirituality as a natural part of childhood [Internet]. 2019 [cited 2019 Aug 6]. Available from:
https://www.biblesociety.org.uk/content/explore_the_bible/bible_in_transmission/files/2017_spring_v2/transmission_spring_2017_nye.pdf

19. The World Service Fund of The United Methodist Church. Ten simple spiritual practice ideas for children & youth [Internet]. 2020 [cited 2020 Aug 3]. Available from: https://gbod-assets.s3.amazonaws.com/legacy/kintera-files/about-gbod/UR_10SimpleSpiritualPractices.pdf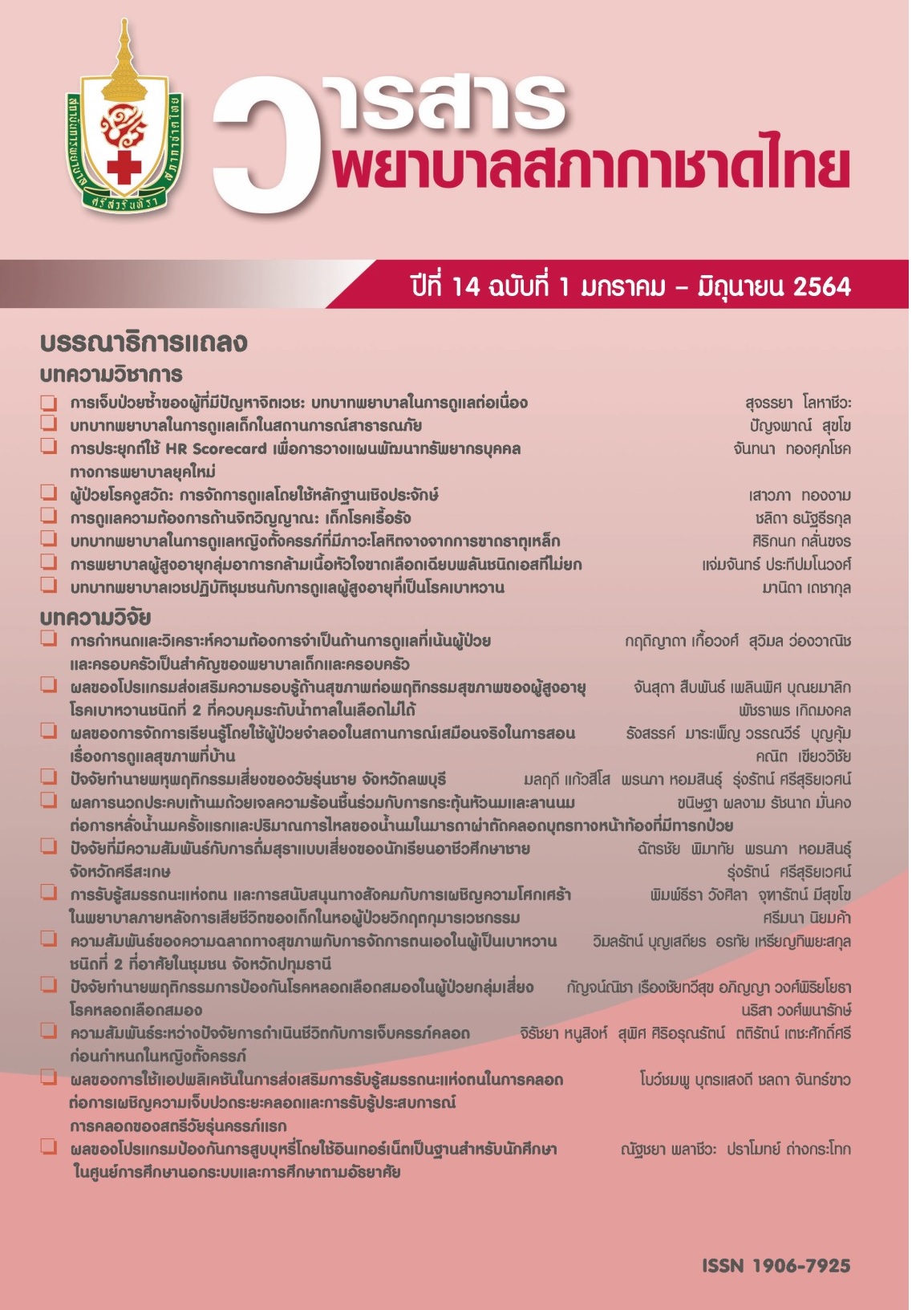 Downloads
Section
Academic Articles
License
เนื้อหาบทความหรือข้อคิดเห็นต่างๆ ในวารสารพยาบาลสภากาชาดไทยนี้ เป็นความคิดเห็นของผู้เขียนบทความ ไม่ใช่ความเห็นของกองบรรณาธิการ หรือสถาบันการพยาบาลศรีสวรินทิรา สภากาชาดไทย