The Effects of Hot Moist Gel Pack Breast Compression Combined with NippleStimulation on The Onset of Milk Ejection and Milk Flow Among Cesarean SectionMothers with Sick Babies
Abstract
               The objectives of this quasi experimental research were to compare : 1)  onset of milk ejection, and  2) the milk flow score of mothers in the experimental group who received hot moist gel pack compression combined with nipple stimulation versus that of mothers in the control group who received breast massage. The study sample comprised 60 mothers, each with a sick baby, receiving care at the Obstetric Ward; those mothers had undergone cesarean section. In addition, 6 hours after surgery the mothers still had problems with insufficient milk, and their babies had problems sucking at the breast to stimulate milk flow.  Participants were randomly assigned to either the experimental group (n=30) or comparison group (n=30). The research instruments of :1) hot moist gel pack compression and nipple stimulation versus breast massage, 2) demographic data forms, and 3) log tables for recording activity and milk expression assessment. The control group received breast massage, while the experimental group received the hot moist gel pack compression  combined with  nipple stimulation. Statistics used for data analysis included frequency, percentage, means, standard deviation and independent  t-test.
               The results showed that 1) the duration until the onset of milk production of the experimental group was significantly shorter than that of the control group at the .01 level   (t = -7.46, P <.01), and 2) the experimental group had higher milk flow scores than those of the control group, with statistical significance at the level of .01 ( t = 7.35, P <.01).
               Therefore, this study suggests that nurses who take care of mothers whose babies are unable to stimulate milk by sucking should apply hot moist gel pack compression with  nipple stimulation in order to promote an effective milk ejection that helps sick babies receive breast milk earlier.
Downloads
Download data is not yet available.
References
1. Mo-suwan L, Puwanant M, Phosuwattanakul J, Suthutvoravut U, Jongpipatwanich S, Chongviriyaphan N, et al. Clinical practice guidelines for the pediatric inpatient treatment of severe acute malnutrition 2019. Thai JPEN 2020;28(1):11-39. (in Thai)

2. Gephart SM, Weller M. Colostrum as oral immune therapy to promote neonatal health. Adv Neonatal Care 2014;14(1):44-51.

3. Settapakdee A, Sawatdivorn S. Breast feeding for sick baby [Internet]. 2016 [cited 2019 Oct 20]. Available from: http://www.biogenetech.co.th/news/. (in Thai)

4. Thepkamram P. Drinking breast milk for a long time, less sick rates [Internet]. 2015 [cited 2017 Jul 6]. Available from: https://www.thaihealth.or.th/Content/. (in Thai)

5. Kent JC, Prime DK, Garbin CP. Principles for maintaining or increasing breast milk production. J Obstet Gynecol Neonatal Nurs 2012;41(1):114-21.

6. The Standard Team. Breast milk is the foundation of life, targeting 2025 at least 50% of Thai children consume only breast milk for 6 months [Internet]. 2018 [cited 2018 Aug 14 ]. Available from: https://thestandard.co/breastfeeding-foundation-of-life/. (in Thai)

7. Lisien CF, Fu JC, Long CY, Lin HS. Factors influencing breast symptoms in breastfeeding women after cesarean section delivery. Asian Nurs Res (Korean Soc Nurs Sci) 2011; 5(2):88-98.


8. Gartner LM, Morton J, Lawrence RA, Naylor AJ, O'Hare D, Schanler RJ, et al. Breastfeeding and the use of human milk. Pediatrics 2005;115(2):496-506.

9. Nommsen-Rivers LA, Cohen RJ, Chantry CJ, Dewey KG. The Infant Feeding Intentions scale demonstrates construct validity and comparability in quantifying maternal breastfeeding intentions across multiple ethnic groups. Matern Child Nutr 2010;6(3):220-7.

10. Sawatdivorn S. Learn breast milk from pictures: Thailand edition. Bangkok: The Breastfeeding Center of Thailand Foundation; 2013. (in Thai)

11. Jirapaet K. Atlas normal findings and common problems in neonates. Bangkok: Sutthakan; 2014. (in Thai)

12. Trainapakul C, Chaiyawattana M, Kanavitoon W, Tiumtaogerd R, Naka S, Mitrniyodom W, et al. Effect of milk ejection performance of postpartum mothers after breasts massage and compression with mini hot bag and herbal compress. Journal of Nursing and Education 2010;3(3):75-91. (in Thai)

13. Dimitraki M, Tsikouras P, Manav B, Gioka T, Koutlaki N, Zervoudis S, et al. Evaluation of the effect of natural and emotional stress of labor on lactation and breast-feeding. Arch Gynecol Obstet 2016;293(2):317-28.

14. Lehmann JF, Warren CG, Scham SM. Therapeutic heat and cold. Clin Orthop Relat Res 1974;99:207-45.

15. Baimonta L, Nirattharadorn M, Kamolwarin S. The effect of promoting breast feeding program on maternal breastfeeding and milk flow among women experiencing cesarean section. Nursing Journal 2015;42(4):67-75. (in Thai)

16. Kangkarn T. Effect of Nipple stimulation program on mothers' breast – milk volume of preterm infants. Kuakarun Journal of Nursing. 2014;21:205-7. (in Thai)

17. Panngam N, Theerasopo P, Ungpansattawon S. The effect of warm moist polymer gel pack compression on the onset of milk production in primiparous mothers. Journal of Phrapokklao Nursing College 2015;27(1):28-38. (in Thai)

18. Ray M, Freeman R, Pine S, Hesselgesser R. Clinical experience with the oxytocin challenge test. Am J Obstet Gynecol 1972;114(1):1-9.

19. Jaiban S, Ruangpuk S, Saetang N. The suitability of time for applied hot pack, Physiotherapy department, Hua Hin Hospital. Hua Hin Sook Jai Klai Kangwon 2016;1(2):66-77. (in Thai)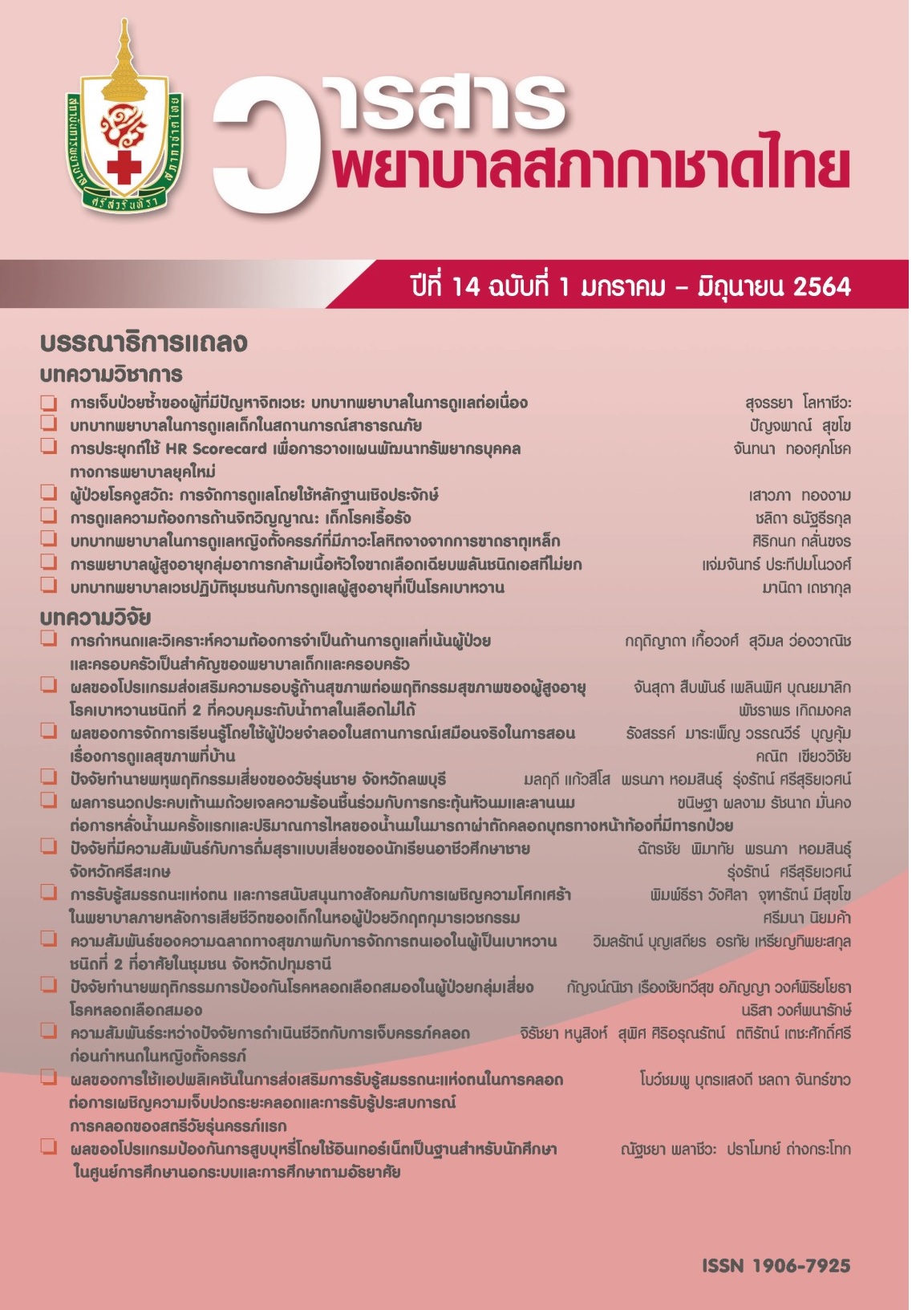 Downloads
Section
บทความวิจัย (Research Report)
License
เนื้อหาบทความหรือข้อคิดเห็นต่างๆ ในวารสารพยาบาลสภากาชาดไทยนี้ เป็นความคิดเห็นของผู้เขียนบทความ ไม่ใช่ความเห็นของกองบรรณาธิการ หรือสถาบันการพยาบาลศรีสวรินทิรา สภากาชาดไทย