Factors Predicting Stroke Prevention Behaviors in Patients at Risk of Stroke
Keywords:
prevention behavior, awareness, social support, stroke
Abstract
               The aim of this predictive study was to explore selected factors for predicting stroke prevention behaviors in patients at risk of stroke in one sub-district health promotion hospital. Simple random sampling without replacement was used to selected 128 subjects into the study. Research instruments included questionnaires about 1) Stroke Prevention Behavior, 2) Stroke Awareness, 3) Social Support, 4) Perceived Benefits of Health Behaviors, and 5) Perceived Barriers of Health Behaviors, which had reliability of .91, .83, .87, .95 and .94 respectively. The data were analyzed by using stepwise multiple regression analysis.
            The results of the study showed that stroke awareness and social support jointly predicted stroke prevention behavior by 25.8% (R2 = .258, p < .05).  In conclusion, healthcare providers should create programs to promote stroke awareness and increase social support for patients who are at risk of stroke.
Downloads
Download data is not yet available.
References
1. Bailey RR. Lifestyle modification for secondary stroke prevention. Am J Lifestyle Med. 2016;12(2):140-147.

2. Bureau of Non Communicable Disease. Information statistic of non-communicable disease [Internet]. [cited 2019 Jan 24]. Available from: http://bps.moph.go.th/new_bps/ สถิติสาธารณสุข (in Thai)

3. Isabel C, Calvet D, Mas JL. Stroke prevention. Presse Med 2016;45 (12 Pt 2):e457-71.

4. Apostolopoulou M, Michalakis K, Miras A, Hatzitolios A, Savopoulos C. Nutrition in the primary and secondary prevention of stroke. Maturitas 2012;72(1):29-34.

5. Becker MH, Maiman LA, Kirscht JP, Haefner DP, Drachman RH. The health belief model and prediction of dietary compliance: a field experiment. J Health Soc Behav 1977;18(4):348-66.

6. Prasansorn T, Pearkao P. The Correlation between perception of risk and prevention behaviors among persons at risk of acute stroke. Journal of Nurses' Association of Thailand, North-Eastern Division 2013;31(2):36-43. (in Thai)

7. Kumpangkaew K, Somboontanont W, Leelahakul V. Relationships between Perceived risk, perceived warning signs and self-care behavior in older adults at risk of cerebrovascular disease. Nursing Journal of the Ministry of Public Health 2015;40-56. (in Thai)

8. Joychoo N, Pinyopaskul W, Charoenkitkarn V. Relationship among age, perceived benefits of health behaviors, perceived barriers of health behavior and health behaviors in patients with ischemic. Rama Nurs J 2014;20(2):236-48. (in Thai)

9. Watcharanurak P, Klubklay A. Factors influencing preventive behavior among stroke-risk patients in songkhla province. The Southern College Network Journal of Nursing and Public Health 2017;4(1):217-33. (in Thai)

10. Pesungnoen A, Suwanroop N, Pinyopasakul W. Factors predicting stroke prevention behaviors in patients at risk in primary care units. The Journal of Baromarajonani College of Nursing, Nakhonratchasima 2018;24(1):40-56. (in Thai)

11. Polit DF, Beck CT. Nursing research: generating and assessing evidence for nursing practice 9th ed. Philadelphia: Lippincott Williams & Wilkins; 2012.

12. Muanmee W, Tepsuyanont S, Wannapornsiri C, Siripornpibul T. Factors influencing preventive behaviors for cerebrovascular disease among hypertensive patients. Journal of Nursing and Health Sciences 2015;9(2):156-65. (in Thai)

13. Srisatidnarakul B. The methodology in nursing research. Bangkok: You and I Inter Media; 2010. (in Thai)

14. Sopitpakdeepong C, Lapvongwatana P, Lagampan S. Predicting factors of health promoting behaviors for families at risk of stroke. Journal of Nursing and Health Science 2010;4(3):61-9. (in Thai)

15. Jodnok K, Panomai N. Factors influencing stroke prevention self-care behavior at Buengkan Hospital, Buengkan District, Buengkan Province. North-Eastern Thai Journal of Neuroscience 2019;13(2):38-55. (in Thai)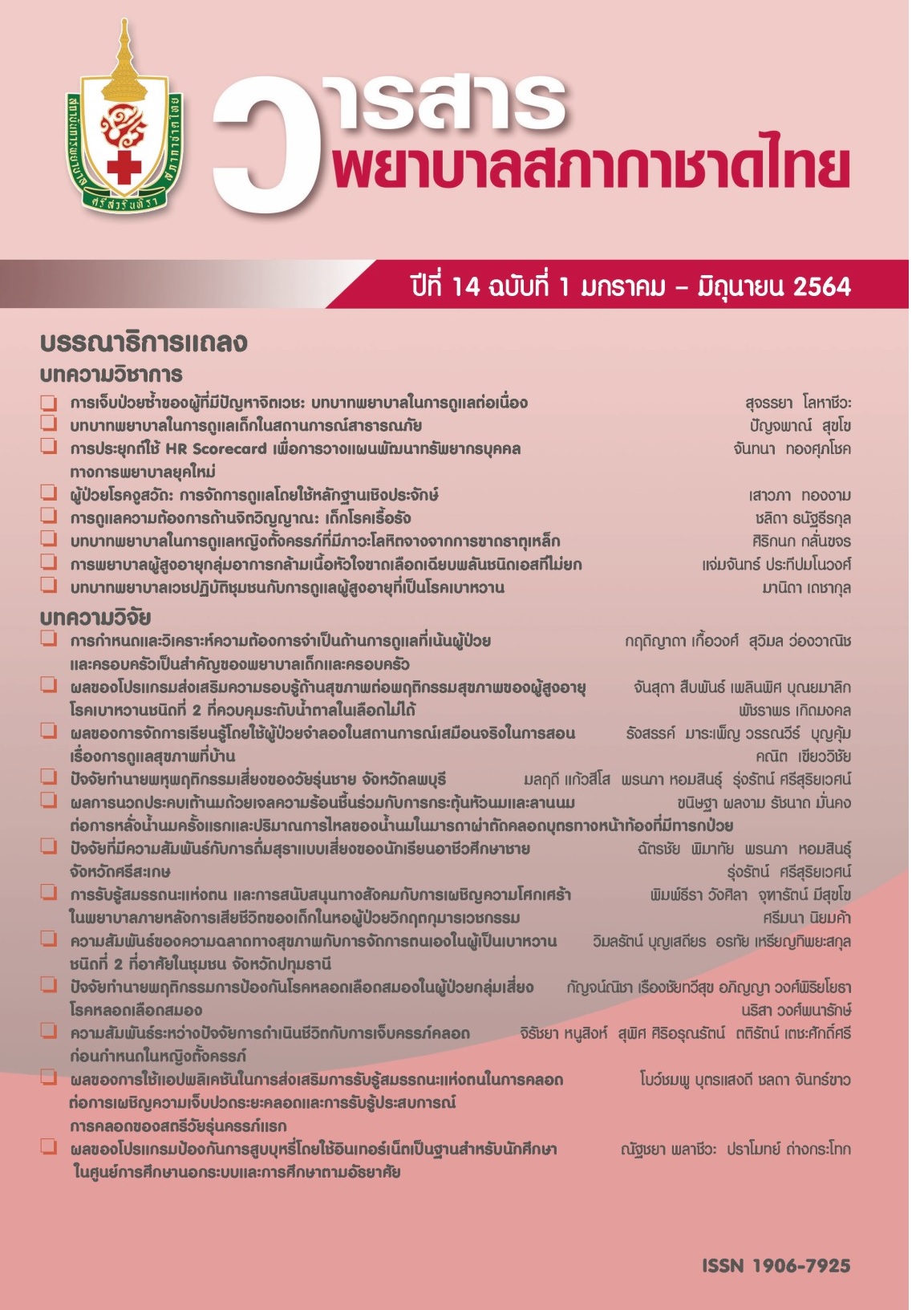 Downloads
Section
บทความวิจัย (Research Report)
License
เนื้อหาบทความหรือข้อคิดเห็นต่างๆ ในวารสารพยาบาลสภากาชาดไทยนี้ เป็นความคิดเห็นของผู้เขียนบทความ ไม่ใช่ความเห็นของกองบรรณาธิการ หรือสถาบันการพยาบาลศรีสวรินทิรา สภากาชาดไทย