Patient and Health System Delay in Pulmonary Tuberculosis: Systematic Review
Keywords:
Patients delay, health system delay, pulmonary tuberculosis, factors of delay
Abstract
This review aims to study the delays of patients and health systems in the treatment of pulmonary tuberculosis and factors related to delay in patients and health systems in the treatment of pulmonary tuberculosis. A systematic review the selection criteria is that the delay in the patient and the health system of pulmonary tuberculosis research has found that there are 16 studies in 2006-2018 in 19 countries. The results of the study were 9,421 samples. The median delay of patients was 24 days (IQR = 13.8-31.0, Min-Max = 4.4-205.2). Median Delay of Diagnosis 55 Days (IQR = 36.0-88.0, Min-Max = 35.0-91.0) Median Delay of Treatment for 2 Days (IQR = 1.0-2.6, Min-Max = 1.0-3.1) Median Delay of the 15-day health service system (IQR = 4.5-43.5, Min-Max = 2.0-150.7) and median total delay of 45 days (IQR = 35.0-70.5, Min-Max = 9.4-356.0) and Delayed factors are divided into five categories: Demographic features, social, economic, behavioral, therapeutic, clinical, and health insurance. Creased proactive search for patients in the community to receive faster treatment. The development of a quality public health service should cover the screening of tuberculosis. TB treatment strategies should be developed to match the factors.
Downloads
Download data is not yet available.
References
1. Ministry of Public Health. National Tuberculosis Control Programme Guideline, Thailand, 2018. Bangkok: Aksorn Graphic and Design Publishing House LP; 2018.

2. Ministry of Public Health. National Tuberculosis Control Programme Guideline, Thailand, 2013. Bangkok: Affairs Office Printing; 2013.

3. WHO. GLOBAL TUBERCULOSIS REPORT 2017. France: 2017.

4. Sayam Aroonsrimorakot. UN Sustainable Development Goals: 17 aspects for future world: Journal of Thai Interdisciplinary Research. 2016;11(3): 1-7.

5. Ministry of Public Health. the Global End TB Strategy 2017-2021. Bangkok; 2016.

6. Sabawoon W, Sato H, Kobayashi Y. Delay in the treatment of pulmonary tuberculosis: a report from Afghanistan. Environmental health and preventive medicine. 2012; 17(1): 53-61.

7. Bassili Amal, Seita Akihiro, Baghdadi Samiha, AlAbsi Amin, Abdilai Ismail, Agboatwalla Mubina, et al. Diagnostic and Treatment Delay in Tuberculosis in 7 Countries of the Eastern Mediterranean Region. Infectious Diseases in Clinical Practice. 2008;16(1):23-35.

8. Suttinee Sidthilaw. Prevalence and Factors Associated with Patient's Delay among NewSmear– Positive Pulmonary Tuberculosis Patients in Phrae Province. KKU Journal for Public Health Research. 2558; 8(2).

9. World Health Organization World Health Organization. (2016). The end TB strategy. Geneva, Switzerland:WHO2015.

10. Adenager GS, Alemseged F, Asefa H, Gebremedhin AT. Factors Associated with Treatment Delay among Pulmonary Tuberculosis Patients in Public and Private Health Facilities in Addis Ababa, Ethiopia. 2017;2017:5120841.

11. Basa S, Venkatesh S. Patient and Healthcare System Delays in the Start of Pulmonary Tuberculosis Treatment Among Tribal Patients Registered Under DOTS, Odisha. Journal of clinical and diagnostic research: JCDR. 2016;10(9):Lc21-lc4.

12. Basnet R, Hinderaker SG, Enarson D, Malla P, Morkve O. Delay in the diagnosis of tuberculosis in Nepal. BMC public health. 2009; 9: 236.

13. Belay M, Bjune G, Ameni G, Abebe F. Diagnostic and treatment delay among Tuberculosis patients in Afar Region, Ethiopia: a cross-sectional study. BMC public health. 2012;12:369.

14. Das S, Basu M, Mandal A, Roy N, Chatterjee S, Dasgupta A. Prevalence and determinants of delay in diagnosis of pulmonary tuberculosis in Darjeeling district of West Bengal. Journal of family medicine and primary care. 2017;6(3):627-35.

15. Ebrahimi Kalan M, Yekrang Sis H, Kelkar V, Harrison SH, Goins GD, Asghari Jafarabadi M, et al. The identification of risk factors associated with patient and healthcare system delays in the treatment of tuberculosis in Tabriz, Iran. BMC public health. 2018;18(1):174.

16. Jiang J, Quattrocchi A. Determinants of patient and health system delay among Italian and foreign-born patients with pulmonary tuberculosis: a multicentre cross-sectional study. International journal of environmental research and public health. 2018;8(8):e019673.

17. Makwakwa L, Sheu ML, Chiang CY, Lin SL, Chang PW. Patient and health system delays in the diagnosis and treatment of new and retreatment pulmonary tuberculosis cases in Malawi. BMC infectious diseases. 2014; 14: 132.

18. Ngangro NN, Ngarhounoum D, Ngangro MN, Rangar N, Siriwardana MG, des Fontaines VH, et al. Pulmonary tuberculosis diagnostic delays in Chad: a multicenter, hospital-based survey in Ndjamena and Moundou. BMC public health. 2012;12:513.

19. Osei E, Akweongo P, Binka F. Factors associated with DELAY in diagnosis among tuberculosis patients in Hohoe Municipality, Ghana. BMC public health. 2015;15:721.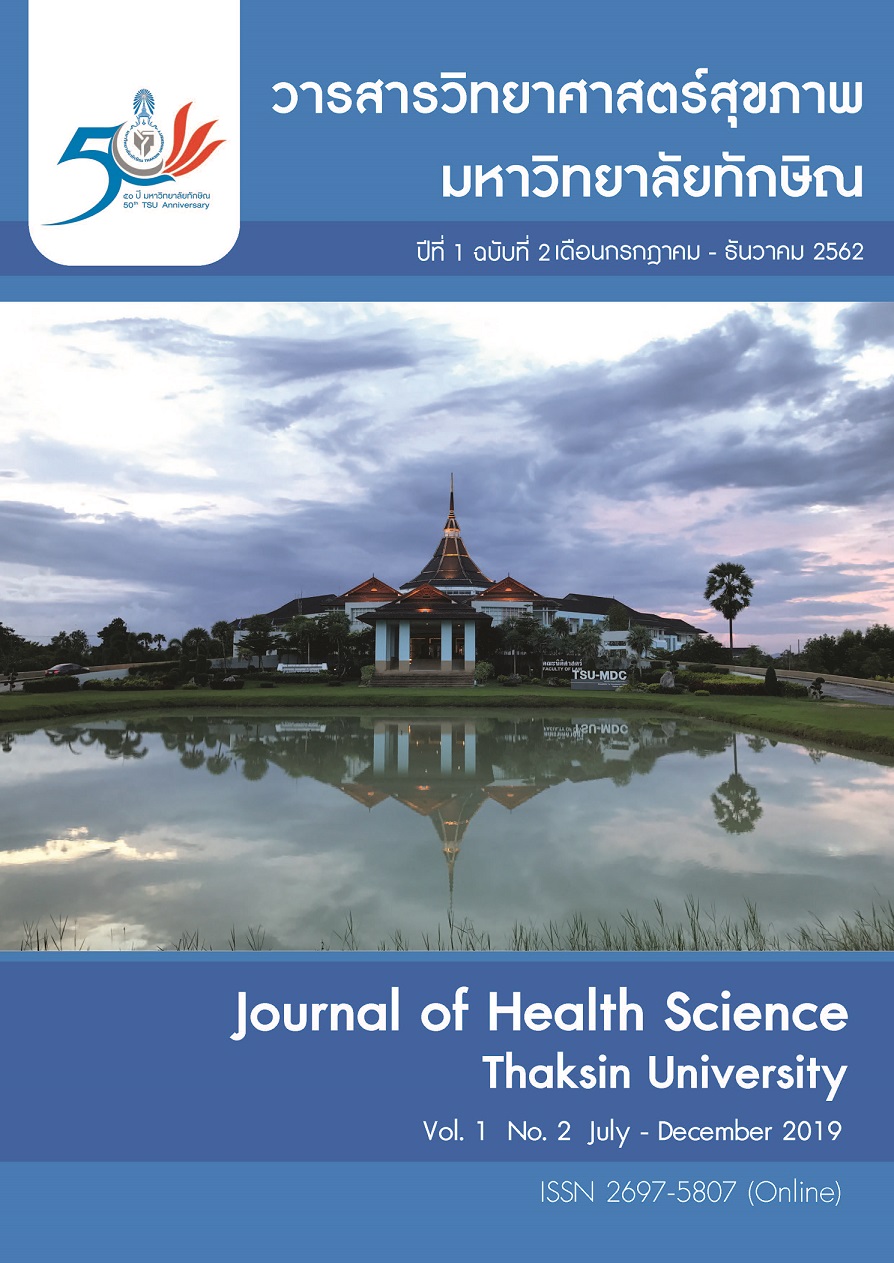 Downloads
How to Cite
1.
Muahama S, Maedong N, Pimwong S, Booonrod T, Simla W, Sriraksa S. Patient and Health System Delay in Pulmonary Tuberculosis: Systematic Review. Health Sci J Thai [Internet]. 2020 Jan. 9 [cited 2023 Dec. 7];1(2):40-52. Available from: https://he02.tci-thaijo.org/index.php/HSJT/article/view/229597