Knowledge, Health Belief and Behavior of Salt Consumption among People in Nakhon Sri Thammarat Province
Keywords:
Knowledge, health belief, behavior, salt consumption
Abstract
The purposive of this survey study aimed to investigate knowledge, health belief model and behavior of salt consumption among people in Nakon Sri Thammarat province. Of these, 505 samples were accidentally selected and enrolled in the study who had aged more than 15 years and resided in 5 districts of Nakon Sri Thammarat province from 5 districts had the highest morbidity rate. The data was collected using questionnaires during November and December, 2019. The data was analyzed using descriptive statistics. Results showed that knowledge of salt consumption among people was rated at moderated level (78.02%). The perception of risk was rated at moderate level (49.50%). The severity of perception was rated at high level (63.76%). The benefit of perception was rated at high level (48.32%). The threat of perception was rated at moderate level (64.75%). The cue to action of reducing salt consumption was rated at moderated level (56.04%). The behavior of salt consumption was rated at moderate level (69.90%). Result suggested that health professionals should promote and provide knowledge of reducing salt consumption, promote the positive attitude of salt consumption and modify an appropriate health behavior such as adding seasoning in food. In addition, the activities of reducing salt consumption should be launched and expended in other areas of the province.
Downloads
Download data is not yet available.
References
Pittayarangsarit, S. Situation on NCDs Prevention and Control in Thailand (First edition). Bangkok; Division of Non Communicable Diseases, 2018. (In Thai)
MacGregor, GA., Markandu, ND., Sagnella, GA., Singer, DR., Cappuccio, FP. Doubleblind study of three sodium intakes and long term effects of sodium restriction in essential hypertension. Lancet 1989; 2(8674): 1244-1247.
Information and Communication Technology Center Office of the Permanent Secretary. Non Communicable Diseases. [Internet]. 2019. [Cited in 31 March, 2019] Available from: https://hdcservice.moph.go.th/hdc/ reports/page.php?cat.
Bureau of Nutrition. Ministry of Public Health. The Survey of Sodium Chloride Intake among People in Thailand. Bangkok: Department of Health, 2009. (In Thai)
Pradipasen, M., Chongsuwat, P., Hudthagosl, C. Excessive & Imbalance Consumption (First edition). Bangkok; National Office of Buddhism printery, 2011. (In Thai)
Moolphate, S. Daily salt intake and factors associated with high salt intake in the community, Donkeaw Subdistrict, Chiang Mai province, northern Thailand. Chiang Mai Rajabhat University, 2015. (In Thai)
Chaikate, S. Factors Associated with Sodium from Food Consumption among Students at Srinakharinwirot University, Prasarnmit Campus. Journal of Research Unit on Science, Technology and Environment for Learning 2016; 7(1): 104-114.
Piaseu, N. Consumption behaviors of unhealthy food in university students and associated factors. Journal of Nutrition Association of Thailand 2016; 51(1): 1-13.
Sringernyuang, L., Wongjinda, T., Apitanakulchai, T. Situation of Salt Consumption among Thai Population [Internet]. 2007 [Cited in 15 July, 2019] Available from: https://thaincd.com/document/file/download/paper- anual/download1no167.pdf
Thangkratok, P., Chaokak, S., Mongkoldee, P., Pinrat, P., Puangpetch, P. Salty Eating Behavior of Aging in Bang- Plad District, Bangkok. KKU Journal for Public Health Research 2016; 9(3-4): 72-78.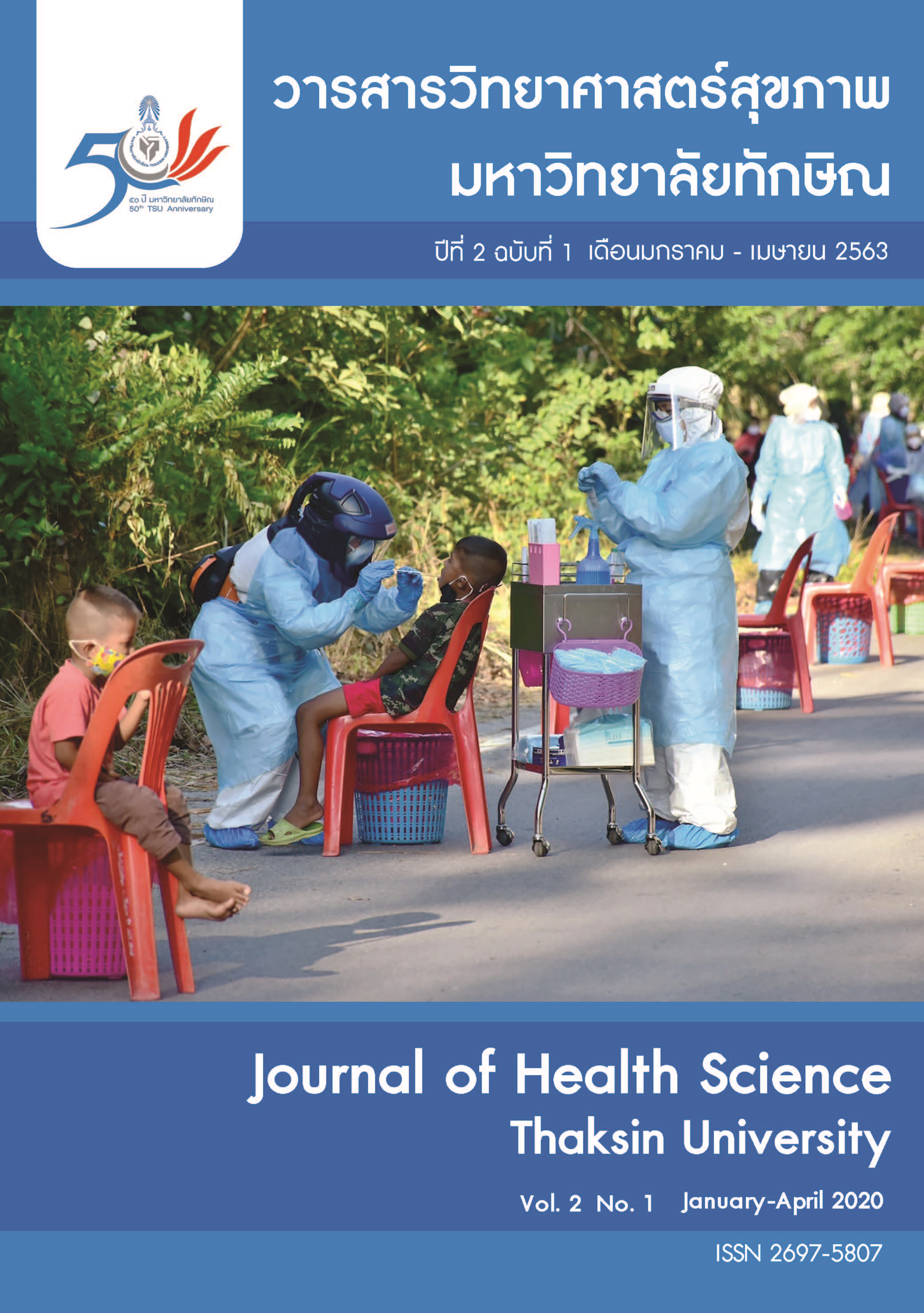 Downloads
How to Cite
1.
Suwanna K, Sittibun W, Kaewdam J, Innupaph L. Knowledge, Health Belief and Behavior of Salt Consumption among People in Nakhon Sri Thammarat Province. Health Sci J Thai [Internet]. 2020 Apr. 21 [cited 2023 Nov. 30];2(1):53-61. Available from: https://he02.tci-thaijo.org/index.php/HSJT/article/view/240379
Section
Original articles