Development Process of Enhancing Health Literacy in Children's Development among Parents in Nongjik District, Pattani Province
Keywords:
Health literacy, child development
Abstract
This qualitative research aimed to study the situation and develop a process to enhance children's development knowledge in Nong Chik District, Pattani Province using participation of family. The target group consisted of 20 pairs of parents or care givers and children aged 0-5 years who came to receive developmental services in the well child care clinic in Nong Chik Hospital, Pattani Province and 20 village health volunteers. This study was conducted between September, 2018 and March, 2019. The instrument consisted of as following; (1) questionnaire for personal data of samples (2) evaluation manual to assist preschool children with developmental problems (3) semi-structured interview forms for individuals and group discussions. Data were analyzed using descriptive statistics; percent and average. The process of knowledge enhancement summarized into 6 steps: 1) access, 2) understand, 3) respond, exchange questions, 4) make decisions, 5) change behavior, and 6) tell. It was the channel of mutual learning in surveillance and promote child development After applying the process, it found that children had better development at 70 percent.
Downloads
Download data is not yet available.
References
Unicef of Thailand. Early childhood development. [Internet]. 2019 [Cited in 4 October, 2019] Available from: https://www.unicef.org/thailand/th/ภารกิจของยูนิเซฟ/การพัฒนาเด็กปฐมวัย.
Kaeodumkoeng, K., Thummakul, D., Health literacy promoting in aging population. Journal of health science research 2015; 9(2): 1-8. (In Thai)
Child Health Development Institute National. Information and operation situation Early Childhood Development Promotion 2016-2018. [Internet]. 2019 [Cited in 7 April, 2020] Available from:https://nich.anamai.moph.go.th/download/2562/HDC/analysis%20Early%20childhood28.2.2019.pdf.
Boonlee C., Development of the model for promoting child development at birth to 5 years old using the family involvement in Phusing district, Srisaket province. Journal of Medicine and Public Health Ubon Ratchathani University 2019; 2(1): 23-33. (In Thai)
Pengjuntr, W., Health Literacy: [Internet]. 2018 [Cited in 2 October, 2019] Available from: hpc5.anamai.moph.go.th/director/data/HL/HL_Workshop25012560.pdf.
Phongissaranuporn S., Yamsakul N., The Developmental Model for the Health Service System of Early Childhood Through the Participation of Family and Community in Damneon Saduak District, Ratchaburi Province. Medical Journal Region 4-5 2019; 38(1): 25-37. (In Thai)
Health Education Division, Department of Health Service Support Ministry of Public Health. Strengthening and assessing health literacy and health behavior Children and youth aged 7- 14 years and people aged 15 and over, 2018 edition. (In Thai)
Kue-iad, N., Chaimay, B., and Woradet, S. Early Childhood Development among Thai Children Aged Under 5 Years: A Literature Review. Journal of the Southern Region College of Nursing and Public Health Network 2018; 5(1): 281-296 (In Thai)
Jarungjittanuson S., Development of surveillance and promotion model for early childhood with developmental delay in Buriram Province. Journal of Nursing and Health Care 2017; 35(2): 122-32. (in Thai)
Bhokkhaphatbhubeth S., Thanattheerakul C., Reungworaboon S., Development of Child Development Promotion Model in The Child Development Center, Boromrajonani College of Nursing, Nakhon Phanom. Boromarajonani College of Nursing Journal Bangkok 2018; 35(1):71-85. (in Thai)
Choeisuwan, V., Health Literacy: Concept and Application for Nursing Practice. Royal Thai Navy Medical Journal 2017; 44(3): 183-197. (In Thai)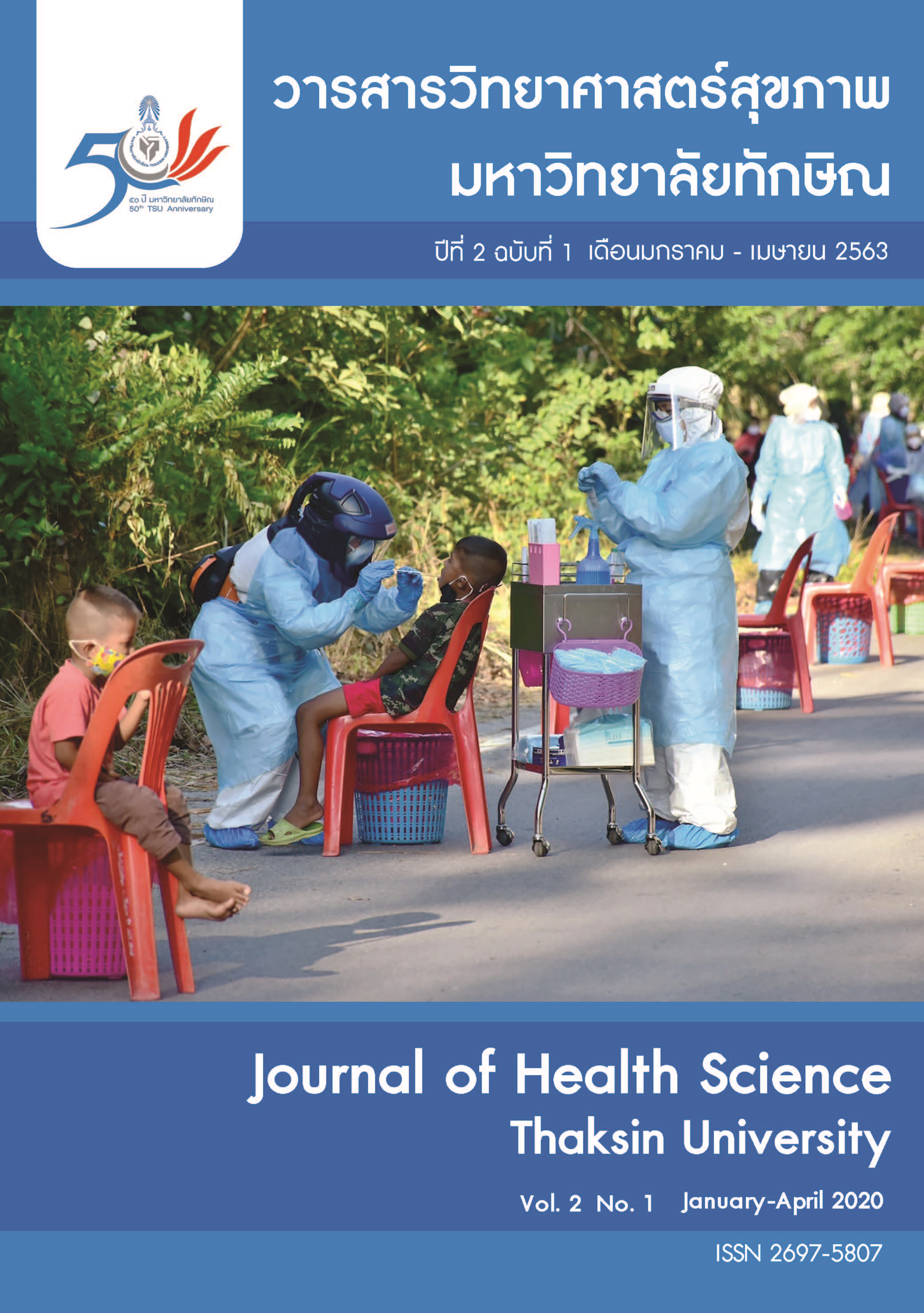 Downloads
How to Cite
1.
Sanivee H, Wangthong A, Wangthong A. Development Process of Enhancing Health Literacy in Children's Development among Parents in Nongjik District, Pattani Province. Health Sci J Thai [Internet]. 2020 Apr. 21 [cited 2023 Nov. 28];2(1):41-52. Available from: https://he02.tci-thaijo.org/index.php/HSJT/article/view/240465
Section
Original articles