The Sufficiency economy alternatives Survival in the Crisis of Covid-19
Keywords:
Sufficiency economy, Covid-19
Abstract
The outbreak of the COVID-19 virus, which began in China at the end of 2019 and spread to Thailand in early 2020. In addition to causing a lot of people infected and dead, the result of the Lock Down announcement and many other establishments to control the spread of the disease. Also makes a huge impact on the economy, society and food security around the world. The world economy has experienced the highest record, with the contraction of -6 to -7.6% expected. There will be more than 265 million people at risk of famine in 2020. For Thailand, it is predicted that the Thai economy in 2020 will be reduced as well. Which various institutions have estimated the Thai economic growth by 2020 to be negative at least -3 to -10.3%, this causing unemployment in April 2020 more than 600,000 people causing incidents of labor and social instability. People are paranoid, fear of strangers, racism, Chinese and East Asian expulsion and mayhem, Food and consumer products are stockpiled, product prices rise. Measures taken by the government to help from the poor level to the financial institutions and large organizations. Helps alleviate the suffering to the public to a certain extent. But in the long run, the government is unable to distribute people's tax money for all life. Self-reliance is therefore essential. People must adjust their lifestyles to suit the economic and social conditions. Reduce unnecessary costs, save frugal, and return to living sufficiently to eat as the royal initiative on the sufficiency economy that "...National development needs to be done in a hierarchy. The foundation must be built is to have enough to eat enough for the majority of the people first by using methods and equipment that are economical but technically correct. When having sufficient basic security and practiced, then gradually build, gradually enhance prosperity and higher level of economic status in the following order..." To look back at things that Thailand is already good and applied it seriously. May be another option Thailand's survival in the possible escalation of the Covid-19 crisis.
Downloads
Download data is not yet available.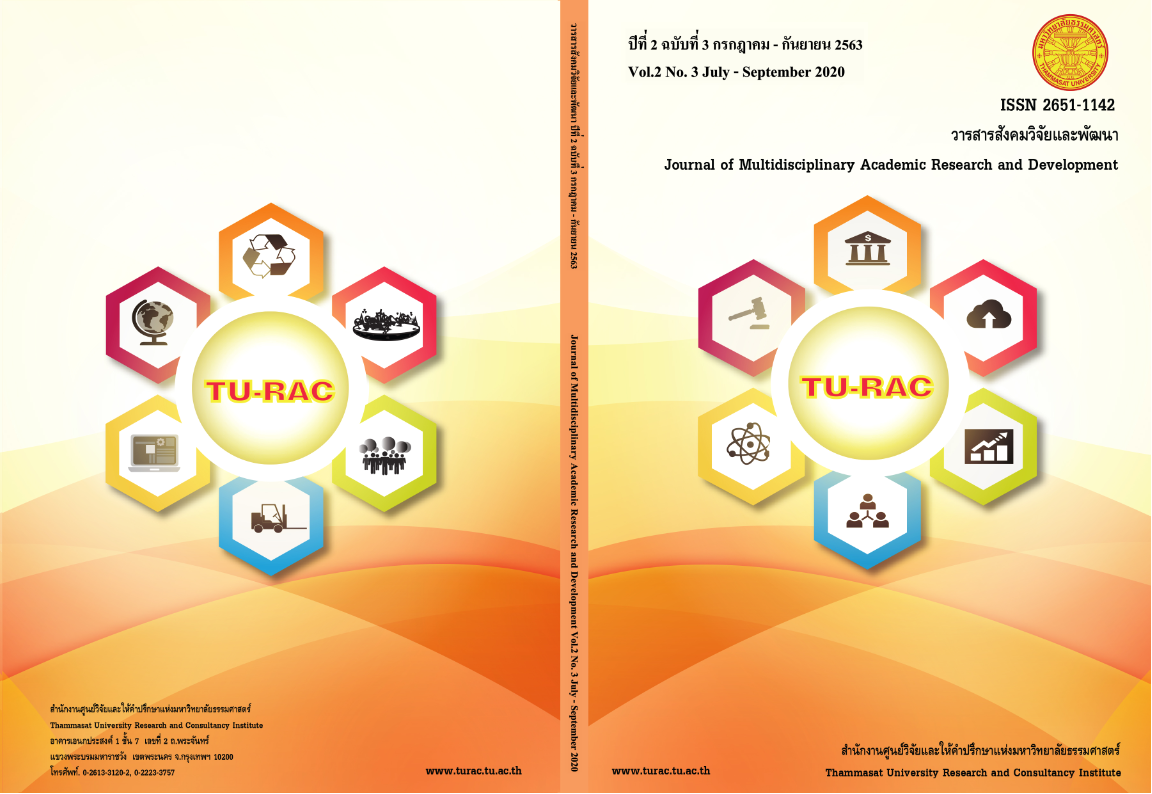 Downloads
How to Cite
Chumtakhob, D. (2020). The Sufficiency economy alternatives Survival in the Crisis of Covid-19. Journal of Multidisciplinary Academic Research and Development (JMARD), 2(3), 11–22. Retrieved from https://he02.tci-thaijo.org/index.php/JMARD/article/view/243958