ภาวะไตรกลีเซอไรด์ในเลือดสูงรุนแรงและตับอ่อนอักเสบเฉียบพลัน จากไตรกลีเซอไรด์ในเลือดสูง
คำสำคัญ:
ไตรกลีเซอไรด์ในเลือดสูง, ตับอ่อนอักเสบ, ไตรกลีเซอไรด์ในเลือดสูงจากพันธุกรรม, กลุ่มอาการไคโลไมครอน ในเลือดสูง
บทคัดย่อ
              ภาวะไตรกลีเซอไรด์ในเลือดสูงมีสาเหตุจากพันธุกรรมและสิ่งแวดล้อมร่วมกัน ภาวะแทรกซ้อนได้แก่การเพิ่มความเสี่ยงโรคหลอดเลือดหัวใจ และตับอ่อนอักเสบในไตรกลีเซอไรด์สูงรุนแรง
               ผู้ป่วยหญิง 30 ปี มาโรงพยาบาลด้วยอาการปวดท้องเฉียบพลัน ได้รับการวินิจฉัยภาวะตับอ่อนอักเสบจากไตรกลีเซอไรด์ในเลือดสูงรุนแรง ได้รับการรักษาในโรงพยาบาลด้วยสารน้ำและยาจนอาการดีขึ้น ระดับไตรกลีเซอไรด์ลดลง การรักษาในระยะยาวในผู้ป่วยรายนี้ได้รับคำแนะนำการปรับเปลี่ยนพฤติกรรม ร่วมกับการใช้ยาเพื่อคงระดับไตรกลีเซอไรด์ที่เหมาะสม ลดการเกิดตับอ่อนอักเสบซ้ำ และลดความเสี่ยงโรคหลอดเลือดหัวใจในอนาคต
Downloads
Download data is not yet available.
References
Gill JM, Sattar N. Hepatic VLDL overproduction: Is hyperinsulinemia or insulin resistance the culprit?. J Clin Endocrinol Metab. 2011;96(7):2032-4.
Chait A, Eckel RH. The chylomicronemia syndrome is most often multifactorial: A narrative review of causes and treatment. Ann Intern Med. 2019;170(9):626-34.
Ross AC. Modern nutrition in health and disease. 11th ed. Philadelphia: Lippincott Williams & Wilkins; 2014.
Feingold KR. Introduction to lipids and lipoproteins. In: Feingold KR, Anawalt B, Boyce A, Chrousos G, de Herder WW, Dhatariya K, et al., editors. Endotext. South Dartmouth (MA): MDText.com, Inc.; 2000.
Park Y, Damron BD, Miles JM, Harris WS. Measurement of human chylomicron triglyceride clearance with a labeled commercial lipid emulsion. Lipids. 2001;36(2):115-20.
Ference BA, Kastelein JJP, Catapano AL. Lipids and lipoproteins in 2020. JAMA. 2020;324(6):595-6.
Hegele RA. Plasma lipoproteins: genetic influences and clinical implications. Nat Rev Genet. 2009;10(2):109-21.
Khovidhunkit W, Charoen S, Kiateprungvej A, Chartyingcharoen P, Muanpetch S, Plengpanich W. Rare and common variants in LPL and APOA5 in Thai subjects with severe hypertriglyceridemia: A resequencing approach. J Clin Lipidol. 2016;10(3):505-11.e1.
Brunzell JD, Deeb SS. Familial lipoprotein lipase deficiency, apo C-II deficiency, and hepatic lipase deficiency. In: Valle DL, Antonarakis S, Ballabio A, Beaudet AL, Mitchell GA, editors. The online metabolic and molecular bases of inherited disease. New York, NY: McGraw-Hill Education; 2019.
Executive summary of the third report of the National Cholesterol Education Program (NCEP) expert panel on detection, evaluation, and treatment of high blood cholesterol in adults (adult treatment panel III). JAMA. 2001;285(19):2486-97.
Jellinger PS, Handelsman Y, Rosenblit PD, Bloomgarden ZT, Fonseca VA, Garber AJ, et al. American Association of Clinical Endocrinologists and American College of Endocrinology guidelines for management of dyslipidemia and prevention of cardiovascular
disease. Endocr Pract. 2017;23:1-87.
Grundy SM, Stone NJ, Bailey AL, Beam C, Birtcher KK, Blumenthal RS, et al. 2018 AHA/ACC/AACVPR/AAPA/ABC/ACPM/ADA/AGS/APhA/ASPC/NLA/PCNA guideline on the management of blood cholesterol: a report of the American College of Cardiology/ American Heart Association task force on clinical practice guidelines. 2019;139(25):e1082-e143.
Berglund L, Brunzell JD, Goldberg AC, Goldberg IJ, Sacks F, Murad MH, et al. Evaluation and treatment of hypertriglyceridemia: an Endocrine Society clinical practice guideline. J Clin Endocrinol Metab. 2012;97(9):2969-89.
Chokshi N, Blumenschein SD, Ahmad Z, Garg A. Genotype-phenotype relationships in patients with type I hyperlipoproteinemia. J Clin Lipidol. 2014;8(3):287-95.
Fredrickson DS, Levy RI, Lees RS. Fat transport in lipoproteins-an integrated approach to mechanisms and disorders. N Engl J Med. 1967;276(1):34-42.
Fojo SS, Brewer HB. Hypertriglyceridaemia due to genetic defects in lipoprotein lipase and apolipoprotein C-II. J Intern Med. 1992;231(6):669-77.
Chait A, Brunzell JD. Severe hypertriglyceridemia: role of familial and acquired disorders. Metab Clin Exp. 1983;32(3):209-14.
Tenner S, Baillie J, DeWitt J, Vege SS. American College of Gastroenterology guideline: Management of acute pancreatitis. Am J Gastroenterol. 2013;108(9):1400-16.
Fortson MR, Freedman SN, Webster PD, 3rd. Clinical assessment of hyperlipidemic pancreatitis. Am J Gastroenterol. 1995;90(12):2134-9.
Farmer RG, Winkelman E, Brown HB, Lewis LA. Hyperlipoproteinemia and pancreatitis. Am J Med. 1973;54(2):161-5.
Pretis N, Amodio A, Frulloni L. Hypertriglyceridemic pancreatitis: Epidemiology, pathophysiology and clinical management. United European Gastroenterol J. 2018;6(5):649-55.
Wang Q, Wang G, Qiu Z, He X, Liu C. Elevated serum triglycerides in the prognostic assessment of acute pancreatitis: A systematic review and meta-analysis of observational studies. J Clin Gastroenterol. 2017;51(7):586-93.
Adiamah A, Psaltis E, Crook M, Lobo DN. A systematic review of the epidemiology, pathophysiology and current management of hyperlipidaemic pancreatitis. Clin Nutr. 2018;37:1810-22.
Knaus WA, Draper EA, Wagner DP, Zimmerman JE. APACHE II: A severity of disease classification system. Crit Care Med. 1985;13(10):818-29.
Tada H, Nohara A, Kawashiri MA. Serum triglycerides and atherosclerotic cardiovascular disease: insights from clinical and genetic studies. Nutrients. 2018;10(11).
Austin MA, Hokanson JE. Epidemiology of triglycerides, small dense low-density lipoprotein, and lipoprotein(a) as risk factors for coronary heart disease. Med Clin North Am. 1994;78(1):99-115.
Nordestgaard BG, Varbo A. Triglycerides and cardiovascular disease. Lancet. 2014;384(9943):626-35.
Miller M, Stone NJ, Ballantyne C, Bittner V, Criqui MH, Ginsberg HN, et al. Triglycerides and cardiovascular disease: A scientific
statement from the American Heart Association. Circulation. 2011;123(20):2292-333.
Ference BA, Kastelein JJP, Ray KK, Ginsberg HN, Chapman MJ, Packard CJ, et al. Association of triglyceride-lowering LPL variants and LDL-C–lowering LDLR variants with risk of coronary heart disease. JAMA. 2019;321(4):364-73.
Grundy SM, Stone NJ. 2018 American Heart Association/American College of Cardiology multisociety
guideline on the management of blood cholesterol: primary prevention. JAMA cardiology. 2019;4(5):488-9.
2019 ESC/EAS guidelines for the management of dyslipidaemias: lipid modification to reduce cardiovascular risk. Atherosclerosis. 2019;290:140-205.
Rees K, Takeda A, Martin N, Ellis L, Wijesekara D, Vepa A, et al. Mediterranean-style diet for the primary and secondary prevention
of cardiovascular disease. Cochrane Database Syst Rev. 2019;3(3):Cd009825.
Ambring A, Friberg P, Axelsen M, Laffrenzen M, Taskinen MR, Basu S, et al. Effects of a mediterranean-inspired diet on blood lipids, vascular function and oxidative stress in healthy subjects. Clin Sci (Lond). 2004;106(5):519-25.
Shively CA, Appt SE, Vitolins MZ, Uberseder B, Michalson KT, Silverstein-Metzler MG, et al. Mediterranean versus western diet effects on caloric intake, obesity, metabolism, and hepatosteatosis in nonhuman primates. Obesity (Silver Spring). 2019;27(5):777-84.
Rhodes KS, Weintraub M, Marchlewicz EH, Rubenfire M, Brook RD. Medical nutrition therapy is the essential cornerstone for effective treatment of "refractory" severe hypertriglyceridemia regardless of pharmaceutical treatment: evidence from a lipid management program. J Clin Lipidol. 2015;9(4):559-67.
Bhatt DL, Steg PG, Miller M, Brinton EA, Jacobson TA, Ketchum SB, et al. Cardiovascular risk reduction with icosapent ethyl for hypertriglyceridemia. N Engl J Med. 2019;380(1):11-22.
Eckel RH, Hanson AS, Chen AY, Berman JN, Yost TJ, Brass EP. Dietary substitution of medium-chain triglycerides improves insulin-mediated glucose metabolism in NIDDM subjects. Diabetes. 1992;41(5):641-7.
Brown WV, Brunzell JD, Eckel RH, Stone NJ. Severe hypertriglyceridemia. J Clin Lipidol. 2012;6(5): 397-408.
Chaudhry R, Viljoen A, Wierzbicki AS. Pharmacological treatment options for severe hypertriglyceridemia and familial chylomicronemia syndrome. Expert Rev Clin Pharmacol. 2018;11(6):589-98.
Capell WH, Eckel RH. Treatment of hypertriglyceridemia. Curr Diab Rep. 2006;6(3):230-40.
Rawla P, Sunkara T, Thandra KC, Gaduputi V. Hypertriglyceridemia-induced pancreatitis: updated review of current treatment and preventive strategies. Clin J Gastroenterol. 2018;11(6):441-8.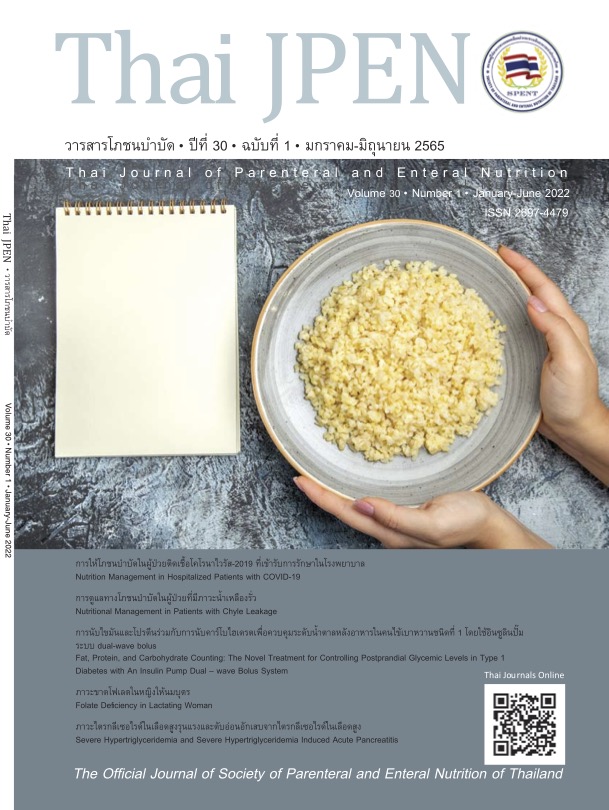 Downloads
บท
รายงานผู้ป่วยที่น่าสนใจ
License
Copyright (c) 2022 Thai JPEN วารสารโภชนบำบัด
This work is licensed under a Creative Commons Attribution-NonCommercial-NoDerivatives 4.0 International License.
เนื้อหาและข้อมูลในบทความที่ตีพิมพ์ลงใน Thai JPEN วารสารโภชนบำบัด ถือเป็นข้อคิดเห็นและความรับผิดชอบของผู้เขียนบทความโดยตรงซึ่งกองบรรณาธิการวารสารไม่จำเป็นต้องเห็นด้วยหรือร่วมรับผิดชอบใด ๆ
บทความ ข้อมูล เนื้อหา รูปภาพ ฯลฯ ที่ได้รับการตีพิมพ์ใน Thai JPEN วารสารโภชนบำบัด ถือเป็นลิขสิทธิ์ของ Thai JPEN วารสารโภชนบำบัด หากบุคคลหรืหน่วยงานใดต้องการนำทั้งหมดหรือส่วนใดส่วนหนึ่งไปเผยแพร่หรือเพื่อกระทำการใด จะต้องได้รับอนุญาตเป็นลายลักษณ์อักษรจาก Thai JPEN วารสารโภชนบำบัด ก่อนเท่านั้น