The Effects of Music on Pain of Patients Receiving Colonoscopy without Sedation
Keywords:
instrumental music listening, pain, colonoscopy
Abstract
             The quasi-experimental research aimed to compare two groups to study the effect of music on the pain of patients receiving a colonoscopy without sedation or anesthesia. Forty patients were divided into 2 even groups; those were the instrumental music listening (experimental group) and the routine nursing care groups (control group). They were chosen via purposive sampling. The instruments included instrumental music and a numeric pain rating scale.  Relaxing piano music with 60 beats per minute was played for 30 minutes before and during colonoscopy in the experimental group. Five experts evaluated the validity of using music to relieve pain during endoscopy. The numeric rating scale was a self-report pain by the samples with 0-10. Ten patients with gastroscopy underwent test-retest reliability at the 1st and 5th minutes after the procedure. The intraclass correlation coefficient of the numeric rating scale was 0.93 (95% confidence interval = 0.70-0.98). The pain was assessed during and after the patients' received colonoscopy. The Mann-Whitney U test were used to compare the median and interquartile range (IQR) of pain scores between the two groups.
               The results found that during the colonoscopy without sedation, the experimental group had significantly lower pain than that of the control group (median (IQR) = 4(1) vs. 6(2) score, p < .001). However, after the colonoscopy without sedation, the pain levels between the control and experimental groups did not appear different.
Downloads
Download data is not yet available.
References
Bechtold ML, Mir F, Puli SR, Nguyen DL. Optimizing bowel preparation for colonoscopy: a guide to enhance quality of visualization. Ann Gastroenterol 2016;29(2):137-46.
Charoensethamaha S, Siriwong P, Warapruek C. A comparative studybetween patients
undergoing colonoscopy with and without sedation. Vajira Medical Journal 2013;57(3):139-46. (in Thai)
Petrini JL, Egan JV, Hahn WV. Unsedated colonoscopy: patient characteristics and satisfaction in a community-based endoscopy unit. Gastrointest Endosc 2009;69(3):567-72.
Rex DK, Imperiale TF, Portish V. Patients willing to try colonoscopy without sedation: associated clinical factors and results of a randomized controlledtrial. Gastrointest Endosc 1999;49(5):554-9.
Leung FW, Aljebreen AM. Unsedatedcolonoscopy: Is it feasible? Saudi J Gastroenterol 2011;17(4):289–92.
Leaungsomnapa Y, Ngamkum S. Attention to pain. The Journal of Prapokklao Hospital Clinical Medical Education Center 2013;30(1):83-92. (in Thai)
Wang MC, Zhang LY, Zhang YL, Zhang YW, Xu XD, Zhang YC. Effect of music in endoscopy procedures: systematic review and meta-analysis of randomized controlled trials. Pain Med 2014;15(10):1786-94.
Lee JH. The effects of music on pain: a meta-analysis. J Music Ther 2016;53(4):430-77.
Chiengchana N, Trakarnrung S. Music therapy intervention: a content analysis of research. Thai Journal of Public Health 2015;45(2):117-33. (in Thai)
Phumdoung S. Music therapy. J Health Sci Med Res 2006;23(3):185-91. (in Thai)
White JM. Music therapy: an intervention to reduce anxiety in the myocardial infarction patients. Clinical Nurse Specialist 1992;6(2):58-63.
Cook JD. The therapeutic use of music: a literature reviews. Nurs Forum 1981;20(3): 252-66.
Melzack R, Wall PD. Pain mechanism: a new theory. Science 1965;150(3699):971-9.
Hughes J. Isolation of an endogenous compound from the brain with pharmacological properties similar morphine. Brain Res 1975;88(2):295-308.
Nilsson U. The anxiety and pain reducing effects of music interventions: a systematic review. AORN J 2008;87(4):780–807.
King Chulalongkorn Memorial Hospital. Colorectal cancer [Internet]. 2020 [cited 2020 Mar3]. Available from:https://www.chulacancer.net/index.php.
Im-erb P, Kongchoom W, Rimsueb K. The effects of music therapy on post-operative pain. NJPH 2013;23(3):53-62. (in Thai)
Johnson M. Assessment of clinical pain. In: Jacox AK, editor. Pain: source book for nurse and other health professionals. Boston: Little Brown; 1977. p 453-73.
Chotpanang A, Pattrapakdikl U. The effects of listening to favorite music on pain and vital signs in gynecologic patients after abdominal surgery. Nursing Research Newsletter 2016;26:43-53. (in Thai)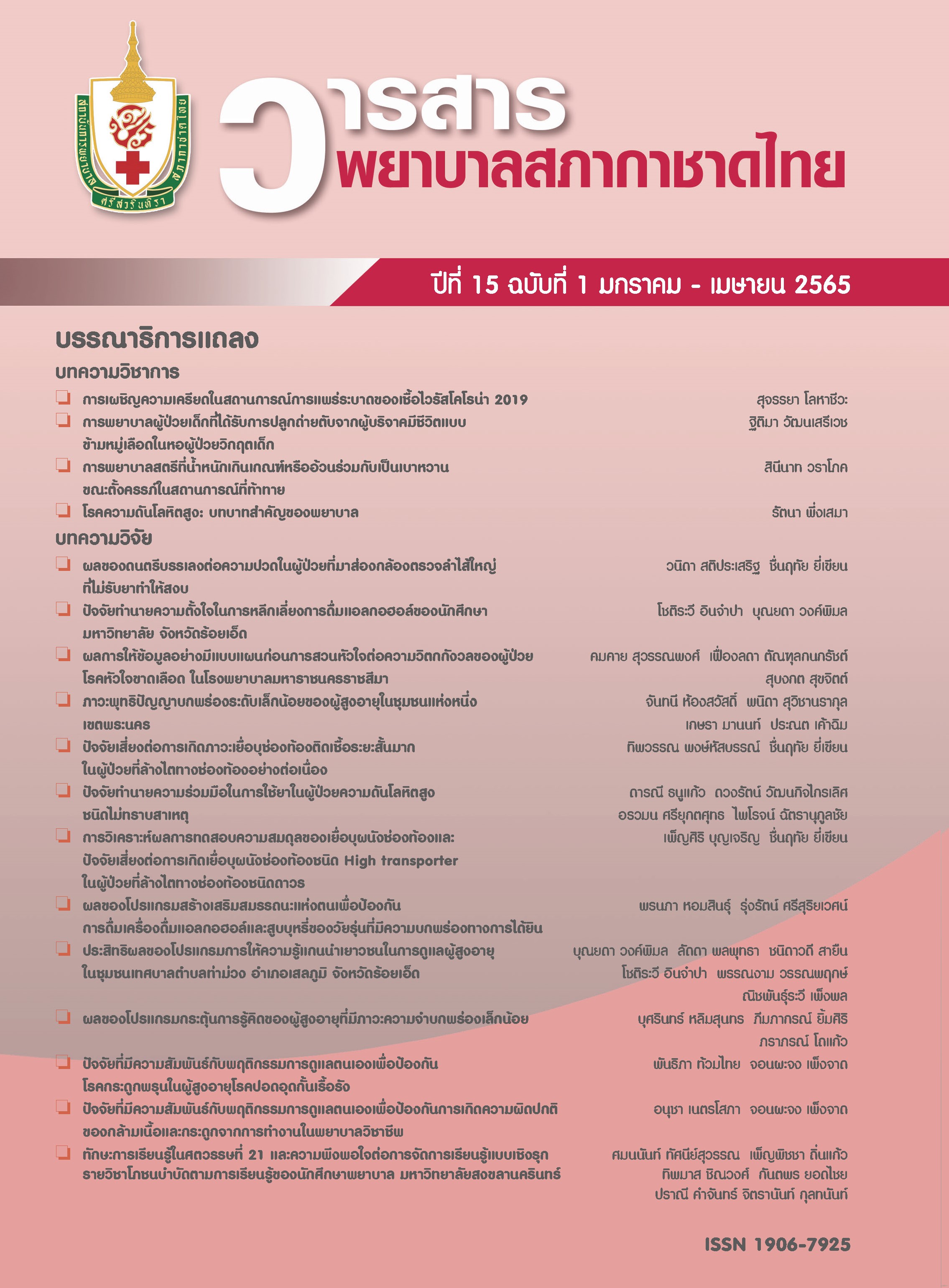 Downloads
Section
บทความวิจัย (Research Report)
License
Copyright (c) 2022 Srisavarindhira Thai Red Cross Institute of Nursing
This work is licensed under a Creative Commons Attribution-NonCommercial-NoDerivatives 4.0 International License.
เนื้อหาบทความหรือข้อคิดเห็นต่างๆ ในวารสารพยาบาลสภากาชาดไทยนี้ เป็นความคิดเห็นของผู้เขียนบทความ ไม่ใช่ความเห็นของกองบรรณาธิการ หรือสถาบันการพยาบาลศรีสวรินทิรา สภากาชาดไทย