The Effects of a Self-Efficacy Enhancement Program on Drinking and Cigarette Smoking Prevention Among Hearing Impaired Adolescents
Keywords:
self-efficacy, risk behavior, hearing impaired adolescents
Abstract
             This study was a quasi-experimental study. The purpose of the study was to evaluate the effects of a self-efficacy enhancement program on drinking and cigarette smoking prevention. The participants were hearing impaired adolescents studying in schools for the deaf, Special Education Bureau. They were divided into experimental and comparative groups of 40 people each. The experimental group participated in a self-efficacy enhancement program. The program with a period of 5 weeks was developed based on the concept of self- efficacy including enactive mastery experience, modeling, and verbal persuasion in physiological and affective states. The comparison group participated in a basic core curriculum. The outcomes of the study were evaluated after four weeks. The descriptive statistics of percentage, mean, standard deviation, and t-test were used for data analysis at a significant level of .05. 
              The results of the study found that the experimental group had the higher alcohol drinking refusal (t = 2.561, p value = .012), smoking refusal (t = 2.950, p value = .004),  intention not to drink alcohol (t = 1.884, p value = .032), intention not to smoke (t = 1.836, p value = .035), and transmission of health information ability (t = 6.004, p value < .001), compared to those in the comparative group.
Downloads
Download data is not yet available.
References
The National committee on the promotion and development of quality of life of persons with disabilities. The 5th National Development Plan for the Quality of Life of Persons with Disabilities, 2017-2021 [Internet]. 2021 [cited 2021 Jan 14]. Available from: http://web1.dep.go.th (in Thai)
Homsin P, Srisuriyawet R. Alcohol drinking and cigarette smoking among Thai hearing impaired
adolescents. Journal of Ratchasuda College for Research and Development of Persons with Disabilities 2020;16(2): 65-80. (in Thai)
Jarrett T, Pignataro RM. Cigarette smoking among college students with disabilities: national college
health assessment II, Fall 2008-Spring 2009. Disabil Health J 2013;6(3):204-212.
Nagarajan VD, Okoli CT. A systematic review of tobacco use among adolescents with physical disabilities. Public Health 2016;133:107-115.
Glanz K, Rimer BK, Viswanath K. Health behavior and health education: theory, research, and practice. 4th ed. San Francisco: Jossey-Bass; 2008.
Tonpornkrang R, Homsin P, Srisuriyawet R. Factors related to binge drinking among male vocational students in Surin province. Journal of Public Health Nursing 2015;29(1):29-42. (in Thai)
Maggs JL, Staff J, Patrick ME, Wray-Lake L, Schulenberg JE. Alcohol use at the cusp of adolescence:
a prospective national birth cohort study of prevalence and risk factors. J Adolesc Health 2015;56(5):
-45.
Mahasuan S, Homsin P, Srisuriyawet R. Factors related to smoking initiation among female vocational
students in Chachoengsao province. Journal of Public Health Nursing 2018;32(1):15-43. (in Thai)
Hung CC, Chiang YC, Chang HY, Yen LL. Path of socialization and cognitive factors' effects on adolescents' alcohol use in Taiwan. Addict Behav 2011; 36(8): 807-13.
Bandura A. Self-efficacy: the exercise of control. New York: Freeman; 1997.
Chomekhunthod S, Homsin P, Srisuriyawet R. Effects of self- efficacy enhancement and family
participation on smoking refusal self- efficacy and intention to not smoking of male primary school
students. The Public Health Journal of Burapha University 2014;9(1):91-103. (in Thai)
Kamonpornmongkol J, Homsin P, Srisuriyawet R. Effects of self-efficacy enhancement on drinking
refusal self-efficacy, outcome expectancy and skills among male primary school students. The Public
Health Journal of Burapha University 2012;7(2):84-99. (in Thai)
Khongphat A, Tantirattanawong K. The effect of self-efficacy reinforce program for smoking
prevention of junior high school education at Koh Sri Bo Ya, Education Centre, Nua Klong district,
Krabi Province. Community Health Development Quarterly Khon Kaen University 2015;3(3):409-26.
(in Thai)
Pusuwun S, Wongyai K, Leekuan P. Effects of skill development for prevention of sexual risk
behavior on perceived self-efficacy and sexual risk behavior among female adolescent. Nursing
Journal 2013;40(4):68-79. (in Thai)
Chudjuajeen S, Singhasame P, Wuttisukpaisan S. Effects of a perceived self-efficacy promoting
program for life skill enhancement on sexual health behavior of students. The Southern College
Network Journal of Nursing and Public Health 2017;4(2):268-80. (in Thai)
Fishbein M. Emerging theories in health promotion practice and research. In: DiClemente RJ, Crosby
RA, Kegler MC, editors. An integrative model for behavioral prediction and its application to health
promotion. 2nd ed. San Francisco: Jossey-Bass; 2009. p. 215-34.
Srisuriyawet R, Homsin P. Effects of school-based smoking initiation prevention program on
tried smoking among early adolescents. Journal of Nursing Science Chulalongkorn University 2015;
(3):50-67. (in Thai)
Intarakamhang U. Health literacy: measurement and development. Bangkok: Sukhumvit Printing;
(in Thai)
Ishikawa H, Kiuchi T. Health literacy and health communication. Biopsychosocial Med [Internet]. 2010 [cited 2021 Jan 14];4:18. Available from: http://www.bpsmedicine.com/content/4/1/18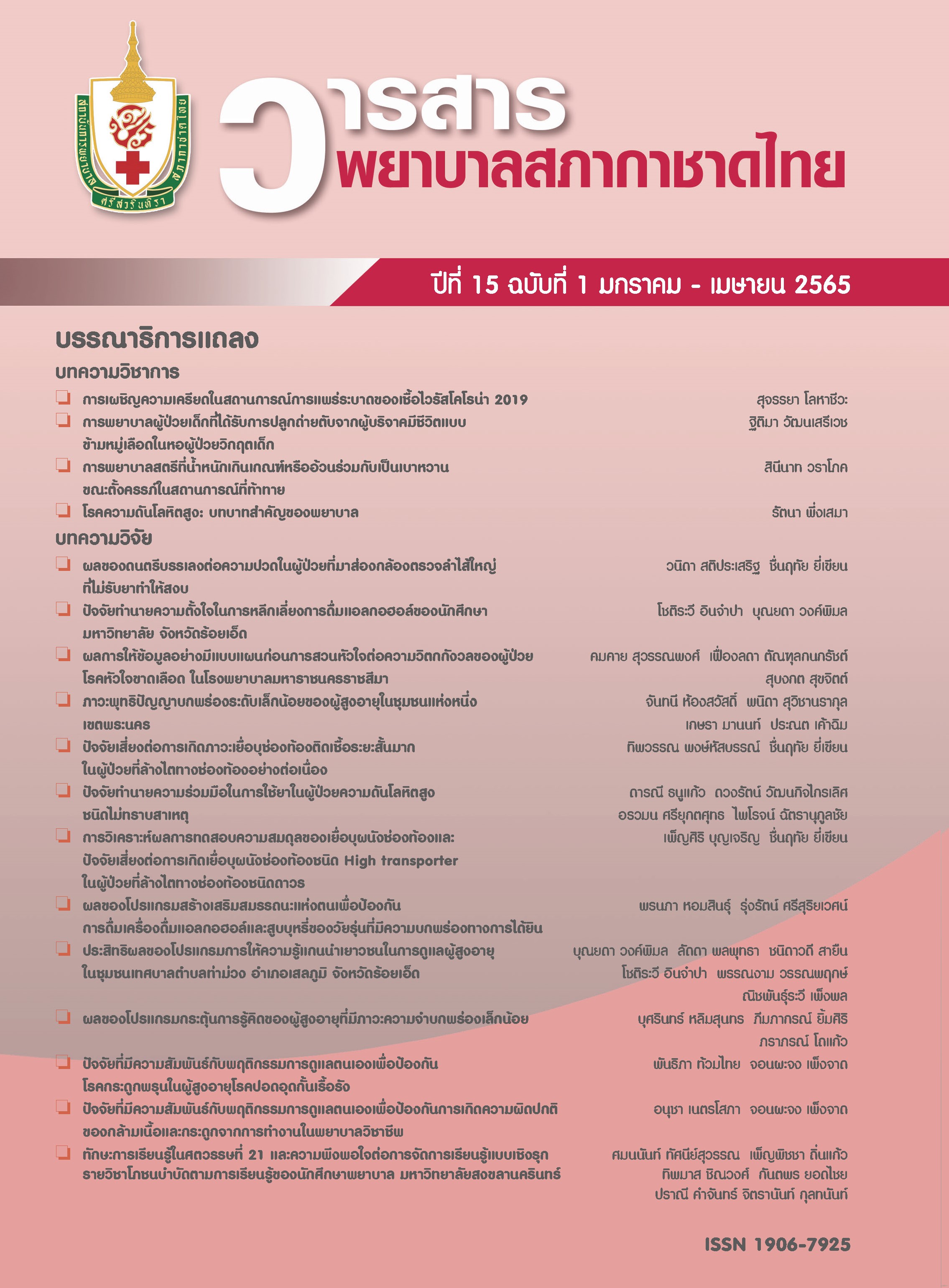 Downloads
Section
บทความวิจัย (Research Report)
License
Copyright (c) 2022 Srisavarindhira Thai Red Cross Institute of Nursing
This work is licensed under a Creative Commons Attribution-NonCommercial-NoDerivatives 4.0 International License.
เนื้อหาบทความหรือข้อคิดเห็นต่างๆ ในวารสารพยาบาลสภากาชาดไทยนี้ เป็นความคิดเห็นของผู้เขียนบทความ ไม่ใช่ความเห็นของกองบรรณาธิการ หรือสถาบันการพยาบาลศรีสวรินทิรา สภากาชาดไทย