Herpes Zoster Patients: Usable Evidence-Based Management of Care
Keywords:
herpes zoster, caring, evidence base
Abstract
              Herpes zoster is found more frequently with increased age. Complications can be found such as postherpetic neuralgia, bacterial infection, and eye inflammation. Furthermore, herpes zoster can be transmitted to other people; therefore, nurses have an important role to play in caring for Herpes Zoster patients.   These nurses need to be knowledgeable and understanding when caring for herpes zoster patients in order to be safe from disease and avoid severe complications; such nurses must have access to usable evidence-based training to support their management of patients under their care.
Downloads
Download data is not yet available.
References
1. Brinster NK, Liu V, Diwan AH, McKee PH. Dermatopathology. n.p.: 2010.

2. Thaipisuthikul Y. Viral skin infection. In: Yupin T, editor. Skin disease textbook. 3rd ed. Bangkok: Union Creation; 2011. p. 50-1. (in Thai)

3. Chen LK, Arai H, Chen LY, Chou MY, Djauzi S, Dong B, et al. Looking back to move forward: a twenty-year audit of herpes zoster in Asia-Pacific. BMC Infect Dis [Internet]. 2017 [cited 2020 Jul 9];17:213. Available from: https://link.springer.com/article/10.1186/s12879-017-2198-y

4. Fitzpatrick JE, Morelli JG. Dermatology secrets plus. 4thed. Philadelphia: Elsevier; 2011.

5. Kanjanapongkul J. Herpes zoster. In: Kanjanapongkul J, editor. Infectious diseases of the nervous system. Chon Buri: Chon Buri Printing; 2013. p. 92-5. (in Thai)

6. Wolff K, Johnson RA, Saavedra AP, editors. Fitzpatrick's color atlas and synopsis of clinical dermatology. 7th ed. New York: McGraw-Hill Education; 2013.

7. Likitnukul S. Skin and infectious disease. In: Malatum K, editor. Annual short term training for the year 2011 (current infectious disease practice). Bangkok: Medical Media; 2011. p. 380. (in Thai)

8. Calonje JE, Brenn T, Lazar A, McKee P, editors. McKee's Pathology of the skin. 4th ed. Philadelphia: Saunders; 2011.

9. Sirimachan S, Kullawanit P. Viral infections of the skin. In: Kullawanit P, Pisarnboot P, editors. Dermatology textbook in practice (Dermatology 2020). Bangkok: Holistic Publishing; 2012. p.321-35. (in Thai)

10. Kullawanit P, Pratyapruth W. Facial dermatitis. In: Kullawanit P, Pisarnbut P, editors. Dermatology textbook in practice (Dermatology 2020). Bangkok: Holistic Plublishing; 2012. p.50-56 (in Thai)

11. Schug SA, Palmer GM, Scott DA, Halliwell R, Trinca J. Acute pain management: scientific evidence, fourth edition, 2015. Med J Aust [Internet]. 2016 [cited 2020 Jul 10];204(8):315-7. Available from: https://pubmed.ncbi.nlm.nih.gov/27125806/

12. Kaye AD, Garcia AJ, Hall OM, Jeha GM, Cramer KD, Granier AL, et al. Update on the pharmacogenomics of pain management. Pharmgenomics Pers Med [Internet]. 2019 [cited 2020 Jul 10];12:125-43. Available from: http://doi.org/10.2147/PGPM.S179152

13. Prasungsit J, Rungsaengjun K, Moungngeon Y, editors. Wound care, evidence and experiences from the expert (wound care for nursing : evidence base to practice). Bangkok: P.A. Living; 2016. (in Thai)

14. Nalamachu S, Morley-Forster P. Diagnosing and managing postherpetic neuralgia. Drugs Aging [Internet]. 2012 [cited 2020 Jul 10];29:863-9. Available from: https://doi.org/10.1007/s40266-012-0014-3

15. Montague SJ, Morton AR. Ramsay Hunt Syndrome. CMAJ [Internet]. 2017 [cited 2020 Jul 10];89:8. Available from: https://doi.org/10.1503/cmaj.160483

16. Kansu L, Yilmaz I. Herpes zoster oticus (Ramsay hunt Syndrome) in Children: Case report and literature review. Int J Pediatr Otorhinolaryngol [Internet]. 2012 [cited 2020 Jul 8];76(6): 772-6. Available from: https://doi.org/10.1016/j.ijporl.2012.03.003

17. Baxter R, Bartlett J, Fireman B, Marks M, Hansen J, Lewis E, et al. Long-term effectiveness of the live zoster vaccine in preventing shingles: a cohort study. Am J Epidemiol [Internet]. 2018 [cited 2020 Jul 9];187(1):161-69. Available from: https://doi.org/10.1093/aje/kwx245

18. Punchareon C. Shingles vaccine. In: Punchareon C, editor. Infectious disease and vaccine communication. Bangkok: Activeprint; 2016. p. 239-41. (in Thai)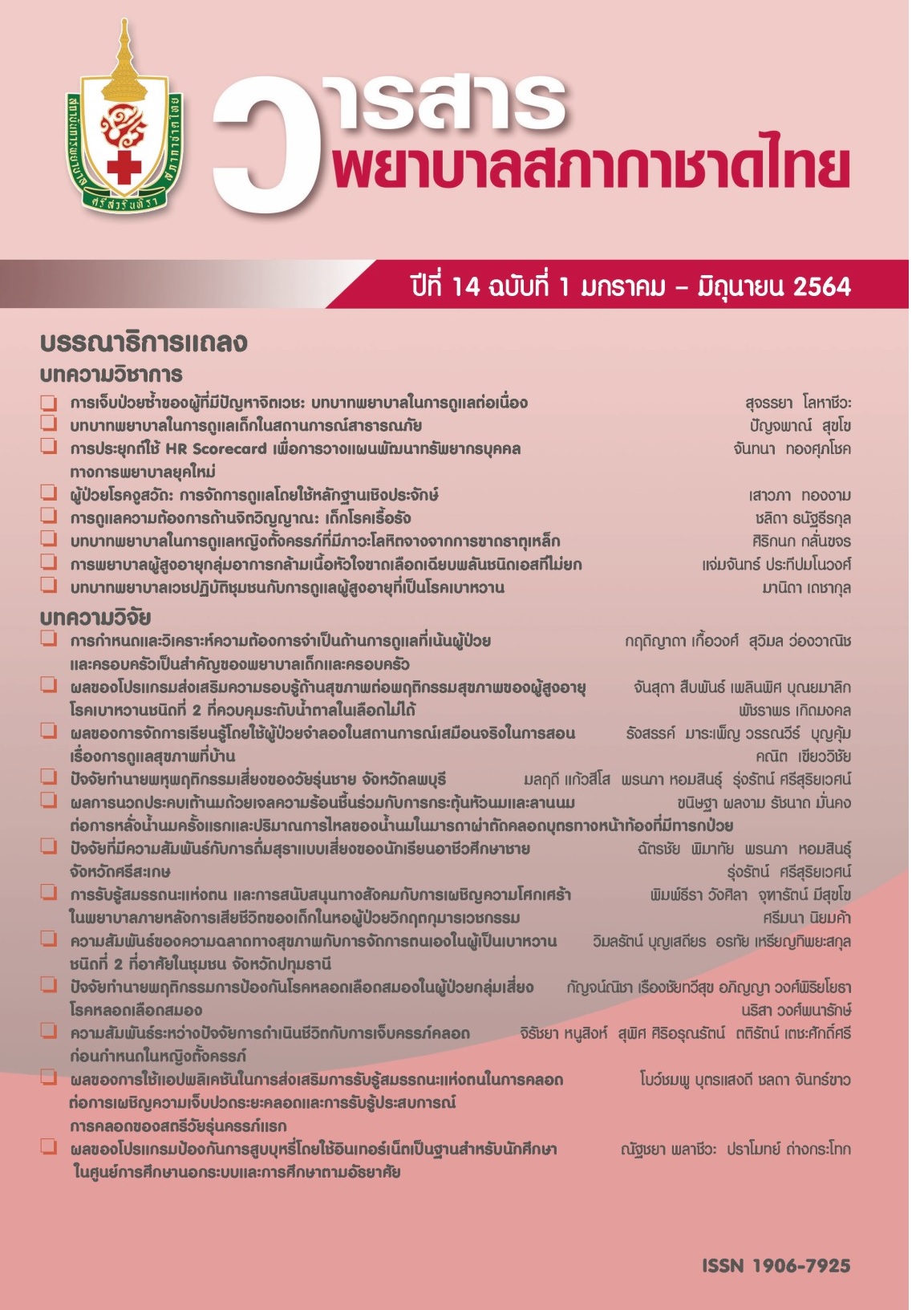 Downloads
Section
Academic Articles
License
เนื้อหาบทความหรือข้อคิดเห็นต่างๆ ในวารสารพยาบาลสภากาชาดไทยนี้ เป็นความคิดเห็นของผู้เขียนบทความ ไม่ใช่ความเห็นของกองบรรณาธิการ หรือสถาบันการพยาบาลศรีสวรินทิรา สภากาชาดไทย