The Role of Community Nurse Practitioner in Diabetes Elderly Care
Keywords:
diabetes mellitus, elderly with diabetes mellitus, the role of community nurse practitioners
Abstract
                Diabetes Mellitus is common disease among elderly patients, and both the incidence and severity of the disease are increasing. The major risk factors for the elderly with diabetes mellitus include food consumption behavior and unhealthy lifestyle, which can lead to obesity and uncontrolled diabetes mellitus in elderly individuals. Community nurse practitioners play an important role in the care of elderly patients with diabetes through health promotion, treatment, disease prevention and prevention of complications in these patients.  This article presents the role of the community nurse practitioner in integrating acquired specific knowledge about health care planning to promote healthy behaviors and reduce complications for elderly patients with diabetes mellitus.
Downloads
Download data is not yet available.
References
1. International Diabetes Federation [Internet]. 2021 [cited 2021 May 25]. Available from: https://www.hfocus.org/content/2019/11/18054

2. Raweewan L. Diabetes association of Thailand [Internet]. 2020 [cited 2020 Oct 20]. Available from: https://www.dmthai.org/index.php/knowledge/for-normal-person/health- information-and-articles/health-information-and-articles-old-3/720-2018-09-02-06-38-53

3. Vichai A, Hathaichanok P, Kanittha T, Waraporn S. Public health survey report of Thailand by physical examination. 5th ed. Nontaburi: Auksorngraphic design; 2014. (in Thai)

4. Strategy and Planning Division. Thailand health lifestyle strategic plan 2011-2020 [Internet]. 2010 [cited 2021 May 25]. Available from: http://wops.moph.go.th/ops/oic/data/20110316100703_1_.pdf (in Thai)

5. Stratton IM, Adler AI, Neil HA, Matthews DR, Manley SE, Cull CA, et al. Association of glycaemia with macrovascular and microvascular complications of type 2 diabetes : prospective observational study. BMJ 2000;321(7258):405-12.

6. Zhang P, Zhang X, Brown J, Vistisen D, Sicree R, Shaw J, Nichols G. Global healthcare expenditure on diabetes for 2010 and 2030. Diabetes Res Clin Pract 2010;87(3):293-301.

7. Diabetes association of Thailand. Clinical practice guideline for diabetes. 3rd ed. Pathumthani: Romyen Media; 2017. (in Thai)

8. Announcement of the Nursing Council on the scope and competencies of advanced nursing practitioner in various fields, Government Gazette, volume 126, special section 16 Ngor, page 28. 30 January B.E. 2552. (A. D. 2009). (in Thai)

9. Cryer PE. Hypoglycemia, functional brain failure, and brain death. J Clin Invest 2007;117:868-870.

10. Cryer PE. Hypoglycaemia: the limiting factor in the glycemic management of type I and type II diabetes. Diabetologia 2002;45(7):937-48.

11. Wirojratana V, Amnatsatsue K, Sasat S, Malathum P, Norongsak J. Improvement of healthcare service for dependent elders. Thai Journal of Nursing Council 2014:29(3);104-15. (in Thai)

12. Wanthanawhut V, Durongritichai V, Buacharoen H. Health partnership development for diabetes clients by community nurse practitioner. Journal of Public Health Nursing 2012;26(2):87-103. (in Thai)

13. Kritsumpan K. The effect of empowerment on self – care behaviors and glycemic control in patients with Type 2 diabetes mellitus at diabetic clinics. Journal of Health Sciences Scholarship 2019:6(2);79-93. (in Thai)

14. Supatra S, Pakarat L, Mathuraporn P, Pruksa B. Health system management for population health. 2nd ed. Nontaburi: Sahamit printing and publishing; 2015. (in Thai)

15. Natpalin N. Change Agent in The 21st Century. Journal of Nursing and Health Care 2017;35(1):16-19. (in Thai)

16. Kanhachin H, Limtragool P. Improvement of care for patients with diabetes mellitus at a health promoting hospital in Phibun Rak District, Udon Thani Province. Journal of Nursing and Health Care 2020;38(3):186-95. (in Thai)

17. Sorut W. Process of advocating patients' rights of professional nurses [dissertation]. Chon Buri: Burapha University; 2015. (in Thai)

18. Anansirikasem P, Chalardlon P. Development of participatory health promotion model for elderly patients with type 2 diabetes mellitus: case study of Ladbuakhaw subdistrict Banpong district, Rachaburi Province. Veridia E-Journal, Silpakorn University 2017;10(3):921-37. (in Thai)

19. Khongnawang T, Sota C. The effects of care model development for diabetes patients type 2 by family and community participation. Research and Development Health System Journal 2016;7(2):33-42. (in Thai)

20. Wongngern N, Wangwonsin A. Effect of self-management support program on self- management behavior among uncontrolled Type 2 diabetes mellitus patients. EAU Heritage Journal Science and Technology 2019;13(2):267-80. (in Thai)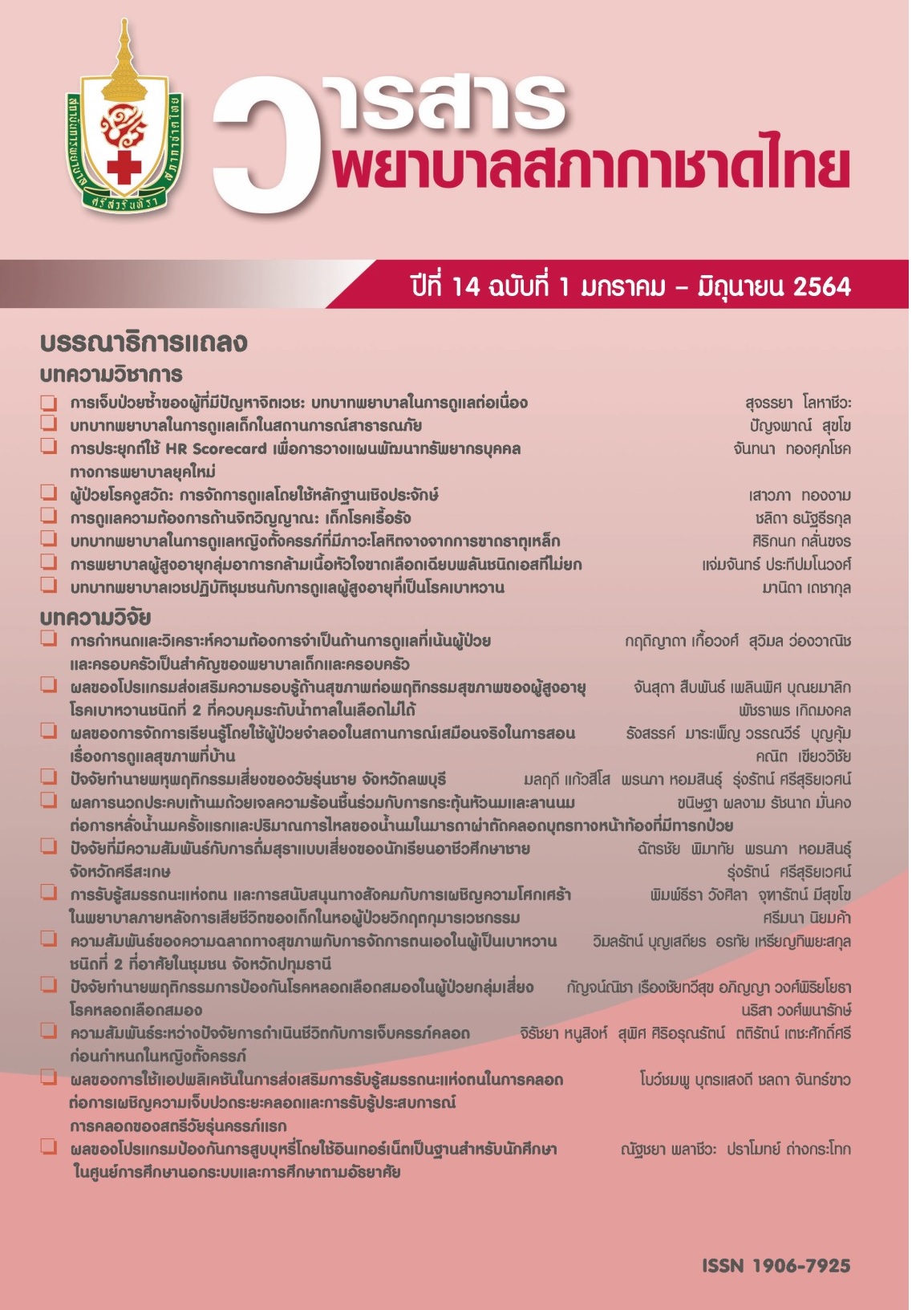 Downloads
Section
Academic Articles
License
เนื้อหาบทความหรือข้อคิดเห็นต่างๆ ในวารสารพยาบาลสภากาชาดไทยนี้ เป็นความคิดเห็นของผู้เขียนบทความ ไม่ใช่ความเห็นของกองบรรณาธิการ หรือสถาบันการพยาบาลศรีสวรินทิรา สภากาชาดไทย