Needs Identification and Analysis in Patient-and Family-Centered Care of Pediatric Nurses and Families
Abstract
               Patient-and family-centered care (PFCC) is an important model in pediatric nursing's in terms of the principle by being concerned about the mutual benefits of stakeholders. The purposes of this study were to 1) study the needs identification of PFCC, and 2) analyze the reasons behind nurses' needs in PFCC. The samples were 40 pediatric nurses and members from 44 families in a center hospital. The research instruments were the needs of PFCC questionnaires and interview guidelines for nominal group technique. Data of needs identification were analyzed by using PNImodified and nominal group technique was analyzed by content analysis and then summarized using a fishbone diagram.
            The results of needs identification in PFCC showed that nurses had the highest score in dignity and respect, respectively, followed by participation and collaboration, and communication and information sharing. The results also showed that families placed the most importance for needs in participation and collaboration, followed by communication and information sharing, and dignity and respect, respectively. Moreover, the reasons shown for nurses' needs analysis in PFCC were the working systems, the nurses themselves, and their families. Thus, the nursing administers should support and encourage nurses to consider the importance of patients' family participation in the nursing care process and find out the solution to solve the cause of needs that will be beneficial for patients, families, and health care providers.
Downloads
Download data is not yet available.
References
1. Namjuntra R. Patient-and family-centered care: a challenge model of healthcare services. Thai Journal of Nursing Council 2009;24(1):5-10. (in Thai)

2. Fongkerd S, Himananto S, Tantalanukul S. Family-centered care: from theory to practice foe end of life care of critical patients in intensive care unit based on Thai context. Journal of Phrapokklao Nursing College 2016;27(suppl 1):170-8. (in Thai)

3. Committee on Hospital Care and Institute for Patient- and Family-Centered Care. Patient- and family-centered care and the pediatrician's role. Pediatrics 2012;129(2):394-404.

4. Shelton TL, Stepanek JS. Excerpts from family centered care of children needing specialized health and developmental service. Pediatr Nurs 1995;21(4):362-4.

5. Kuo DZ, Houtrow AJ, Arango P, Kuhlthau KA, Simmons JM, Neff JM. Family-centered care: current applications and future directions in pediatric health care. Matern Child Health J 2012;16(2):297-305.

6. Saleeba A. The importance of family-centered care in pediatric nursing. School of Nursing Scholarly Works 2008;48.

7. Institute for Patient-and Family-Centered Care. Advancing the practice of patient-and family-centered care in primary care and other ambulatory settings: how to get started. Bethesda, MD: Institute for Patient- and Family-Centered Care; 2017.

8. Salmela M, Salanterä S, Aronen E. Child-reported hospital fears in 4 to 6 year-old children. Pediatr Nurs 2009;35(5):269-76.

9. Betz CL, Hunsberger MM, Wright S. Family-centered nursing care of children. 2nd ed. Philadelphia: Saunders; 1994.

10. Lor M, Crooks N, Tluczek A. A proposed model of person-, family-, and culture-centered nursing care. Nurs Outlook 2016;64(4):352-66.

11. Singdong P, Jitpanya C. Caring for relatives of critically ill patients: relatives' perspectives. Princess of Naradhiwas University Journal 2011;3(3):17-32. (in Thai)

12. Damrongrak P, Prasopkittikun T, Tilokskulchai F, Ngerncham S. Effects of family-centered care on self-efficacy in participatory involvement in newborn care and satisfaction towards nursing service of mothers in NICU. J Nurs Sci 2012;30(2):70-9. (in Thai)

13. Phaktoop M, Teeintong K. Separation anxiety in young children admitted to the hospital. EAU Heritage Journal Science and Technology 2017;11(2):40-8. (in Thai)

14. Pronlerttaveekun S, Prasopkittikun T, Sangperm P. Factors associated with mothers' participation in care for hospitalized newborns. J Nurs Sci 2013;31(1):59-69. (in Thai)

15. Wariloon A, Chanthapreeda N. Effect of family centered care program for preschool critically ill children on maternal stress. Journal of Nursing and Health Care 2018;36(2):105-13. (in Thai)

16. Somjainuek J, Prasopkittikun T, Srichantaranit A. Factors predicting pediatric nurses' practices of family-centered care. J Nurs Sci 2016;34(2):70-9. (in Thai)

17. Sangnatesawang N. Perception and practice of family-centered care in health care professions. [Master Thesis of Nursing Science]. Nakhonpathom: Mahidol University; 2008. (in Thai)

18. Pichaisongkram S, Sapin N, Chuachomket N. Relationship between factors of caregivers, factor of ill child with caregivers's perception of caring and nursing students's perception on practical using family centered care of the 3rd year nursing student, faculty of nursing, Princess of Naradhiwas University. Princess of Naradhiwas University Journal 2015;7(2):62-73. (in Thai)

19. Wongwanich S. Needs assessment research. 3rd ed. Bangkok: Chulalongkorn University Printing House; 2015. (in Thai)

20. Yamane T. Statistics: An introductory analysis. New York: Harper and Row Publications; 1973.

21. Manen V. Researching lived experience. Canada: The Allthouse Press; 1990.

22. Ishikawa K. Guide to quality control. Tokyo: Asian Productivity Organization; 1983.

23. Alabdulaziz H, Moss C, Copnell B. Paediatric nurses' perceptions and practices of family-centred care in Saudi hospitals: A mixed methods study. Int J Nurs Stud 2017;69:66-77.

24. Nilmanat K, Kongsuwan W, Sastranuruk S, Ongphokai Y, Chuaynukul S. Barriers to provide psychosocial nursing care: The voices of nurses. Songkla Med J 2005;23(5):291-301. (in Thai)

25. Street AF. Inside nursing: A critical ethnography of clinical nursing practice. Albany: State University of New York Press; 1992.

26. Foster M, Whitehead L, Maybee P. The parents', hospitalized child's, and health care providers' perceptions and experiences of family-centered care within a pediatric critical care setting: A synthesis of Quantitative research. J Fam Nurs 2016;22(1):6-73.

27. Molter NC. Needs of relatives of critically ill patients: A descriptive study. Heart Lung 1979;8(2):322-39.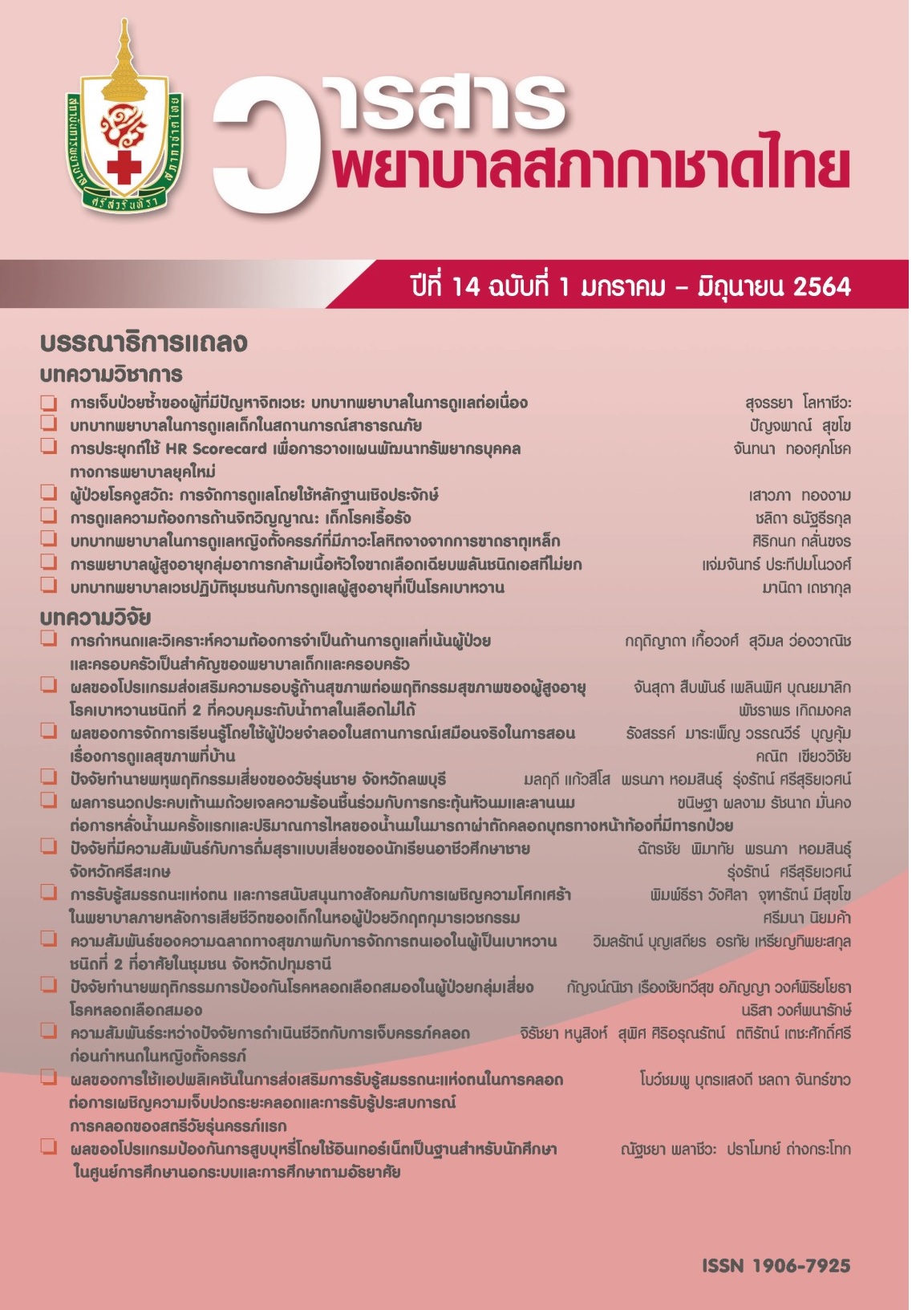 Downloads
Section
บทความวิจัย (Research Report)
License
เนื้อหาบทความหรือข้อคิดเห็นต่างๆ ในวารสารพยาบาลสภากาชาดไทยนี้ เป็นความคิดเห็นของผู้เขียนบทความ ไม่ใช่ความเห็นของกองบรรณาธิการ หรือสถาบันการพยาบาลศรีสวรินทิรา สภากาชาดไทย