Factors Associated with Self-Care Behavior for the Prevention of Work-related Musculoskeletal Disorders in Registered Nurses
Keywords:
basic conditioning factors, health literacy, self-care behavior, musculoskeletal disorders, registered nurses
Abstract
            The objectives of this descriptive correlational research were to examine the self-care behaviors to prevent work-related musculoskeletal disorders and the factors relating to these behaviors in registered nurses. One hundred twenty-six registered nurses working in tertiary care hospitals in Bangkok were recruited for the study by multistage randomization. Data collection tools included a General Information Questionnaire, a Work Stress Assessment Form, a Health Literacy on Work-related Musculoskeletal Disorders Questionnaire, and a Self-Care Behavior for Prevention of Work-related Musculoskeletal Disorders Scale. The tools were tested for their content validity by a panel of experts and their reliability ranged between 0.87, 0.91, and 0.94, respectively. Data were analyzed using Pearson's correlation and Spearman rank correlation statistics.
              The results showed that registered nurses engaged in self-care behaviors to prevent work-related musculoskeletal disorders at a moderate level (M = 103.02, SD = 12.32). The health literacy on work-related musculoskeletal disorders positively and moderately correlated to self-care behaviors with statistical significance (r = 0.588, p < .001). Other basic conditioning factors including age, hours work per week, and work stress were not correlated with self-care behaviors to prevent work-related musculoskeletal disorders. This research supports the need to promote health literacy among registered nurses regarding work-related musculoskeletal disorders in order to ensure their abilities to engage in self-care behavior properly.
Downloads
Download data is not yet available.
References
Yothikun K, Prabpai S. Factors associated with musculoskeletal disorder prevention behaviors in professional nurse. Vajira Nursing Journal 2018;20(1):27-39. (in Thai)
Sinsongsook T. The prevalence and work related factors of musculoskeletal complaints among nursing personnel in King Chulalongkorn memorial hospital [Thesis]. Bangkok: Chulalongkorn University; 2004. (in Thai)
Rogers B. Health hazards in nursing and health care: an overview. Am J Infect Control 1997;25(3):248-61. doi: 10.1016/s0196-6553(97)90012-2
Amin NA, Nordin RB, Noah R, Oxley JA, Kia Fatt QK. Work related musculoskeletal disorders in female nursing personnel: prevalence and impact. IJCRIMPH 2016;8(3):294-315.
Chiwaridzo M, Makotore V, Dambi JM, Munambah N, Mhlanga M. Work-related musculoskeletal disorders among registered general nurses: a case of a large central hospital in Harare, Zimbabwe. BMC Res Notes 2018;11(1):315. doi: 10.1186/s13104-018-3412-8.
Passali C, Maniopoulou D, Apostolakis I, Varlamis I. Work-related musculoskeletal disorders among Greek hospital nursing professionals: a cross-sectional observational study. Work 2018;61(3):489-98. doi: 10.3233/WOR-182812
Kantiya N. Work-related musculoskeletal disorders and related factors among professional nurses [Thesis]. Chiang Mai: Chiang Mai University; 2009. (in Thai)
Heidari M, Borujeni MG, Rezaei P, Kabirian Abyaneh S. Work-related musculoskeletal disorders and their associated factors in nurses: a cross-sectional study in Iran. Malays J Med Sci 2019;26(2):122-30. doi: 10.21315/mjms2019.26.2.13.
Wongthanakit S, Tongvichean S, Kalampakorn S, Kaewboonchoo O. Factors related to low back pain preventive behaviors among nurses in governmental hospitals, Nonthaburi Province. Thai Journal of Public Health 2005;35(2):109-18. (in Thai)
Opastiragul W, Chanprasit C, Kaewthummanukul T. Health status related to risk at work among professional nurses, out patient and emergency nursing section, Maharaj Nakorn Chiang Mai Hospital. Nursing Journal 2015;42(2):49-61. (in Thai)
Khampisut J. Health literacy and health promotion behaviors of students in Naresuan University. Journal of Educational Measurement, Mahasarakham University 2018;24(1):67-78. (in Thai)
Orem DE. Nursing: concepts of practices. 3rd ed. New York: McGraw-Hill; 1985.
Auetian J. Factors related to low back pain prevention among home-based sewers [Thesis]. Bangkok: Mahidol University; 2002. (in Thai)
Polit F, Beck K. Nursing research: principles and methods. 7th ed. Philadelphia: Lippincott Williams & Wilkins; 2004.
Department of Mental Health. ST5 [Internet]. 2021 [cited 2019 Dec 6]. Available from: https://www.dmh.go.th/test/qtest5/. (in Thai)
Thungjaroenkul P, Swaengdee K, Theerawit T, Tungcharoensathien V. Health problems and health care behaviors among registered nurses in Thailand. Journal of Health Systems Research 2015;9(1):49-60. (in Thai)
Orem DE. Nursing: concepts of practices. 4th ed. St. Louis: Mosby Year; 1991.
Chummalee I. Relationship between health literacy and health behaviors of pharmacy students, Mahasarakham University. Journal of Safety and Health 2020;13(1):126-37.
Aungsirikul S, Pakdevong N, Binhosen V. Factors related to health promotion behaviors in Patients with low back pain. The Journal of Faculty of Nursing Burapha University 2016;24(1):39-50. (in Thai)
Dilokkunanant T. Work related stress, social support, and resilience among emergency nurses working in unrest areas of the southern border provinces [Thesis]. Songkla: Prince of Songkla University; 2017. (in Thai)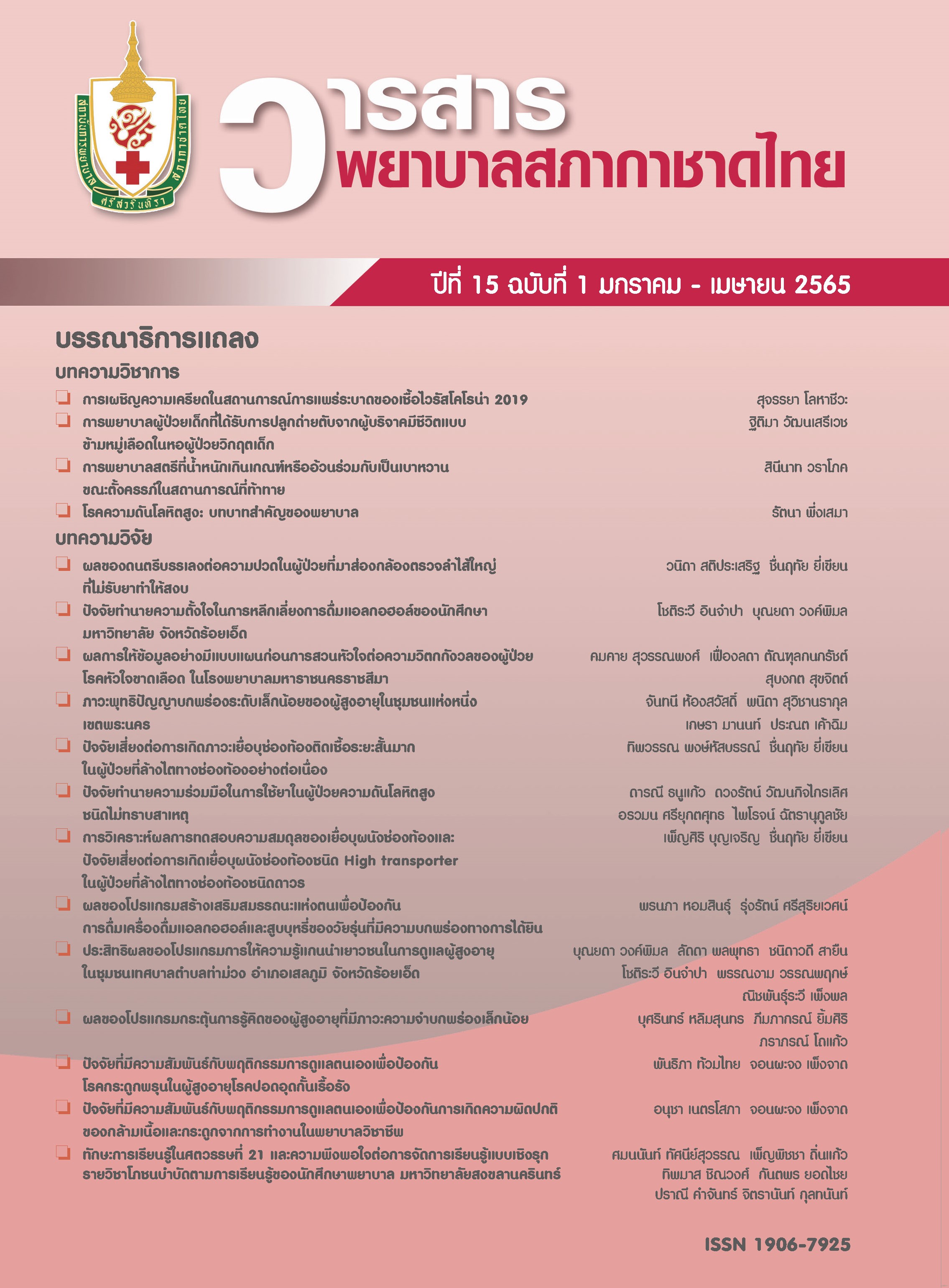 Downloads
Section
บทความวิจัย (Research Report)
License
Copyright (c) 2022 Srisavarindhira Thai Red Cross Institute of Nursing
This work is licensed under a Creative Commons Attribution-NonCommercial-NoDerivatives 4.0 International License.
เนื้อหาบทความหรือข้อคิดเห็นต่างๆ ในวารสารพยาบาลสภากาชาดไทยนี้ เป็นความคิดเห็นของผู้เขียนบทความ ไม่ใช่ความเห็นของกองบรรณาธิการ หรือสถาบันการพยาบาลศรีสวรินทิรา สภากาชาดไทย