The Development of Nutritional Care Ability Enhancing Program on Caregivers for Home-based Elderly Bed-Ridden Patients Receiving Nasogastric Tube Feeding
Keywords:
caregiver's ability, nutritional status, elderly bed-ridden, nasogastric tube feeding
Abstract
Abstract:
This developmental research study aims to develop a program to promote caregivers'
ability to manage nutritional status in elderly bed-ridden patients receiving nasogastric tube
feeding. using Orem's theory of nursing, theory of nutritional therapy and put the empirical
evidence into practice. The study consisted of two phases: Phase1: The development of the
program consists of three steps: 1) Reviewing and analyzing knowledge. 2) Evaluating
empirical evidence and the integration of knowledge into the process of enhancing the ability
of caregivers. Study of the principles of nutrition therapy and 3) Content validity examination
by three experts. Phase 2: Assessment of feasibility the experiment was conducted with the
eight nurses of the municipal health centers in one district.
The program was divided into four stages: 1) Assessment of the caregiver's ability.
2) The caregiver's nutritional care 3) Follow-up visits. and 4) Evaluation
The results of the content validity. found that the caregiver's promotion plan, assessment
of the caregiver's ability and the caregiver's promotion guide is technically correct. The program
is consistent with the objectives and the research framework. In addition, highly qualifed
guides were added in the manual. Storing food blends and the description of the explanation
is now clearer than before. The results of possibility of program adoption found that the
caregiver's ability assessment activities, nutrition educators and follow up can be easily
understood. However, some of the contents in the manual are diffcult to understand. Therefore,
the researchers revised some parts of the manual. Researchers have improved more easily.
Recommendations: It is recommended that program performance should be tested with
caregivers of elderly bed-ridden patients receiving nasogastric tube feeding prior to
implementation.
Downloads
Download data is not yet available.
References
References
1. Obara, H., Tomite, Y., & Doi, M. Improvement in the nutritional status of very elderly stroke patients who received long-term complete tube feeding. eSPEN 2010; 5(6): 272–6.
2. Deutz NEP, Bauer JM, Barazzoni R, Biolo G,Boirie Y, Bosy-Westphal A, et al. Protein intake and exercise for optimal muscle function with aging:Recommendations from the ESPEN Expert Group. Clin Nutr 2014; 33(6): 929–36.
3. Muurinen S, Soini H, Suominen M, Pitkälä K. Nutritional status and psychological well-being. E-SPEN Eur E-J Clin Nutr Metab 2010; 5(1):26–9.
4. Hongsprabhas P. Nutrition in the elderly. I-San Journal of Internal Medicine 2007; 7(3): 81-93.(in Thai)
5. Sirapo-ngam Y. Family caregiver: Concept and research issues. Ramathibodi Nursing Journal 1996; 2(1): 84-94. (in Thai)
6. Arija V, Martín N, Canela T, Anguera C, Castelao AI, García-Barco M, et al. Nutrition education intervention for dependent patients: protocol of a randomized controlled trial. BMC Public Health 2012; 12(1): 373.
7. Orem DE. Nursing: Concepts of practice. 6th ed. St. Louis, MO: Mosby Year book; 2001.
8. Chuemongkon W. Basic in clinical nutrition & medical nutrition therapy. 1st ed. Nonthaburi: The
copy one center; 2014. (in Thai)
9. KhunthongT, IsaramalaiS, KomjakraphanP. Impact of a self-managed supporting programme on selfmanagement behaviour and sugar levels in category 2 insulin-dependent diabetes patients. Thai Journal of Nursing Council 2013; 28(1): 85-99. (in Thai)
10. Cabrerizo S, Cuadras D, Gomez-Busto F, ArtazaArtabe I, Marín-Ciancas F, Malafarina V. Serum albumin and health in older people: Review and meta analysis. Maturitas 2015; 81(1): 17–27.
11. Raynaud-Simon A, Revel-Delhom C, Hébuterne X. Clinical practice guidelines from the French health high authority: Nutritional support strategy in protein-energy malnutrition in the elderly. Clin Nutr 2011; 30(3): 312–9.
12.Cheueiam S, Kangchai W, Paokanha R, PiphatvanitchaN.Effectofeatingbehaviorpromotion program on eating behavior and blood pressure level in older adults with essential hypertension. The Journal ofFaculty ofNursing Burapha University 2011; 19(3): 78-91. (in Thai)
13.Nilmanat K, Naka K, Kong-in W, Sai-jew A, Chailungka P, Boonphadh P. Nutritional conditions of elderly people in the three southernmost border provinces. Thai Journal of Nursing Council 2013;28(1): 75-84. (in Thai)
14.Mitprasart U, Surit P. Nutritional status and associated factors with among older adults in the hospital. Journal of Nursing and Health Care 2011; 29(3): 46-55. (in Thai)
15. The JBI Approach - JBI [Internet]. [cited 2017 Aug 5]. Available from: https://joannabriggs.org/jbiapproach.html#tabbed-nav=Levels-of-Evidence.
16. Budda S, Poomthongdee T, Methakanjanasak N. The effect of nutritional self - management program on
nutritional status and dietary behavior among patient on continuous ambulatory peritoneal dialysis. Journal of Sakon Nakhon Hospital 2012; 15(1): 40-49. (in Thai)
17. Bouillanne O, Hay P, Liabaud B, Duché C, Cynober L, Aussel C. Evidence that albumin is not a suitable marker of body composition-related nutritional status in elderly patients. Nutrition 2011; 27(2):165–9.
18. Pairojkittrakul S, Harnirattisai T, Thitiarchakul S. The effect of a shared care-promoting program on shared care, nutritional status and, exit site infection among continuous ambulatory peritoneal dialysis patients. Ramathibodi Nursing Journal 2014;20(3): 325-40. (in Thai)
19. Rattanaruang R, Prapaipanich W, Janepanish Visudtibhan P, Lekhyananda S. Effects of a food intake focused on protein promoting program in endstage renal disease patients undergoing hemodialysis. Ramathibodi Nursing Journal 2014; 20(3): 341-55. (in Thai)
20. Leumaung K. Effect of supportive-educative program on perceived caregivers' capability for intracranial hemorrhage monitoring in patients with mild head injury [Master of Nursing Science Thesis]. Songkhla: Prince of Songkla University; 2013. (in Thai)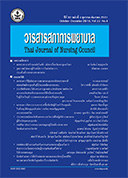 Downloads
How to Cite
1.
วิชัยดิษฐ ณ, บาลทิพย์ ก, อิสระมาลัย แ, รักษ์ภาณุสิทธิ์ ฐ. The Development of Nutritional Care Ability Enhancing Program on Caregivers for Home-based Elderly Bed-Ridden Patients Receiving Nasogastric Tube Feeding. TJNC [Internet]. 2018 Dec. 25 [cited 2022 Aug. 14];33(4):109-23. Available from: https://he02.tci-thaijo.org/index.php/TJONC/article/view/146001