Application of the Growth Mindset to Registered Nurses' Professional Development in the Thailand 4.0 Reformation
นครินทร์ สุวรรณแสง

Nursing Division, Office of Permanent Secretary

ภราดร ยิ่งยวด

วิทยาลัยพยาบาลบรมราชชนนี จังหวัดนนทบุรี

ขวัญนภา ขวัญสถาพรกุล

Nursing Division, Office of Permanent Secretary
Keywords:
growth mindset, registered nurses, Thailand 4.0 Reformation
Abstract
The Growth Mindset is a conceptual framework based on the belief that each individual's capacity and potential can change at any time. Positive changes can be induced by the process of self-learning and self-training to address problems constructively and to concentrate more on the process than on the product. Such development plays an important part in enabling registered nurses to adjust to and keep abreast with current changes.
This article focuses on building a knowledge and understanding of the Growth Mindset and how it can contribute to registered nurses' professional development. The article also offers an exchange of academic fndings and empirical evidence, both of which are applicable to the patient care process, along with feedback between healthcare teams. The scope of this article covers the conceptual framework of the Growth Mindset, its signifcance to registered nurses' professional development in the Thailand 4.0 Reformation, its further development, and its developmental application to the nursing profession.
Downloads
Download data is not yet available.
References
1. Offce of the National Economics and Social Development Council. National strategic. 2017-2036. Bangkok:
Offce of the National Economics and Social Development Council; 2018. (in Thai).
2. Strategy and Planning Division. Twenty-year national strategic plan for public health (2017-2036) frst
revision 2018. Nonthaburi: Offce of the Permanent Secretary; 2018. (in Thai).
3. Smith B, Sverdlov A. Digital technology: the future is bright. Clin Pharmacol Ther. 2018; 104(1): 9-11.14
4. Wongvicet J. Bariers to evidence-based nursing practice as perceived by professional nurses in critical care units, Uttaradit Hospital. [Thesis]. Chiangmai: Chiangmai University; 2006. (in Thai).
5. Yimboonna C, Poomnikom N, Kanoknunthapong M, et al. Research utilization and barriers to research
utilization in nursing practice. Siriraj Nursing Journal. 2007; 2: 11-26. (in Thai).
6. Dweck CS, Leggett EL. A social-cognitive approach to motivation and personality. Psychol Rev. 1988; 95: 256–273.
7. Dweck CS. Mindset: the new psychology of success. New York: Ballantine Books, 2006.
8. Lee Y-H, Heeter C, Magerko B, Medler B. Gaming mindsets: implicit theories in serious game learning. Cyberpsychol Behav Soc Netw. 2011; 190-194 p.
9. Mangels JA, Butterfeld B, Lamb J, Good C, Dweck CS. Why do beliefs about intelligence influence learning success? a social cognitive neuroscience model. Soc Cogn Affect Neurosci. 2006; 1(2): 75-86.
10. Murphy MC, Dweck CS. Mindsets shape consumer behavior. J Consum Psychol.2016; 26(1): 127-36.
11. Castro E, Turcinovic M, Platz J, Law I. Early mobilization: changing the mindset. Crit Care Nurse. 2015; 35(4):
e1-5; quiz e6.
12. Jill Klein, Clare Delany, Michael D Fischer, David Smallwood, Stephen Trumble. A growth mindset approach
to preparing trainees for medical error. BMJ Qual Saf. 2017; 26: 771-774.
13. FitzGerald C, Hurst S. Implicit bias in healthcare professionals: a systematic review. BMC Med Ethics. 2017; 18(1): 19.
14. Hölzken A. Experienced feedback and mindset of nurses. [Thesis]. Enschede: University of Twente; 2006.
15. Pulperm P, Tehopakarn N, Maneewat T. Selfempowerment program development for nursing supervisor, Suratthani Hospital. Journal of Nurses' Association of Thailand North-Eastern Division.
2012; 30(3): 95-103. (in Thai).
16. Paramonczyk A. Barriers to implementing research in clinical practice. Can Nurse. 2005; 101(3): 12-5.
17. Puttaruksa L, Subgranon R, Othaganont P. Factor leading to success in the Implementation of evidence based
nursing practice of professional nurses. The Journal of Faculty of Nursing Burapha University. 2016;
24(3): 94-103. (in Thai).
18. Rodphothong J, Puttapitukpol S, Likhitluecha N. Development of nurse mentorship model for new
professional nurses, Pakkred Hospital, Nonthaburi Province. Journal of Nursing Division. 2016; 43(2):
66-82. (in Thai).
19. Chaleoykitti S. Effects of empowerment program by head nurses on performance feedback and job satisfaction of staff nurses. [Thesis]. Bangkok: Chulalongkorn University; 2001. (in Thai).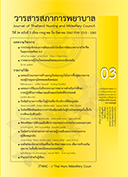 How to Cite
1.
สุวรรณแสงน, ยิ่งยวดภ, ขวัญสถาพรกุลข. Application of the Growth Mindset to Registered Nurses' Professional Development in the Thailand 4.0 Reformation. TJNC [Internet]. 2019Jun.28 [cited 2020Oct.2];34(3):5-14. Available from: https://he02.tci-thaijo.org/index.php/TJONC/article/view/172448
Copyright (c) 2019 Thai Journal of Nursing Council
This work is licensed under a Creative Commons Attribution-NonCommercial-NoDerivatives 4.0 International License.