Nursing Care for Covid-19 Patients with Acute Respiratory Distress Syndrome
Keywords:
Coronavirus-19 patients, acute respiratory distress syndrome (ARDS), nursingcare
Abstract
     Acute respiratory distress syndrome (ARDS), a complication commonly found in patients infected with the Coronavirus-19, is a critically severe disease caused by pulmonary infection by the SAR-CoV-2 virus. ARDS stimulates the immune system to release a large quantity of cytokines,known as a 'cytokine storm'. The rapid increase of cytokines causes lymphocytes and neutrophils to infiltrate pulmonaryt issues,causing
a pulmonary injury or damage. Increased severity of the condition causes pulmonary inflexibility, which leads to hypoxia,a major cause of death. It is necessary, therefore, for nurses to have a proper understanding of the disease, treatment direction, and patient care methods, toensure caregiving efficiency.
     The principal purpose of this article is to present a review of related literature concerning pathological mechanisms, characteristics, and severity of acute respiratory distress syndrome in patients infected with the Coronavirus-19. This article also discusses treatment and caregiving methods, which include administration of virus multiplication inhibitors, oxygentherapy, artificial respiration,and prone positioning, all of which are fundamental patient care principles aimed to maintain their respiratory function, oxygen perfusion, andreduction of symptomatic severity, complications, and mortality rates. 
Downloads
Download data is not yet available.
References
Li Q, Guan X,WuP,Wang X, Zhou L, Tong Y,etal. Early transmission dynamics in Wuhan, China, of novel coronavirus–infected pneumonia.N EnglJ Med. 2020;382(13):1199-207
Yuki K,Fujiogi M, KoutsogiannakiS. COVID-19 pathophysiology: a review. Clin Immunol. 2020: 215:108427.
Risitano AM, Mastellos DC, Huber-Lang M, Yancopoulou D,Garlanda C,CiceriF, etal.Complement as a target in COVID-19?.NatRevImmunol.2020; 20(6):343-4.
Tzotzos SJ, Fischer B, Fischer H, Zeitlinger M. Incidence of ARDS and outcomes in hospitalized patients with COVID-19:a global literature survey. Crit Care. 2020;24(1):1-4.
Du Y, Tu L, ZhuP, Mu M,Wang R, YangP, et al. Clinical features of 85 fatal cases of COVID-19 from Wuhan. A retrospective observational study. Am J Respir Crit Care Med. 2020;201(11):1372-9.
Li X, Luk HK, LauSK,WooPC. Human coronaviruses: general features. Reference Module in Biomedical
Sciences. 2019:B978-0-12-801238-3.95704-0.
Rello J, Storti E, Belliato M, Serrano R. Clinical phenotypes of SARS-CoV-2: implications for clinicians and researchers. EurRespirJ.2020;55(5).
Pfeifer M, EwigS, Voshaar T, Randerath WJ, Bauer T, Geiseler J, et al.Positionpaper for the state-of the - art application of respiratory support inpatients with COVID-19. Respiration. 2020;99(6): 521-42.
Gattinoni L, Chiumello D, Caironi P, Busana M, RomittiF, Brazzi L, et al. COVID-19 pneumonia: different respiratory treatments for different phenotypes?. Intensive Care Med. 2020;46(6):1099-102.
Sutherasan Y. The basicsof COVID-19: the severe Covid patients. In: Staworn D, Piyavechvirat K,
MorakulS, editors.COVID and crisis in critical care. Bangkok: The Thai Society of Critical Medicine;
p. 37-41. (in Thai)
Daorattanachai K. Role of noninvasive ventilation (NIV)and high flow nasal cannula (HFNC) in COVID
respiratory failure. In:Staworn D,Piyavechvirat K, MorakulS, editors. COVID and crisis in critical care.
Bangkok: The Thai Society of Critical Medicine; 2020.p. 42-55. (in Thai)
Hanson KE, Caliendo AM, Arias CA, EnglundJA, LeeMJ, LoebM,etal. Infectious Diseases Society of
America guidelines on the diagnosis of COVID-19. Clin Infect Dis. 2020.
Joshi S, Parkar J, Ansari A, Vora A, Talwar D, TiwaskarM,etal.Role of favipiravir in the treatment
of COVID-19. Int J Infect Dis. 2020.
Beigel JH, Tomashek KM, Dodd LE, Mehta AK, Zingman BS, KalilAC, etal. Remdesivir for the treatment
of Covid-19. New Engl J Med. 2020;383(19): 1813-26.
Group TRC.Dexamethasonein hospitalized patients with Covid-19-preliminaryreport.NewEngl J Med.2020.
vanPaassenJ, VosJS, Hoekstra EM, Neumann KM, Boot PC, ArbousSM. Corticosteroid use in COVID-19
patients: a systematic review and meta-analysis on clinical outcomes. Crit Care. 2020;24(1):1-22.
RaoofS, NavaS, CarpatiC, HillNS. How I Do It :High Flow, Non-invasive ventilation and awake (nonintubation) Proning in Covid-19 Patients with Respiratory Failure. Chest.2020;158(5):1992-2002.
Frat J-P, Thille AW,Mercat A, Girault C, RagotS, Perbet S, et al. High-flow oxygen through nasal
can nula in a cute hypoxemic respiratory failure. New Engl J Med. 2015;372(23):2185-96.
PakdeewongS. High-flow nasal cannula. In:Staworn D,Piyavechvirat K, MorakulS, editors. COVID and
crisis incritical care. Bangkok: The Thai Society of Critical Medicine; 2020.p. 13-19. (in Thai)
Menzella F, Barbieri C, Fontana M, Scelfo C, Castagnetti C, Ghidoni G, et al. Effectiveness of
non in vasive ventilation in COVID‐19 related‐ ARDS. Clin Respir J. 2021;00:1-9.
Restrepo RD,Walsh BK.Humidification during in vasive and noninvasive mechanical ventilation: 2012.
Respir Care J Online. 2012;57(5):782-8.
Sathaporn N. Initial respiratory support in COVID respiratory failure. In:Staworn D,Piyavechvirat K,
Morakul S, editors. COVID and crisis in criticalcare. Bangkok: The Thai Society of Critical Medicine; 2020.p. 56-63. (in Thai)
King CS,Sahjwani D, Brown AW, FerozS, Cameron P,Osborn E,etal.Outcomes of mechanically ventilated
patients with COVID-19 associated respiratory failure. PLosone. 2020;15(11):e0242651.
ElharrarX, TriguiY, DolsA-M, TouchonF, Martinez S, Prud'homme E,etal. Use of prone positioning in
nonintubated patients with COVID-19 and hypoxemic acute respiratory failure. JAMA. 2020;323(22):
-8.
GuérinC, ReignierJ , RichardJ-C, BeuretP, Gacouin A, Boulain T, etal.Prone positioning in severe acute
respiratory distress syndrome. New Engl J Med. 2013;368(23):2159-68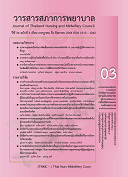 Downloads
How to Cite
1.
Thanakijtummakul N. Nursing Care for Covid-19 Patients with Acute Respiratory Distress Syndrome. TJNC [Internet]. 2021 Jun. 30 [cited 2023 Feb. 2];36(03):16-30. Available from: https://he02.tci-thaijo.org/index.php/TJONC/article/view/249437