Concept Analysis of Well-Being in Older Adults
Keywords:
concept analysis, well-being, older adult, Schwartz-Barcott and Kim's hybrid model
Abstract
        This study using hybrid models of Schwartz-Barcott and Kim to analysis concept of well-being in older adults. The primary objective of the study was to analyse attributes of well-being as determined by older adults in terms of its antecedents and consequences. The study was conducted in three stages. The theoretical stage involved an integrated review of literature. Next, the field study stage was conducted using in-depth interviews of 27 older adults in both urban and rural areas, to obtain empirical data. Each informant was interviewed twice, each session lasting about 30 minutes. The final stage was devoted to content analysis and thematic analysis.                                               
        According to the analysis, wellbeing as perceived by the older adults could be defined as incorporating life satisfaction, self-esteem, good health, happiness, and life goals. The following were identifed by the older adults as attributes of well-being: 1) awareness of life circumstances; 2) life valuing; 3) life satisfaction; 4) self-care capacity; 5) social activity capacity; 6) good quality of life; and 7) balance between needs and responses to them. Two major factors were identifed as antecedents to well-being: 1) intrapersonal factors (namely, self-acceptance, autonomy, self-built delight, and peace of mind) and 2) interpersonal factors (namely, respectability, mutual reliance, social acceptance, and family harmony). Consequences of well-being were considered to include: 1) self-care capacity; 2) good interpersonal relationship; 3) awareness of the quality
of life; 4) life goals; 5) ability to contribute to the family and society; and 6) behavioral competence.                   
       The viewpoints of the older adults in this study concerning wellbeing could be applied to the planning of health care programmes for older adults. Emphasis should be placed on building constructive relationships within the family, to promote wellbeing and better quality of life in older adults in accord with their perception.

Downloads
Download data is not yet available.
References
World health Organization. Health 2020: a European policy framework and strategy for the 21st century.
Christophe Lanoux, Paris, France; 2013.
Von Heideken Wagert P, Ronnmark B, Rosendahl E, Lundin-Olsson L, Gustavsson J MC, Nygren. World Health Organisation. Health 2020: a European policy framework supporting action across government and society for health and well-being. WHO Regional Office for Europe 2012.
Michaelson V, Pilato KA, Davison CM. Family as a health promotion setting: a scoping review of conceptual models of the health- promoting family. PLoS ONE 2021;16(4): e0249707. doi.org/10. 1371/journal.pone.0249707
Acton R, Glasgow P. Teacher well-being in neoliberal contexts: a review of the literature. Aus J of Teac Edu
;40(8):146-53.
Heathwood C. "Subjective theories of well-being," in B. Eggleston and D. Miller (eds.) The Cambridge Companion to Utilitarianism, Cambridge: Cambridge University Press 2014:199-219.
Ingersoll-Dayton B, Saengtienchai C, Kespichyawattana I, Aungsuroach Y. Measuring psychological well-being:
insights from Thai elders, The Gerontol Socie of America 2004;44(5):596-604.
Gray RS, Rukumnuaykit P, Kittisuksathit S. Inner happiness among Thai elderly. J Cross Cult Gerontol 2008;23(3):211–224.
Schwartz-Barcott D, Kim S. An expansion and elaboration of the hybrid model of concept development 2000.
Mohammadipour F, Atashzadeh-Shoorideh F, Parvizy S, Hosseini M. Concept development of "nursing
presence": application of Schwartz-Barcott and Kim's hybrid model. Asian Nurs Res 2017;11(1): 19-29. doi: 10.1016/j.anr.2017.01.004.
Whitemore R, Knafl K. The Integrative review: updated methodology. J of Adv Nurs 2005;52(5): 546-53.
Campbell SM. Routledge handbook of philosophy of well-being. University of Pennsylvania 2016; 402-14.
Steptoe A, Deaton A, Stone AA. Subjective wellbeing, health, and ageing. Lancet 2015; 385:640-8.
Puvill T, Lindenberg J. de Craen AJM, et al. Impact of physical and mental health on life satisfaction in old
age: a population based observational study. BMC Geriatr 2016;16:194. doi.org/10.1186/s12877- 016-0365-4
McManus S, Bebbington P, Jenkins R, Brugha T. (eds.) Mental health and wellbeing in England: adult psychiatric morbidity survey. Leeds: NHS Digital, 2016.
Wikman A, Wardle J, Steptoe A. Quality of life and affective well-being in middle-aged and older people
with chronic medical illnesses: a cross-sectional population-based study. PLoS ONE 2011;6:e18952.
Lawton SC. Coaching as a route to resilience and wellbeing. Int J Stress Prev and Well-being 2017;1(4):1-5.
Gerstorf D, Ram N, Mayraz G, Hidajat M, Lindenberger U, Wagner GG, Schupp J. Late-life decline in well-being
across adulthood in Germany, the United Kingdom, and the United States: something is seriously wrong at the end of life. Psychol Aging 2010;25:477-85.
Bradley, B. (2014) "Objective theories of well-being," In B. Eggleston and D. Miller (eds.) The Cambridge
Companion to Utilitarianism, Cambridge: Cambridge University Press 2014:220-38.
Prapukarm, Y, Boonyaratanapun, P. Health problem in Thai elderly. Journal of Health System Research
;1(2):98-115. (in Thai)
Malathum P, Kongiem J, Intarasombut P. Correlation between supportive forces from family and peer support to life satisfaction of rural elderly. Ramathibodi Nursing Journal 2009;15(3):431-448. (in Thai)
Thanakwang K. Family relations and health-promoting behavior among older people in Nan Province. J Med
Asso of Thailand 2008;91(7):1102-8.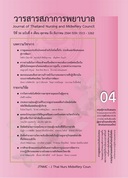 Downloads
How to Cite
1.
Hongthai K. Concept Analysis of Well-Being in Older Adults. TJNC [Internet]. 2021 Sep. 23 [cited 2022 Oct. 2];36(04):44-59. Available from: https://he02.tci-thaijo.org/index.php/TJONC/article/view/249992