Effect of Preparatory Information Provision Program on Anxiety in the Patients Undergoing Brain Tumor Surgery
Keywords:
preparatory information provision program, self-regulation theory, patients undergoing brain tumor surgery, anxiety
Abstract
     Objective: To test the effect of the preparatory information provision program on anxiety in patients undergoing brain tumor surgery.
     Design: Two-group quasi-experimental research with a pre-test and a post-test.
     Methodology: The samples consisted of patients undergoing brain tumor surgery and admitted to a neurosurgery ward of a tertiary hospital between April and September 2020. The samples were randomly assigned to the control and experimental groups, 27 cases per group. The experimental group received the Preparatory Information Provision Program developed by the researchers, including a video and booklet by applying self-regulation theory as a conceptual framework. And the control group received routine nursing care. Data collection tools included the personal and health information record form, the State-Trait Anxiety Inventory. The personal and health data were analyzed using descriptive statistics. Compare the anxiety scores using the Wilcoxon Signed Ranks Test and Analysis of Covariance (ANCOVA).

      Results: The results showed that the anxiety scores were statistically signifcantly lower after receiving the Preparatory Information Provision Program (p=.001). The anxiety scores of the treatment group were statistically signifcantly lower than the control group (p=0.000).

     Recommendations: Nurses can apply the Preparatory Information Provision Program to fit with institutional context to reduce patients' preoperative anxiety. Future research can examine the effects of the program on postoperative and pre-discharge anxiety.
Downloads
Download data is not yet available.
References
Ministry of Public Health. Department of Medicine. Institute of Neurology. Guidelines for a surgical nursing brain tumor. Bangkok: Tanapress; 2014. (in Thai)
American Association of Neuroscience Nurses. Care of the adult patient with a brain tumor. USA: AANN; 2016.
Perks A, Chakravarti A, Manninen P. Preoperative anxiety in neurosurgical patients. J Neurosurg Anesthesiol 2009;21(2):127-30.
Latif A, Khan R, Nawaz K. Depression and anxiety in patients undergoing elective and emergency surgery:
A cross-sectional study from Allama Iqbal memorial teaching hospital, Sialkot. J Pak Med Assoc 2017; 67(6):884-88.
Krolikowska A, Majk A, Antczak-Komoterska A, Slusarz R. Patients' fear and anxiety associated with planned neurosurgery. J Neurosci Nurs 2018;7(3): 104-10.
Arunyavas D, Tribuddharat S, Sathitkarnmanee T, Palachewa K. The effect of systematic anesthetic information on anxiety level in patients undergoing general anesthesia. The Thai Journal of Anesthesiology 2012;38(2):102-08. (in Thai)
Santapong P. Preoperative anxiety of the patients before an anesthetic procedure in Surin hospital. Medical Journal of Srisaket-Surin-Buriram Hospitals 2010;25(1):135-48. (in Thai)
Yusamran M, Sripontan P. Perceived anxiety level and its causes in the preoperative patients at Mahasarakham hospital. Thai Journal of Science and Technology 2014;10 Suppl: S419-28. (in Thai)
Mulugeta H, Ayana M, Sintayehu M, Dessie G, Zewdu T. Preoperative anxiety and associated factors among adult surgical patients in Debre Markos and Felege Hiwot referral hospitals, Northwest Ethiopia. BMC Anesthesiol 2018; 18(1):1-9.
Nigussie S, Belachew T, Wolancho W. Predictors of preoperative anxiety among surgical patients in Jimma university specialized teaching hospital, Southwestern Ethiopia. BMC Surg 2014;14(1):1-10.
Rittitham W, Chinnorot S. Effects of the preparatory information on anxiety and pain in abdominal surgery patients. Kuakarun Journal of Nursing 2015;19(2): 75-87. (in Thai)
Kunhong Y. The effect of preparatory information program on anxiety in patients undergoing open-heart
surgery. Kuakarun Journal of Nursing 2021; 28(1): 20-32. (in Thai)
Leventhal H, Johnson JE. Laboratory and field experimentation: Development of a theory of self regulation. In: Wooldridge PJ, Schmitt MH, Skipper JK, Leonard RC, editors. Behavioral science and nursing theory. St. Louis: CV Mosby; 1983. p. 189-262.
Soydas D. Effect of preoperative video information on anxiety and satisfaction in patients undergoing abdominal surgery. CIN 2019;37(8):430-36.
Janu P. The effects of video media usage for preoperative preparation on the knowledge and satisfaction of patients undergoing same-day surgery at the ear-throat-nose operating room, Thammasat University Hospital. Thammasat University Hospital Journal 2015; 3(3):47-65. (in Thai)
Jungul S. The effect of education in pre-opened heart patients on health practice knowledge and anxiety level. Nursing Journal of the Ministry of Public Health 2015;25(1):157-66. (in Thai)
Buranasrikul V. Effect of information giving and emotional support on anxiety among caregivers of patients with a brain tumor. Chulalongkorn Medical Journal 2015;59(1):91-101. (in Thai)
Traiputorn S. The effect of information giving and aromatherapy program on anxiety of the family caregivers of brain tumor patients. Journal of Nursing Science Chulalongkorn University 2016;28(3): 98-109. (in Thai)
Esther Lilly A, Dakshayani B. Effect of preoperative teaching on anxiety level of patients with neurosurgery. IJPN 2018;15(2):1-3.
Thapinta D. Reduction of anxiety of staff nurses working with aids patients through cognitive reconstructuring and mindfulness. Bangkok: Graduate School of Chulalongkorn University; 1992. (in Thai)
Goebel S, Mehdorn HM. Assessment of preoperative anxiety in neurosurgical patients: Comparison of widely used measures and recommendations for clinic and research. Clin Neurol Neurosurg 2018;15(2):1-3.
Ministry of public health. Department of Medical Service. Guide to screening /assessing the elderly. Bangkok: The War Veterans Organization of Thailand; 2014. (in Thai)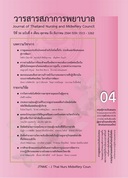 Downloads
How to Cite
1.
pasethakung ว, Phutthikhamin ณ. Effect of Preparatory Information Provision Program on Anxiety in the Patients Undergoing Brain Tumor Surgery. TJNC [Internet]. 2021 Sep. 23 [cited 2022 Aug. 11];36(04):80-93. Available from: https://he02.tci-thaijo.org/index.php/TJONC/article/view/250718