ประสิทธิภาพการดูแลผู้ป่วยเบาหวาน
บทคัดย่อ
Objective: To determine the quality of our diabetes care, the degree of attainment goals and to determine factors associated with reduced achievement of these recommendations in diabetes patients.
Material and Method: We conducted retrospective review medical records of diabetes patients who were follow-up at out-patient department of internal medicine department, Ratchaburi Hospital, Thailand during October 2008 to September 2009. Demographic data, clinical status of diabetes and its complications were collected and analyzed for the quality of our new diabetes care.
Results: Of 2,273 diabetes patients who were recruited, 80% had received HbA1C and plasma lipid profiles measurement, respectively, whereas blood pressure measurement was done in all patients. Fifty-seven percent achieved the target HbA1C of less than 7%, 62% achieved LDL-C target, whereas 52.5% of the patients achieved the BP target recommendation. Only 16.6% of the patients were achieving all 3 "ABC" goals (HbA1C, blood pressure, LDL-cholesterol) and 54% achieved at least 2 items (achieved group).
     The rate of foot examination was highest at 72.4%, followed by retinal examination (69%). Urine microalbumin level was measured in 61.1%. 1,513 (66.5%) patients who attended new diabetes care had all clinical data better than those who attended usual care, only the lower level of FPG, diastolic blood pressure (DBP), and LDL-C had statistical significance. Also, the attending new diabetes care had been achieved group and screened diabetic retinopathy and urine microalbumin more than another. The patients who were achieved group had significant difference in lower rate of DN and DR (18.3% vs. 26.0%, p = 0.002, 14.5% vs. 22.3%, p = 0.000, respectively).
Conclusion: The proportion of attainment goals and proper diabetic complication assessment can improved by our new diabetes care targeting the system of chronic disease management, clinical reminder, and enhanced patient education.
Downloads
Download data is not yet available.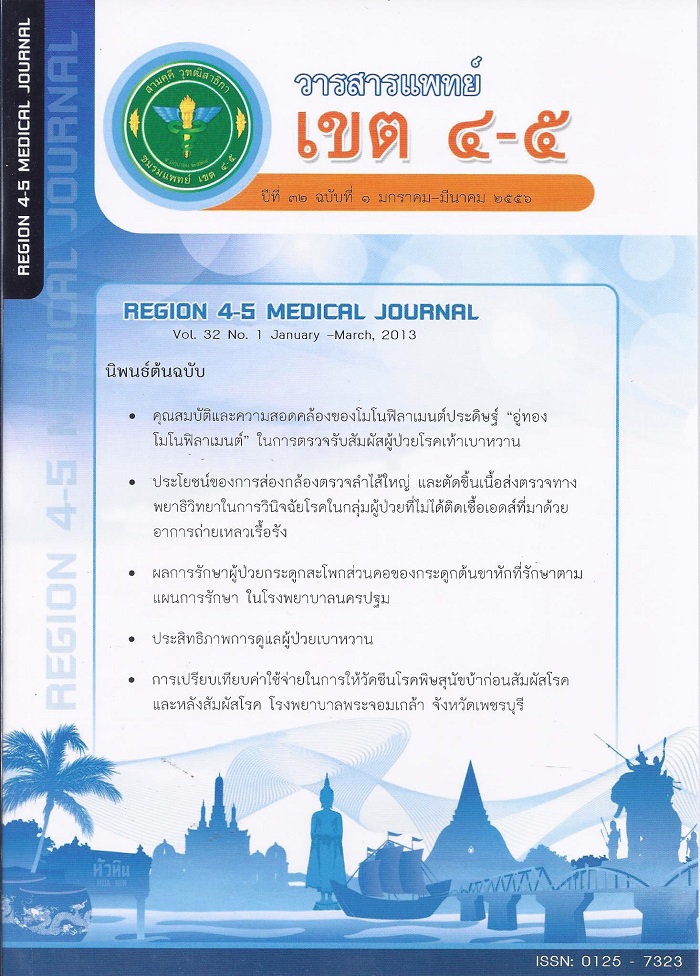 Downloads
License
ลิขสิทธิ์บทความเป็นของผู้เขียนบทความ แต่หากผลงานของท่านได้รับการพิจารณาตีพิมพ์ลงวารสารแพทย์เขต 4-5 จะคงไว้ซึ่งสิทธิ์ในการตีพิมพ์ครั้งแรกด้วยเหตุที่บทความจะปรากฎในวารสารที่เข้าถึงได้ จึงอนุญาตให้นำบทความในวารสารไปใช้ประโยชน์ได้ในเชิงวิชาการโดยจำเป็นต้องมีการอ้างอิงถึงชื่อวารสารอย่างถูกต้อง แต่ไม่อนุญาตให้นำไปใช้ในเชิงพาณิชย์