Surgical Treatment of Myopic Strabismus Fixus by Loop Myopexy Augmented with Scleral Fixation: a Case Report
Pittaya Phamonvaechavan

Department of Ophthalmology, Faculty of Medicine Siriraj Hospital, Mahidol University, Bangkok 10700

http://orcid.org/0000-0002-7514-8224

Piangporn Saksiriwutto

Department of Ophthalmology, Faculty of Medicine Siriraj Hospital, Mahidol University, Bangkok 10700
Keywords:
Myopic strabismus fixus; heavy eye syndrome; high myopia; loop myopexy
Abstract
Objective: To present the clinical findings, surgical procedure and long-term outcome of a Thai patient with myopic strabismus fixus.
Case presentation: The patient presented with recurrent progressive esotropia and hypotropia. Two strabismus surgeries were performed 20 years ago. Magnetic resonance imaging (MRI) findings indicated the etiology which was secondary to inferiorly deviated lateral rectus (LR) muscle and medially deviated superior rectus (SR) muscle. The patient had undergone loop myopexy of lateral rectus and superior rectus muscles augmented with scleral fixation and satisfactory result was achieved up to six years after the operation. 
Conclusion: The patient with myopic strabismus fixus should be evaluated by MRI to confirm the etiology of this disorder. Marked esotropia and hypotropia can be safely aligned by simple loop myopexy augmented with scleral fixation.
Downloads
Download data is not yet available.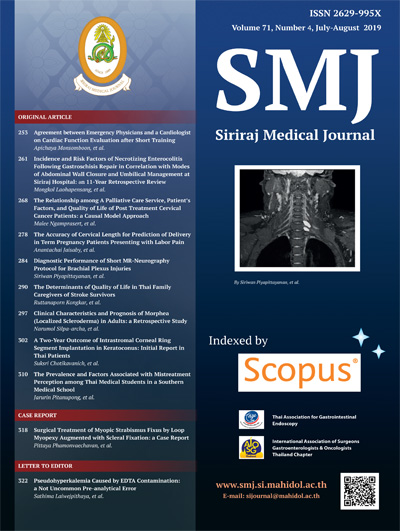 How to Cite
Phamonvaechavan, P., & Saksiriwutto, P. (2019). Surgical Treatment of Myopic Strabismus Fixus by Loop Myopexy Augmented with Scleral Fixation: a Case Report. Siriraj Medical Journal, 71(4), 318-321. Retrieved from https://he02.tci-thaijo.org/index.php/sirirajmedj/article/view/205232
All articles published in the Siriraj Medical Journal (SMJ) are protected by copyright. No material in this journal may be reproduced on any platform including electronic or in print or transmitted by any means, in whole or in part, without the prior written permission of the Editor of the SMJ. Written permission must also be obtained before any part of the SMJ is stored in any retrieval system of any nature.