FactorsAssociated with Patient Symptoms in Ischemic Heart Patients Awaiting Coronary Artery Bypass Grafting
Abstract
Objective: To investigate the correlation between the left ventricular ejection fraction (LVEF), waiting time, comorbidity, depression and patient symptoms in ischemic heart patients awaiting coronary artery bypass grafting (CABG).
Methods: A cross-sectional correlational design.
Results: The 88 eligible inpatients, (61 men, 27 women) with an average age of 67.9 years (S.D.= 10.1). The average LVEF was 52.6% (S.D. = 16.4). The average waiting time was 34.6 days(S.D. = 35.9). The most frequently reported co-morbid disease was hypertension. Depression score was 9.1 points on average (S.D. = 5.6), and the most common symptoms while awaiting CABG included shortness of breath and chest pain. Factors significantly associated with patient symptoms were comorbidity, waiting time, and depression(r = .256; p <.05, r = .283; p <.01, r = .476; p<.01), but no significant association was found between LVEF and patient symptoms (r = -.031; p = .775).
Conclusion: The study findings could be used to develop interventions or guidelines to provide nursing care to manage patient symptoms while awaiting CABG. The foreseeable guidelines should consider including LVEF, waiting time, comorbidities and depression.

Keywords: Ischemic heart patients, patient symptoms, awaiting coronary artery bypass grafting
Downloads
Download data is not yet available.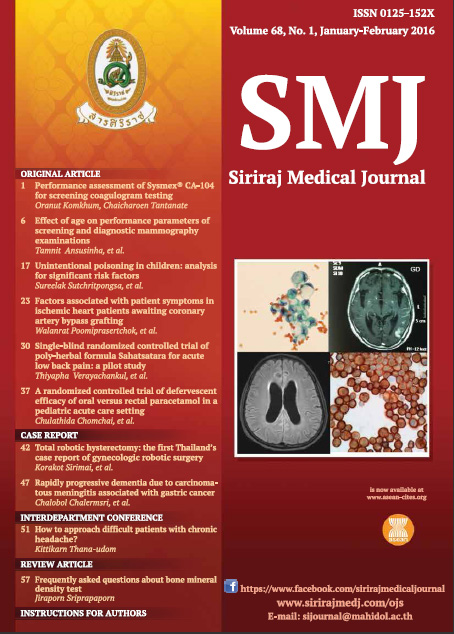 Downloads
How to Cite
Utriyaprasit, K. (2016). FactorsAssociated with Patient Symptoms in Ischemic Heart Patients Awaiting Coronary Artery Bypass Grafting. Siriraj Medical Journal, 68(1), 23–29. Retrieved from https://he02.tci-thaijo.org/index.php/sirirajmedj/article/view/55202
License
Users are free to share, copy, and redistribute all articles published in the Siriraj Medical Journal (SMJ) in any medium or format as long as you follow the following terms:
Attribution — You must give appropriate credit, provide a link to the material, and indicate if changes were made. You may do so in any reasonable manner, but not in any way that suggests the publisher endorses you or your use.
NonCommercial — You may not use the material for commercial purposes.
NoDerivatives — If you remix, transform, or build upon the material, you may not distribute the modified material.
No additional restrictions — You may not apply legal terms or technological measures that legally restrict others from doing anything the license permits.