The Development of the Community-based Rehabilitation Program forpersons with physical disabilities in HinLek Fai Subdistrict, Kumeung District, Buriram Province
ชินวัฒน์ อนุพันธ์

ศิรินาถ ตงศิริ

ชนัตถา พลอยเลื่อมแสง
Keywords:
community-based rehabilitation, community participation, persons with physical disabilities
Abstract
          This study applied an action research aiming to develop the community-based rehabilitation (CBR) program for persons with physical disabilities in HinLek Fai Subdistrict, Kumeung District, Buriram Province. The Appreciation-Influence-Control (AIC) model was applied in a group of 40 persons consisting of community leaders, health professionals, care providers and a target group of 116 persons with physical disabilitiesand their care givers. Data were collected from questionnaires and interviews. The quantitative data were analyzed by paired t-test. The content analysis was used for the qualitative data. 
          The results showed that the processes of the CBR program for persons with physical disabilities consists of six elements: 1)  community context analysis, 2)   participatory meeting  3)   program planning4)  implementation 5) Evaluation 6) Conclusions. The effects of the CBR program on persons with disabilities and care givers; persons with disabilities showed the significant  improvement of their health behaviors; care givers showed the increase of their skills for persons with disabilities  and their attitude toward disabilities significantly improved.  Both persons with disabilities and care givers were satisfied on this care plan at the highest level.
          Key success factors of the program were the participation among the network of community leaders, community members and government organizations. The community had learned and contributed to the implementation of all stages. Changes could be identified in the continuity of care processes and at the individuals both persons with disabilities and their caregiver. The multidisciplinary approach and team-working are essential to effective community-based rehabilitation program for persons with physical disabilities.
Downloads
Download data is not yet available.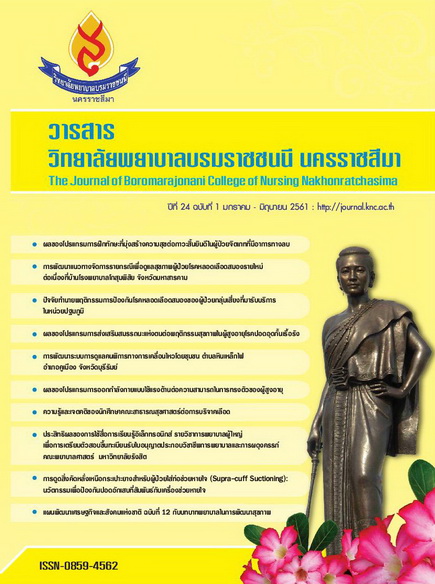 Section
Research articles