Public Health Students' Knowledge and Attitude towards Blood Donation
จารุวรรณ ไตรทิพย์สมบัติ

ปิยธิดา บุราณผาย

อภิชาติ ป้องทองหลาง

วิไลรัตน์ โรจน์ฉิมพลี

กนกรัตน์ ปรีชาพูด

จิรศักดิ์ อินอ่อน
Keywords:
Knowledge, Attitude, Student, Blood donation
Abstract
          The objective of this study was to examine the relationships between knowledge, attitude, and blood donation behaviors of 250 Public Health students at Nakhon Ratchasima Rajabhat University. Data were collected using a researcher-constructed questionnaire. The descriptive and inference statistics were used for analyze the data. The results showed that the majority of the samples were female (86.0%), with average age of 20.8 years old. Almost half (46.6%) had donated blood. The majority of the samples reported knowledge and attitude towards blood donation at a high (72.4%) and moderate levels (55.2%), respectively. The group with blood donation experiences had significantly higher mean scores on the knowledge about blood donation than the group who never donated blood, at the 0.05 significance level (p-value = 0.001; 95% CI = 0.64 to 2.54). However, there was no statistical difference of attitude towards blood donation between the two groups (p-value = 0.086; 95% CI = -0.12 to 1.81). With regards to the relationships between the knowledge, attitude, and blood donation behaviors, the study found that knowledge about blood donation was significantly related to blood donation behaviors (p-value = 0.012). The group with the high level of blood donation knowledge had 2.12 times higher chance of donating blood than the group with blood donation knowledge at the lower levels (95% CI = 1.18 to 3.79). Nevertheless, the relationships between attitude towards blood donation and blood donation behaviors were not statistically significant (p-value = 0.963). It is recommended that related parties should increase public relations in order to promote knowledge and correct understanding about blood donation. This would increase the number of new donors among Nakhon Ratchasima Rajabhat University students, while encouraging existing blood donors for regular and continuous donations.
Downloads
Download data is not yet available.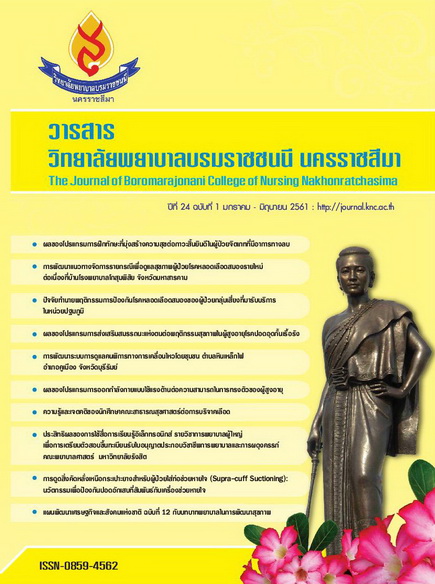 Section
Research articles