Satisfaction in Anesthesia Nursing Service of Spinal Surgery Patients Prasat Neurological Institute
อารยา พลสยม

พวงทิพย์ ชัยพิบาลสฤษดิ์

ปานตา อภิรักษ์นภานนท์
Keywords:
Satisfaction, Anesthesia nursing service, Spinal surgery patient
Abstract
          This descriptive research aimed; to study satisfaction level of spinal surgery patients in nurse anesthetist service, and to compare the satisfaction of patients in different sex, age, and educational level. The sample random sampling were 159 patients.  The research measurement was questionnaire developed from the 4 aspects; 1) behavioral services of professional technical career, 2) behavioral relationship services of building trust, 3) behavioral services aimed at providing knowledge, and 4) behavioral services for the environment. The questionnaire was validated by 5 experts with the result of CVI = 0.856, and test for the reliability with Cronbach's alpha coefficient = 0.975.  The data were analyzed by content analysis for qualitative data, and frequency, percentage, mean, standard deviation, t-test, and one-way analysis of variance for quantitative data.    
           The findings were; total satisfaction of the service was at the very good level (M = 4.51, SD = 0.47) in which the service of relationship that emphasis on trust and on knowledge were the very good level (M= 4.58, SD = 0.49). In comparison of the patients' satisfaction of nurse anesthetist service, according to the sex, age, and education level were not different for all and each aspect. For those findings of behavioral service of technical and environment were at good level, then the improvement need to be continued.
Downloads
Download data is not yet available.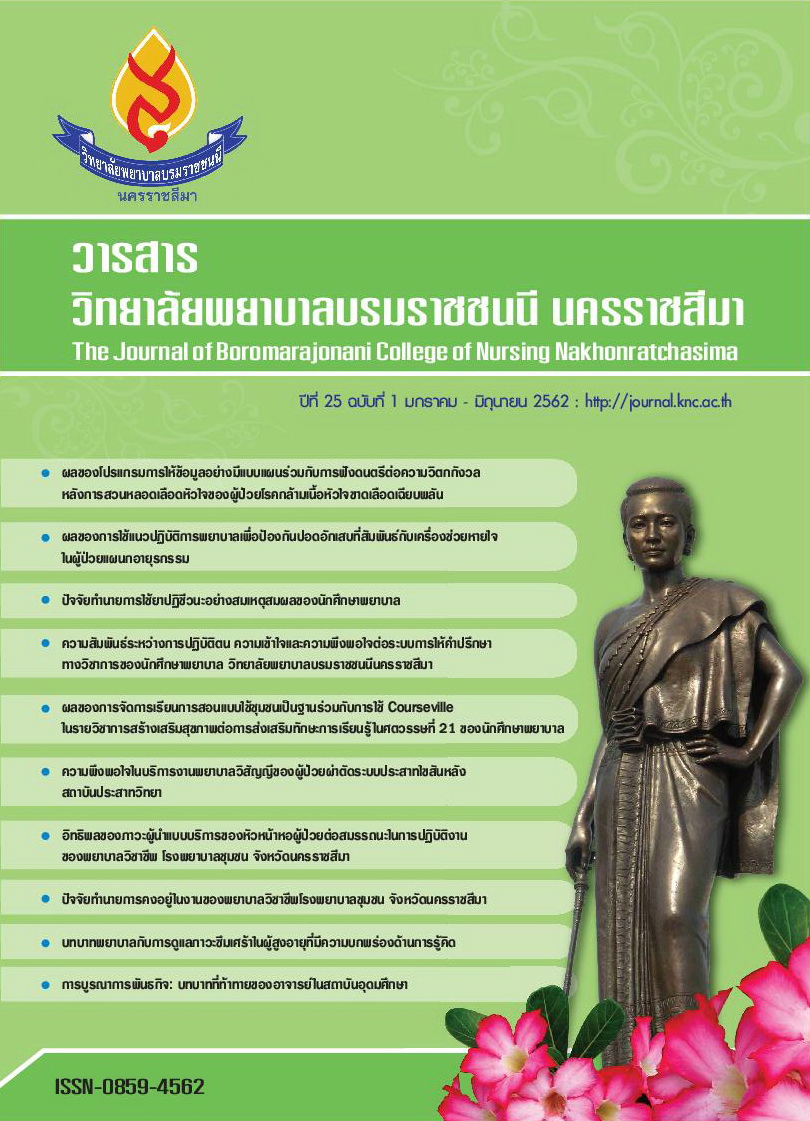 Section
Research articles