The Influence of Servant Leadership of Head Nurses on professional nurse Competencies of Staff Nurses at Community Hospitals in Nakhonratchasima Province
อุไรวรรณ แก้วเพชร

พัทยา แก้วสาร

บุญทิพย์ สิริธรังศรี
Keywords:
Servant leadership, professional nurse Competencies, Head nurse, Community hospital
Abstract
                  The purposes of this descriptive study were: (1) to investigate the level of servant leadership of head nurses, (2) to study competency practices of staff nurses, and (3) to identify influence of servant leadership of  head nurses on professional nurse Competencies of staff nurses at Community Hospitals in Nakhonratchasima Province.  The sample comprised 256 professional nurses who worked at Community Hospitals, Nakhonratchasima Province. They were recruited by simple random sampling from the population of 765. Questionnaires were used as research instruments, modified from Natchakorn Tahopakan (2009) and Sirilak Youyen (2009) and comprised three sections: personal factors, servant leadership of head nurses which based on the concept of  Robert K. Greenleaf (1998), and professional nurses competencies which developed under the regulations of Thai Nursing Council (2010). The questionnaires were tested for validity (both the second and the third sections were equal [0.93]). The reliability of the second and the third sections were 0.98 and 0.96 respectively. Data were analyzed by frequency, percentage, mean, standard deviation, Pearson's product moment correlation, and stepwise multiple regression. 
            The major findings were as follows: (1) Staff nurses rated servant leadership of  their head nurses at the high level (M = 3.99,SD = 0.62) (2)They rated their nursing competency practices at the high level (M =4.00, SD = 0.44) and (3) Servant leadership of  head nurses predicted competency practices of staff  nurses. This predictor accounted for 28.70 % (R2 =  0.287).
Downloads
Download data is not yet available.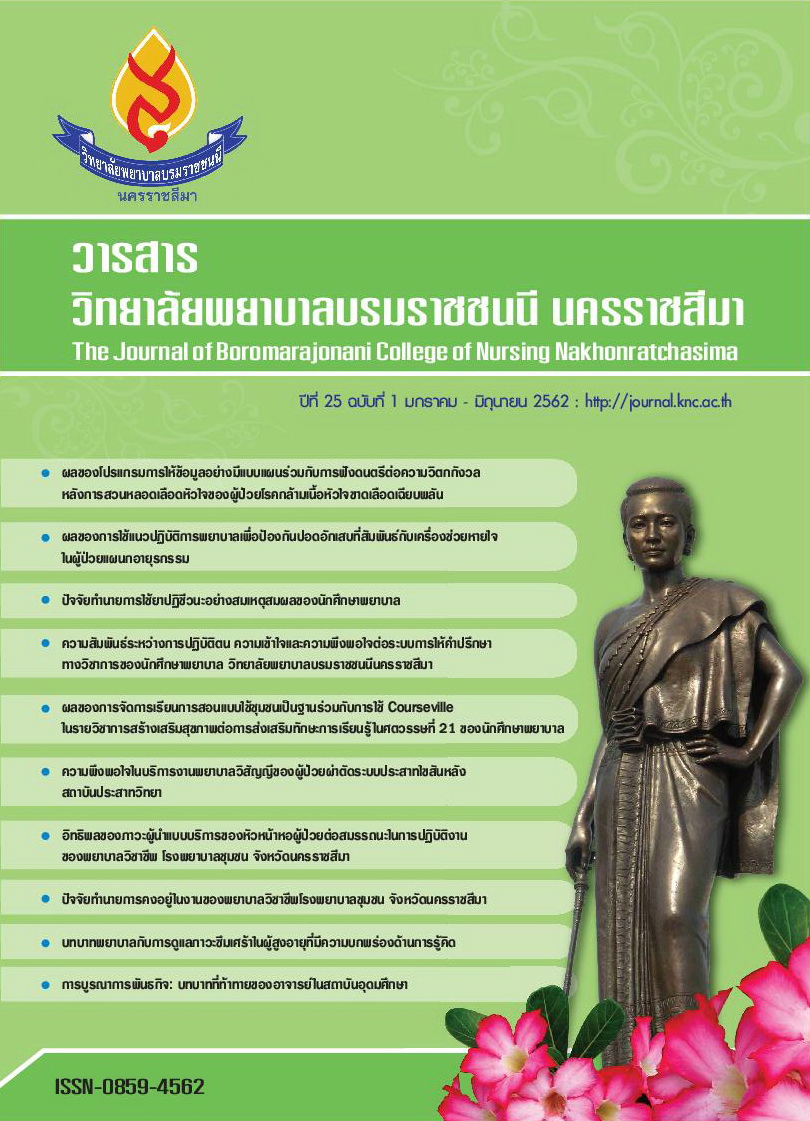 Section
Research articles