Palliative Care Education in Thai Nursing Students: A Scoping Review
Wiriya Phokhwang

Wiparat Suwanwaiphatthana

Chuleeporn Heetakson

Soratree Phaenoi

Jittiporn Srisaket
Keywords:
Thai nursing students, palliative care, education
Abstract
There are limited training courses designed to prepare registered nursing students for providing palliative care. Prior to this research, no study had been conducted to review or synthesize research studies regarding palliative care education among Thai nursing students. This study aimed to conduct a scoping review of the studies and extra-curriculum course development on palliative care among Thai nursing students. The reviewed studies and courses which had been done from 2007 until 2019 and includes those which were either published or unbuplishes and found in Thai research databases (ThaiLIS), university databases, Thai journal databases (ThaiJO), websites of academic nursing organizations, or Google Scholar. The scoping review revealed that there were five studies or courses: three extra-curriculum courses, one regular course among the other courses within the normal baccalaureate nursing degree coursework, and one learning model of palliative care education related to Thai nursing students.  Teaching strategies for palliative care education included both didactic and experiential strategies, using simulation based learning and clinical practice. Transformative and experiential theories were applied in the education. The effectiveness and learning outcomes of the education and training were assessed based on the students' palliative care knowledge, attitudes, and practice, as well as specific outcomes outlined by the concepts and theories of the courses and modules. Education and training in the studies showed an improvement in the Thai nursing students' competencies in palliative care. Therefore, the administrative nursing educators and nursing education-involved parties can utilize the results of this study to improve the curriculum for undergraduate nursing education with the inclusion of palliative care courses into the programs of study.
Downloads
Download data is not yet available.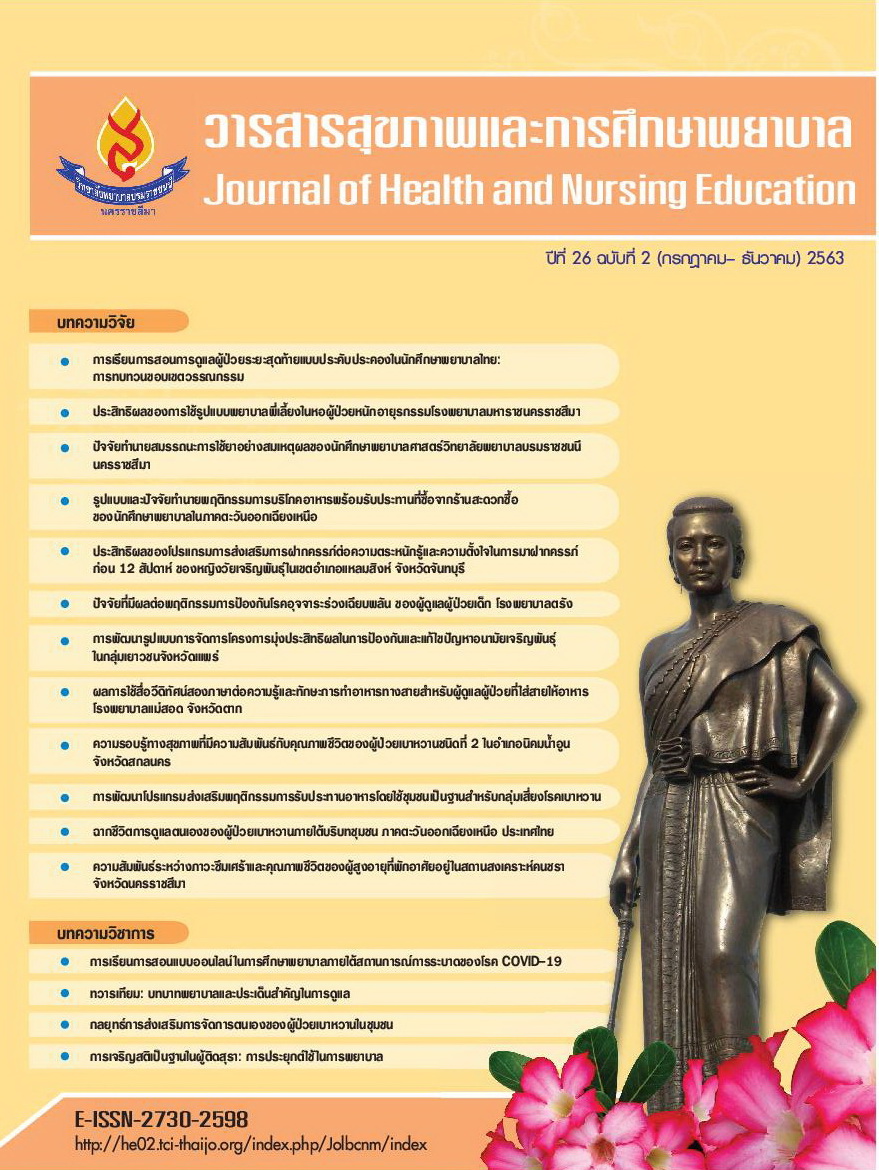 Section
Research articles
บทความที่ได้รับการตีพิมพ์เป็นลิขสิทธิ์ของ วารสารสุขภาพและการศึกษาพยาบาล
ข้อความที่ปรากฏในบทความแต่ละเรื่องในวารสารวิชาการเล่มนี้เป็นความคิดเห็นส่วนตัวของผู้เขียนแต่ละท่านไม่เกี่ยวข้องกับกองบรรณาธิการวารสารสุขภาพและการศึกษาพยาบาล หรือวิทยาลัยพยาบาลบรมราชชนนี นครราชสีมา แต่อย่างใด ความรับผิดชอบองค์ประกอบทั้งหมดของบทความแต่ละเรื่องเป็นของผู้เขียนแต่ละท่าน หากมีความผิดพลาดใดๆ ผู้เขียนแต่ละท่านจะรับผิดชอบบทความของตนเองแต่ผู้เดียว