The Effectiveness of the Nursing Preceptorship Model at the Intensive Care Unit of Maharat Nakhonratchasima Hospital
Napawan Panarach

Jitpinan Srijakkot
Keywords:
preceptorship, newly graduated nurse, medicine intensive care unit
Abstract
This is was quasi-experimental research with a single group pre-posttest design. The purpose of the study was to evaluate the effectiveness of implementing a nurse preceptorship model in the medical intensive care unit of Maharat Nakhon Ratchasima hospital. Purposive sampling was used to select the participants, which consisted of 19 nurse preceptors and 13 newly graduated nurses. The experimental instrument was the Nursing Preceptorship Model at the Intensive Care Unit (the NP model) which was developed by the researcher. Data were collected using an evaluation form to investigate four aspects of the NP model's effectiveness, including: knowledge, attitude, nursing practice skills, and satisfaction toward the NP model. The content validity of the evaluation form was .80 and the reliability values for the scales related to the four aspects investigated were .84, .90, .94, and .80, respectively. Data were analyzed using the Wilcoxon Signed rank test. The results revealed that after implementing the NP model, nurse preceptors' knowledge (Z = -3.84, p < .001), attitude (Z = -3.15, p = .002), and nursing practice skills (Z = -2.99, p = .003) were statistically significantly higher than before. The newly graduated nurses' knowledge (Z = -3.20, p = .001), attitude (Z = -2.56, p = .011), and nursing practice skills (Z = -3.06, p = .002) were also statistically significantly higher than before as well. Both groups were satisfied the developed NP program at a very good level (M = 4.68, SD = .25). This leads to the conclusion that this NP program can increase the efficiency of nursing and can be used as a guideline for other agencies.
Downloads
Download data is not yet available.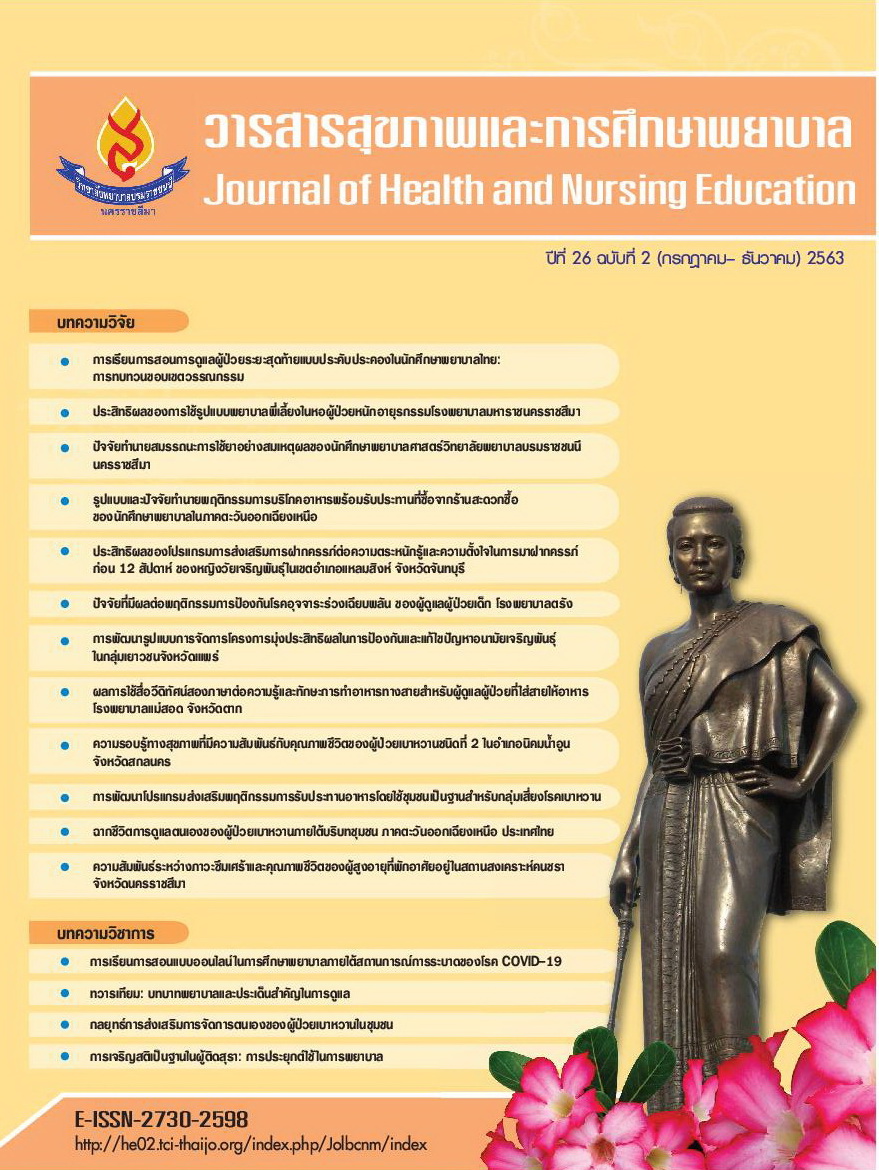 Section
Research articles
บทความที่ได้รับการตีพิมพ์เป็นลิขสิทธิ์ของ วารสารสุขภาพและการศึกษาพยาบาล
ข้อความที่ปรากฏในบทความแต่ละเรื่องในวารสารวิชาการเล่มนี้เป็นความคิดเห็นส่วนตัวของผู้เขียนแต่ละท่านไม่เกี่ยวข้องกับกองบรรณาธิการวารสารสุขภาพและการศึกษาพยาบาล หรือวิทยาลัยพยาบาลบรมราชชนนี นครราชสีมา แต่อย่างใด ความรับผิดชอบองค์ประกอบทั้งหมดของบทความแต่ละเรื่องเป็นของผู้เขียนแต่ละท่าน หากมีความผิดพลาดใดๆ ผู้เขียนแต่ละท่านจะรับผิดชอบบทความของตนเองแต่ผู้เดียว