Patterns and Factors Predicting Consumption Behaviors Related to Ready-to-Eat Food Purchased from Convenience Stores Among Nursing Students in Northeastern Thailand
Rossukhon Pichaipaet

Wanna Thananuphapphaisan

Suchada Klaimanee

Pakatip Singkhum

Srisuphun Nuntaphiboon

Ausaneewun Klaokrathok
Keywords:
food consumption behavior, nursing students, predictive factors
Abstract
Consuming ready-to-eat food without considering its information can lead to malnutrition, chronic diseases, and other health-related effects. The objective of this descriptive research was to study patterns and predictive factors impacting the consumption of ready-to-eat food purchased from convenience stores.  The theory of the health beliefs model was applied in this study. The sample was 356 nursing students from six nursing colleges within the Northeastern College Network (NEC net) affiliated with the Praboromarajchanok Institute. The study employed a stratified sampling technique. The instrument was the questionnaire whose Cronbach's alpha was .93. The data were analyzed using percentage, means, and simple regressions. The results revealed that, according to the predicting factors, the participants' health belief pattern could predict the behaviors related to the consumption of ready-to-eat food purchased from convenience stores at a statistically significant level of .001 and at a prediction power of 14.6 percent. There were three statistically significant predictive factors for health. The Cues to Action had the most predictive power (β = -.396, p < .001). The second most predictive factor was perceived severity (β = -.224, p < .001) and the third factor was perceived barriers (β = .132, p < .01). The study also showed that having an appropriate level of health beliefs could lead people to prevent poor health by choosing the best perceived practice. Applying this result for the development of giving information for intelligent consumption selection and providing alternative services for the distribution of healthy food in colleges are suggested.
Downloads
Download data is not yet available.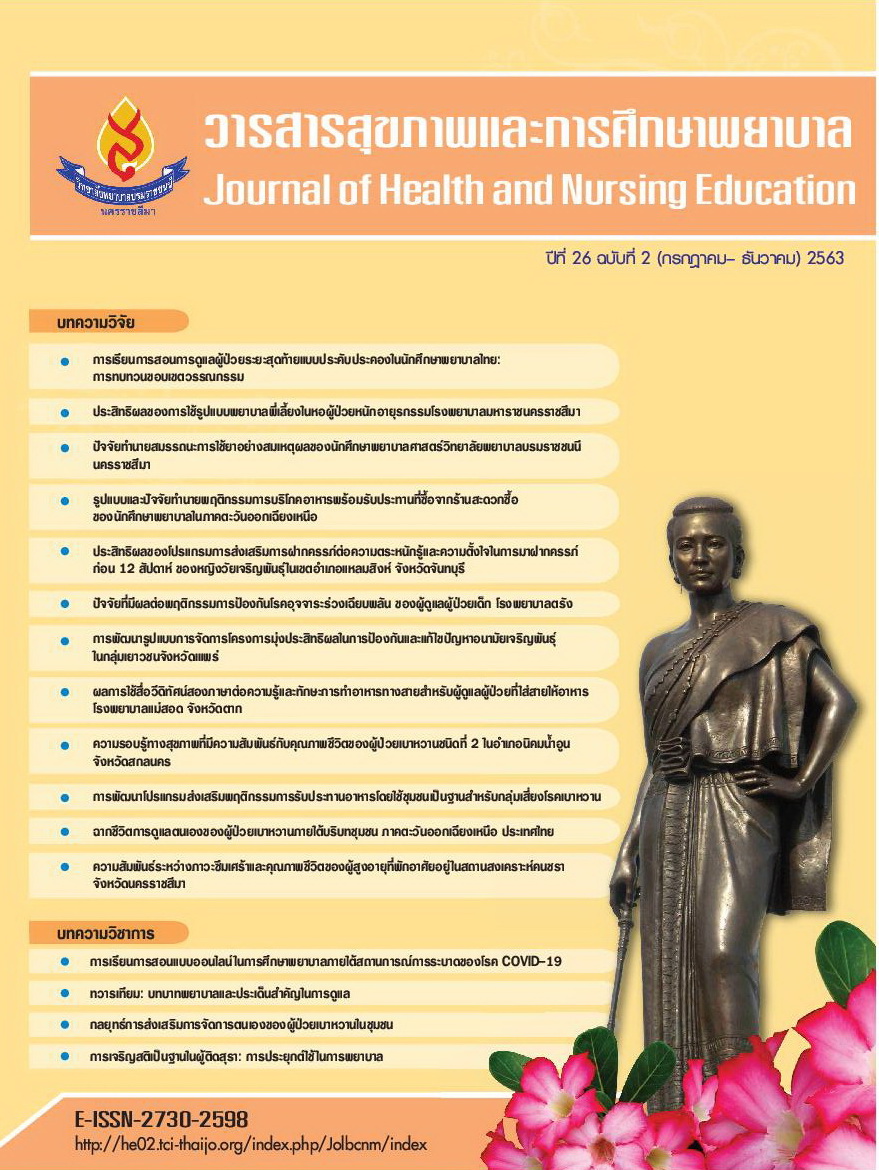 Section
Research articles
บทความที่ได้รับการตีพิมพ์เป็นลิขสิทธิ์ของ วารสารสุขภาพและการศึกษาพยาบาล
ข้อความที่ปรากฏในบทความแต่ละเรื่องในวารสารวิชาการเล่มนี้เป็นความคิดเห็นส่วนตัวของผู้เขียนแต่ละท่านไม่เกี่ยวข้องกับกองบรรณาธิการวารสารสุขภาพและการศึกษาพยาบาล หรือวิทยาลัยพยาบาลบรมราชชนนี นครราชสีมา แต่อย่างใด ความรับผิดชอบองค์ประกอบทั้งหมดของบทความแต่ละเรื่องเป็นของผู้เขียนแต่ละท่าน หากมีความผิดพลาดใดๆ ผู้เขียนแต่ละท่านจะรับผิดชอบบทความของตนเองแต่ผู้เดียว