Effects of an Ante-Natal Care (ANC) Promotion Program on Awareness and Intention to Seek ANC during the First Trimester Among Reproductive Aged Women in Laemsing District, Chanthaburi
Jintana Jaimon

Porntip Punyasit

Pornruedee Nitirat

Saijai Jarujit

Nitjawan Weerawatthanodom
Keywords:
ANC promotion, women of reproductive age, intention, awareness
Abstract
Pregnant women should seek antenatal care (ANC) before 12 weeks of pregnancy (early ANC) to obtain health care and ensure the mothers' and fetuses' safety. This quasi experimental study, a nonequivalent control group pretest- posttest design, proposed to examine the effectiveness of an ANC promotion program on early-ANC, awareness, and intention to seek early ANC among reproductive age women in the Laemsing District of Chanthaburi province, Thailand. The sample population included fifty-four women aged 15 - 35 years old, equally divided into an experimental group and a comparison group. The research instruments included the ANC Promotion Program and Questionnaires to Evaluate Awareness, and Intention to Seek Early ANC. Descriptive statistics, Dependent-sample t-tests, Wilcoxon signed-rank tests, Independent t-tests, and Mann–Whitney U tests were used for data analysis. The results revealed that the participants' awareness (Mdn = 49), and intention to seek early ANC (Mdn = 10) in the experimental group were significantly higher than their awareness (Mdn = 44), and intention before implementation of the experimental program (Mdn = 7), Z = -4.38, p < .001, r = .84, and Z = -4.60, p < .001, r = .88, respectively, and that they were significantly higher than the awareness (Mdn = 39), and intention of the comparison group (Mdn = 8), U = 25.0, p < .001, r = -.81, and U = 28.5, p < .001, r = .83, respectively. Therefore, this study suggests that ANC promotion program which was developed should be implemented to achieve successful promotion of early ANC.
Downloads
Download data is not yet available.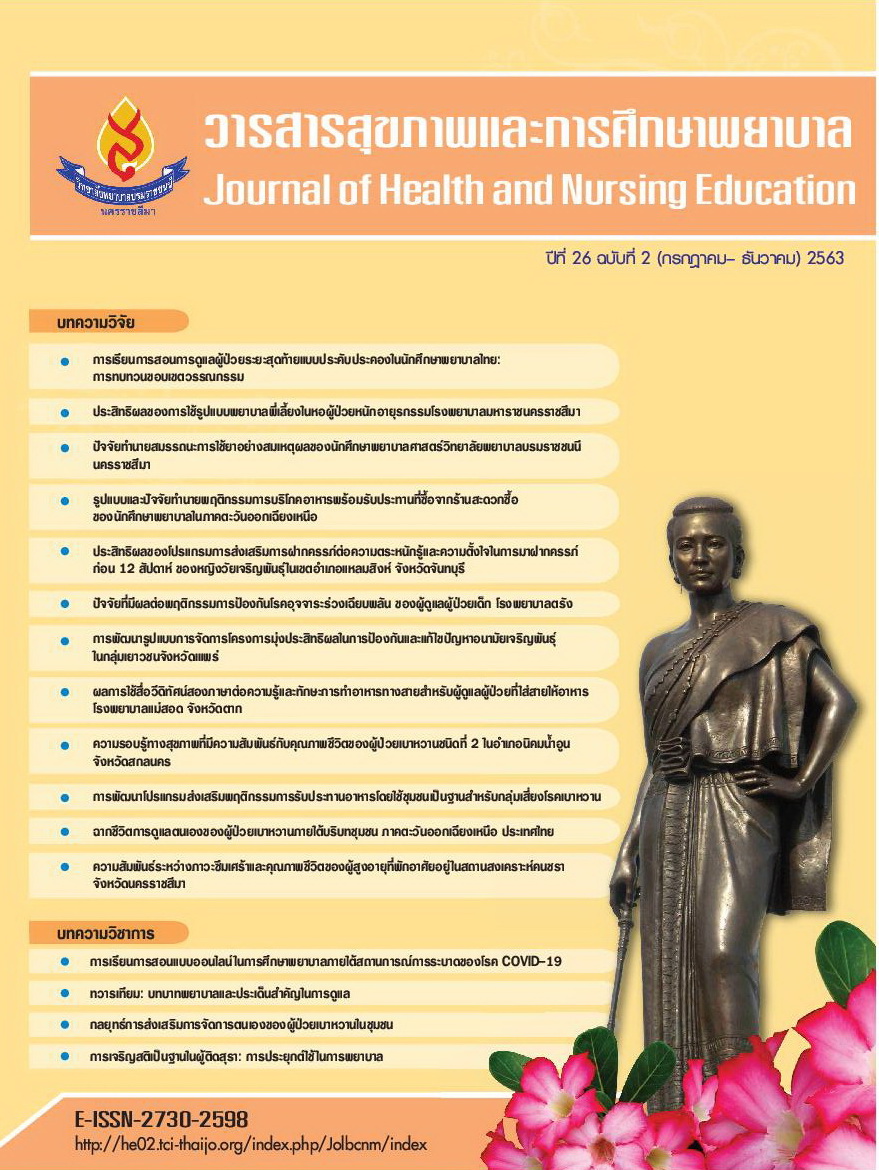 Section
Research articles
บทความที่ได้รับการตีพิมพ์เป็นลิขสิทธิ์ของ วารสารสุขภาพและการศึกษาพยาบาล
ข้อความที่ปรากฏในบทความแต่ละเรื่องในวารสารวิชาการเล่มนี้เป็นความคิดเห็นส่วนตัวของผู้เขียนแต่ละท่านไม่เกี่ยวข้องกับกองบรรณาธิการวารสารสุขภาพและการศึกษาพยาบาล หรือวิทยาลัยพยาบาลบรมราชชนนี นครราชสีมา แต่อย่างใด ความรับผิดชอบองค์ประกอบทั้งหมดของบทความแต่ละเรื่องเป็นของผู้เขียนแต่ละท่าน หากมีความผิดพลาดใดๆ ผู้เขียนแต่ละท่านจะรับผิดชอบบทความของตนเองแต่ผู้เดียว