Development of a Management System for an Effectiveness-based Project Model to Prevent and Solve Reproductive-Health Problems Among Youth Groups in Phrae Province
Keywords:
the management of effectiveness emphasized projects model, reproductive health, youth
Abstract
Reproductive health problems affect the quality of life of youth. The effectiveness of prevention and problem solving programs cannot be clearly explained. This research aimed to develop a management system for an Effectiveness-based Project Model to Prevent and Solve Reproductive-health Problems among Youth Living in Phrae Province (the MEP Model). The study was divided into 4 phases including: 1) the condition analysis and need assessment, 2) the development of the MEP model, 3) the trialing of the MEP model, and 4) the evaluation of the MEP model. Participants were 40 staffs responsible for conducting reproductive health projects in Phrae province. The research instruments were the Effective Project Evaluation and the Criterion Achievement Evaluation, which were constructed by the Policy Research and Development Institute Foundation, whereas a questionnaire assessing opinions about the MEP model and the structured interview and focus group discussion guides were constructed by the researcher. The last two instruments were tested for their content validity by three experts. The questionnaire established a Cronbach's alpha coefficient of .80. Data were analyzed using descriptive statistics and content analysis. The findings reveled that The MEP Model is focused on the cooperation among working network partners in each area. The roles and responsibilities of the partners have to be determined in congruence with missions of workplaces, lifestyles of youths, and their cooperation needs in order to be clear and systematic. The evaluation of the project found that its level of effectiveness was high (level 4), meaning that it was a continuous process which was able to adjust to the routine mission of the partners assigned and extended to other tasks. The research results should be applied to other youth groups, such as ones outside formal education systems.
Downloads
Download data is not yet available.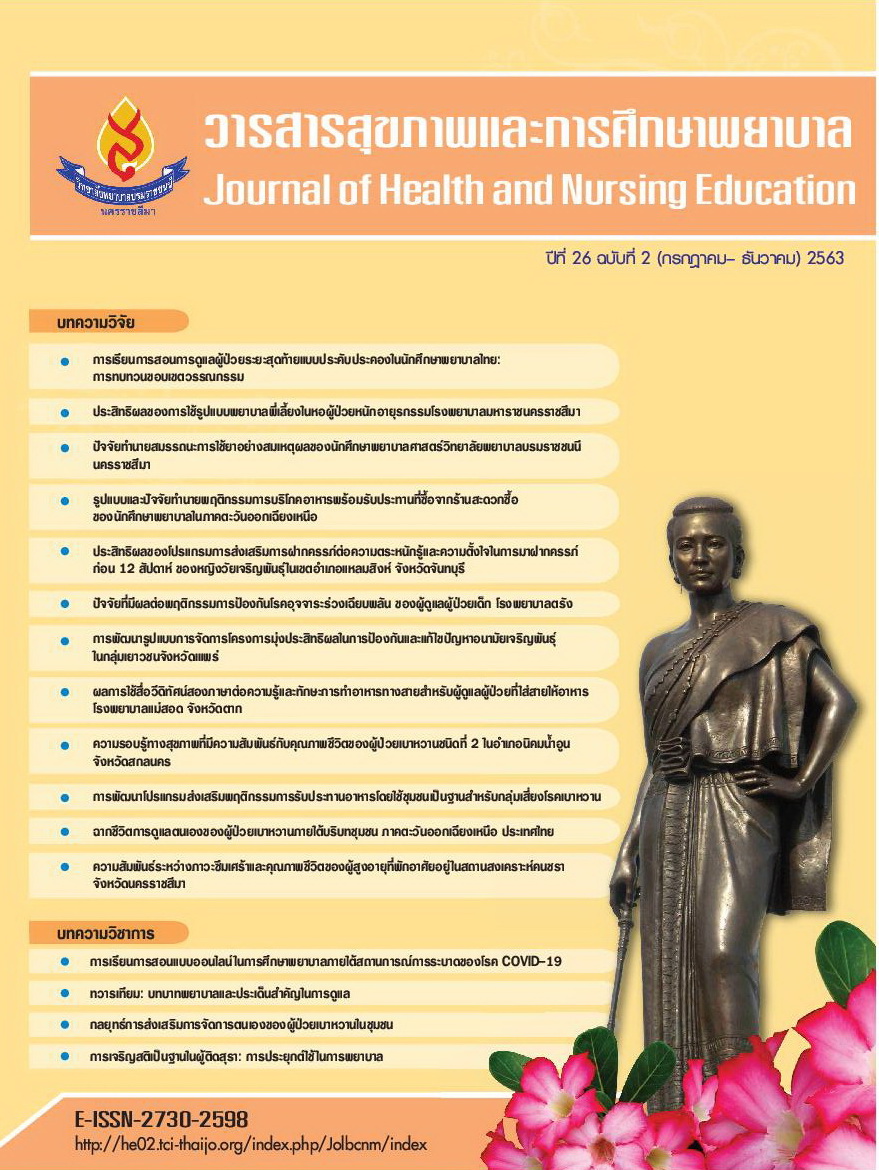 Section
Research articles
บทความที่ได้รับการตีพิมพ์เป็นลิขสิทธิ์ของ วารสารสุขภาพและการศึกษาพยาบาล
ข้อความที่ปรากฏในบทความแต่ละเรื่องในวารสารวิชาการเล่มนี้เป็นความคิดเห็นส่วนตัวของผู้เขียนแต่ละท่านไม่เกี่ยวข้องกับกองบรรณาธิการวารสารสุขภาพและการศึกษาพยาบาล หรือวิทยาลัยพยาบาลบรมราชชนนี นครราชสีมา แต่อย่างใด ความรับผิดชอบองค์ประกอบทั้งหมดของบทความแต่ละเรื่องเป็นของผู้เขียนแต่ละท่าน หากมีความผิดพลาดใดๆ ผู้เขียนแต่ละท่านจะรับผิดชอบบทความของตนเองแต่ผู้เดียว