Effectiveness of a Video on the Knowledge and Practice of Making a Blenderlized Diet for Caregivers of Patients with Nasogastric Tubes, Mae Sot Hospital, Tak Province
Nattasaran Wongtecha

Kittiporn Nawsuwan

Wiparat Suwanwaiphatthana
Keywords:
video media, knowledge, blenderized diet preparation, blenderized diet, caregivers
Abstract
Providing the knowledge to, and demonstrating making of, a blenderlized diet for caregivers is the essential discharge care for preventing naso-gastric tube patients from having complications. This quasi-experimental research was aimed at comparing knowledge and preparation skill related to blenderized diet of caregivers of patients with nasogastric tubes at Mae Sot hospital in Tak province between before and after using video media. Participants were 33 caregivers who participated in this research between October 2019 and July 2020. The experimental instrument was a video narrated in Thai with Burmese subtitles. It was developed based on evidence and experts' opinions.  The instruments for data collection were a questionnaire of knowledge, which had KR-20 reliability of .65, and a Blenderized Diet preparation Skill Assessment form, which had Cronbach alpha coefficient of .71. Data were analyzed using dependent t-tests and Wilcoxon sign rang tests. Research results revealed that most (73.8%) caregivers were relatives, under 40 years of age (54.6%), and had completed primary school (42.4%). After video-based instruction, caregivers of patients with nasogastric tubes at Mae Sot hospital had significantly higher knowledge (M = 14.76, SD = 0.78) regarding blenderized diets and blenderized diet preparation skills than before (M = 9.27, SD = 2.34), t(32) = -12.86, p < .001. Therefore, Mae Sot hospital should continuously employ Thai-Burmese video media that was developed and share it with other hospitals. Enhancement of knowledge regarding blenderized diets, as well as blenderized diet preparation skills, for both caregivers and village health volunteers is also recommended.
Downloads
Download data is not yet available.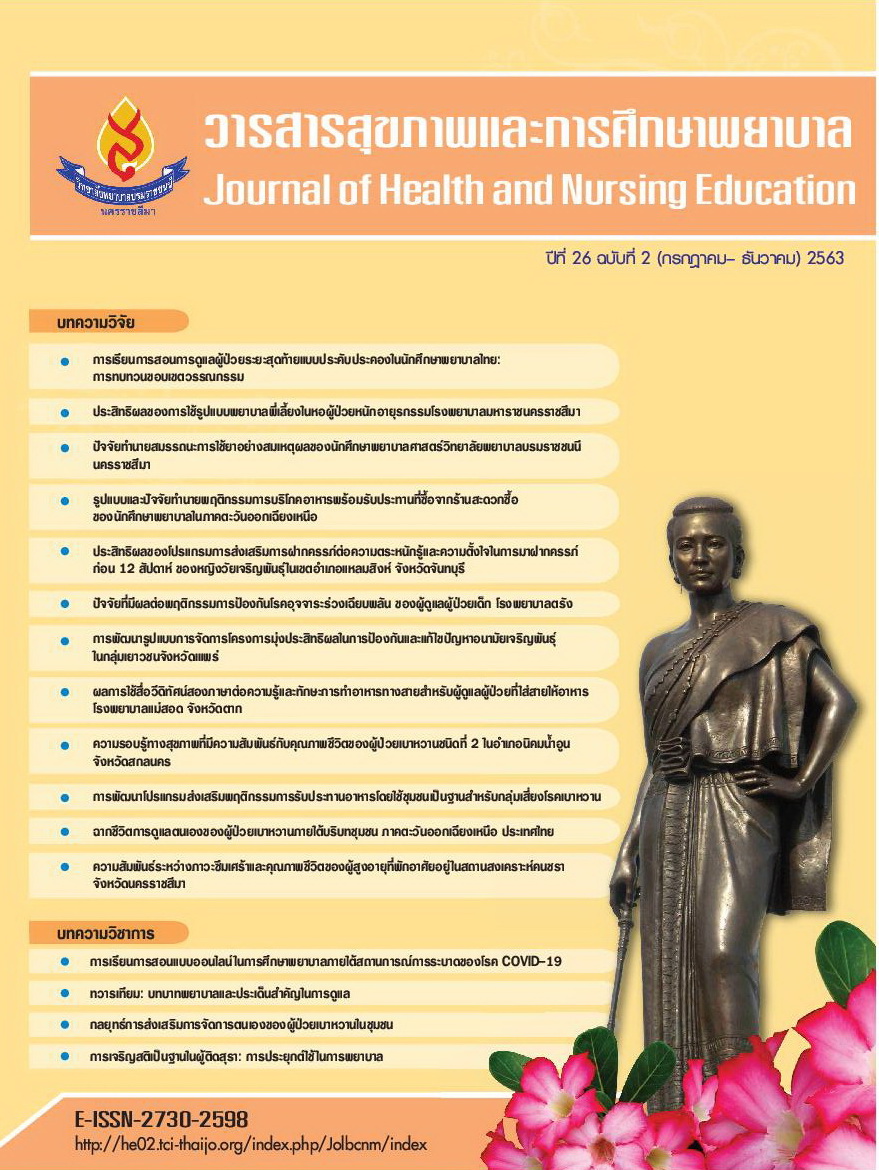 Section
Research articles
บทความที่ได้รับการตีพิมพ์เป็นลิขสิทธิ์ของ วารสารสุขภาพและการศึกษาพยาบาล
ข้อความที่ปรากฏในบทความแต่ละเรื่องในวารสารวิชาการเล่มนี้เป็นความคิดเห็นส่วนตัวของผู้เขียนแต่ละท่านไม่เกี่ยวข้องกับกองบรรณาธิการวารสารสุขภาพและการศึกษาพยาบาล หรือวิทยาลัยพยาบาลบรมราชชนนี นครราชสีมา แต่อย่างใด ความรับผิดชอบองค์ประกอบทั้งหมดของบทความแต่ละเรื่องเป็นของผู้เขียนแต่ละท่าน หากมีความผิดพลาดใดๆ ผู้เขียนแต่ละท่านจะรับผิดชอบบทความของตนเองแต่ผู้เดียว