The Development of a Community – Based Program for Promoting Food Consumption Behaviors in Pre-Diabetes Groups
Kanchana Promtong

Aporntip Buapetch

Piyanuch Jittanoon
Keywords:
promoting food consumption behaviors, community–based program, diabetes risk group
Abstract
Type 2 Diabetes is a chronic illness that requires continuous-long term care. Proper behavior modification of at risk groups' food consumption, along with empowering community involvement, will prevent or delay advancement from the at risk groups to the ailing groups. This will also strengthen the communities. This developmental research was aimed at developing a community empowerment program for promoting food consumption behaviors for diabetes risk groups. This program was underpinned with the concept of Way of Promoting Health Community with food choices and a review of 18 empirical studies at levels 1 and 2. The researchers applied the IOWA Model to develop the program, which consisted of 2 phases: the program's development and program testing. The results of this study showed that the program that was developed consisted of 3 components; 1) the three-phase program guidelines: getting together–collecting power, balancing power, and exercising power, 2) a set of six activity plans, and 3) the program media and handbook to decrease risk for diabetes with healthy foods. Three experts evaluated the content validation with unanimous approval (the index of item objective congruence = 1.00). However, they did suggest ammending its content for easier understanding and clearer communication. All registered nurses (100%) who used the program found it was feasible. They also suggested simplifying the language used in the program to be more
Downloads
Download data is not yet available.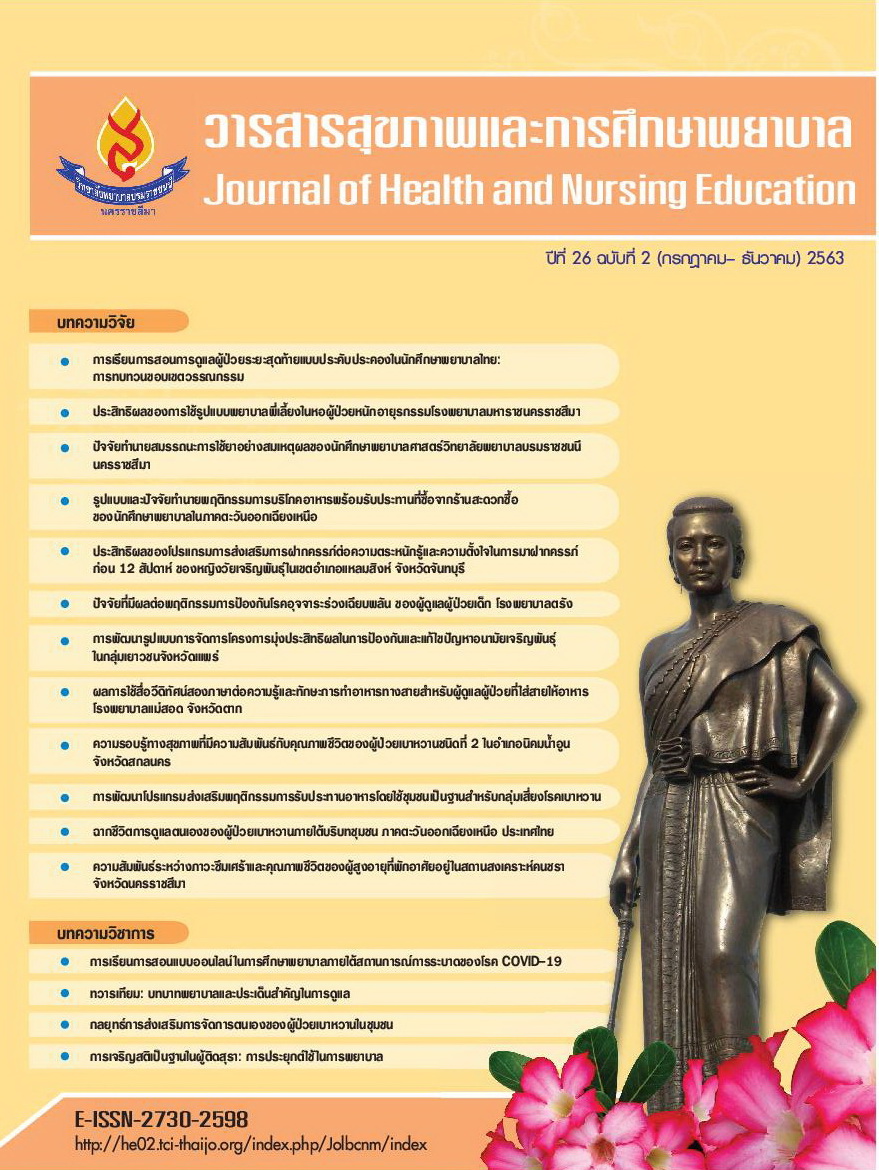 Section
Research articles
บทความที่ได้รับการตีพิมพ์เป็นลิขสิทธิ์ของ วารสารสุขภาพและการศึกษาพยาบาล
ข้อความที่ปรากฏในบทความแต่ละเรื่องในวารสารวิชาการเล่มนี้เป็นความคิดเห็นส่วนตัวของผู้เขียนแต่ละท่านไม่เกี่ยวข้องกับกองบรรณาธิการวารสารสุขภาพและการศึกษาพยาบาล หรือวิทยาลัยพยาบาลบรมราชชนนี นครราชสีมา แต่อย่างใด ความรับผิดชอบองค์ประกอบทั้งหมดของบทความแต่ละเรื่องเป็นของผู้เขียนแต่ละท่าน หากมีความผิดพลาดใดๆ ผู้เขียนแต่ละท่านจะรับผิดชอบบทความของตนเองแต่ผู้เดียว