Life Scenes of the Self-care of Patients with Diabetes within the Community Context in Northeastern, Thailand
Benjayamas Pilayon

Charoenchai Muenhor

Naovarat Senachai

Songkran Nakbun

Sukhamabhorn Phuengphasook
Keywords:
diabetes, self-care, community
Abstract
Self-care is an important factor in controlling the occurrence of complications in patients with diabetes (PDs). Those living in communities have various life-scenes of self-care.  An objective of this qualitative research was to study life scenes of self-care among PDs. It was a part of a study on the development of a monitoring and personal health care application for a smartphone. Purposive sampling method was used to select informants from a community of norteastern Thailand. There were 65 primary informants, including PDs, caregivers, staff from primary care units, and village health volunteers, and a secondary informant who was the village headman. The data were collected by in-depth interviews, observations, focus group discussions, field notes, and document studies. Data were collected until data saturation was achieved, meaning that no new information was being discovered. Data quality was verified by triangulation from multiple sources, collected by different methods, and presented to the informants to review its accuracy. Content analysis was employed for data analysis. The study results revealed that there were three life scenes contributing to self-care of the PDs, including 1) normal situations in which the PDs usually took care of themselves as much as possible with regard to such things as diet, exercising, taking medicines, and having health check-up appointments;  2) emergency situations in which the PDs would initially take care of themselves and only see a doctor if their symptoms did not disappear; and  3) requiring-to-recover situations in which the PDs would seek additional self-care methods, such as taking herbal medicines and buying medicines without a prescirption. These discovered life-scenes of the PDs in this community can be applied to designing health services and planning for self-care promotion among the PDs.
Downloads
Download data is not yet available.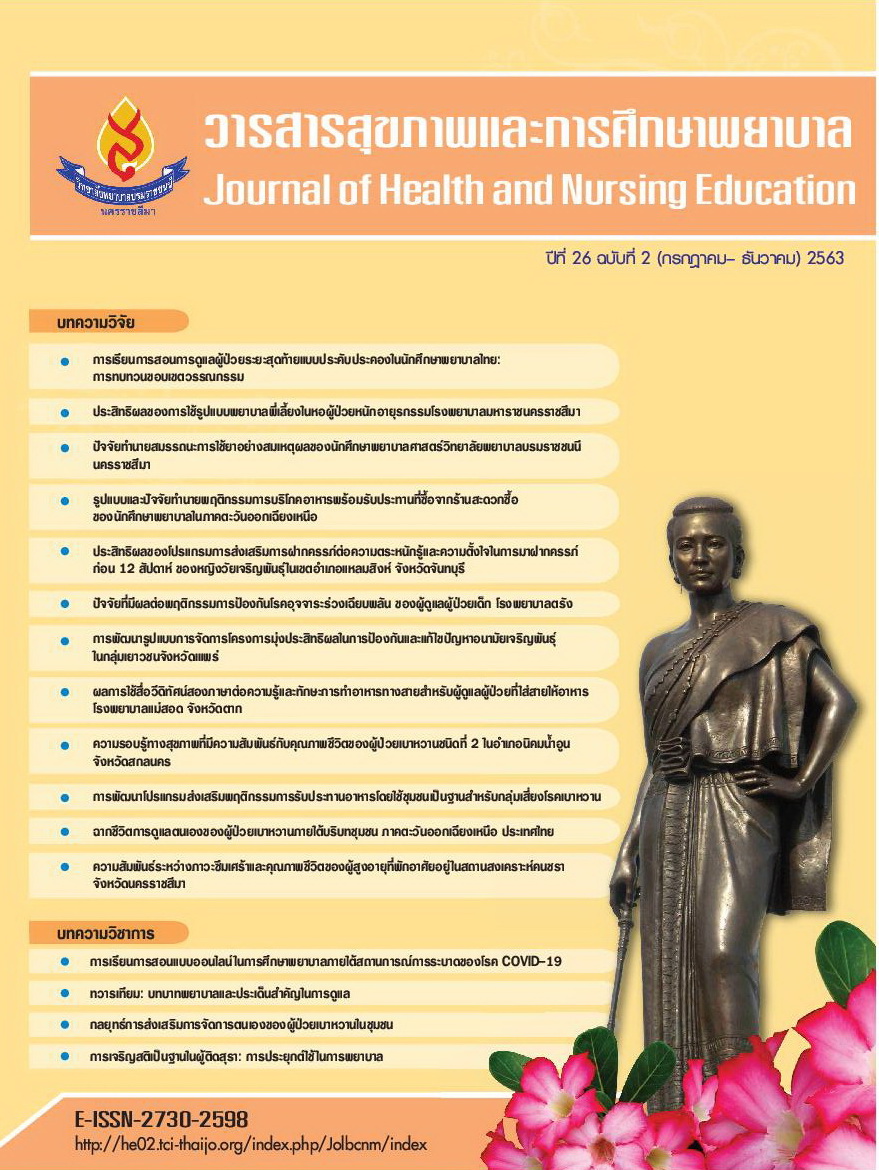 Section
Research articles
บทความที่ได้รับการตีพิมพ์เป็นลิขสิทธิ์ของ วารสารสุขภาพและการศึกษาพยาบาล
ข้อความที่ปรากฏในบทความแต่ละเรื่องในวารสารวิชาการเล่มนี้เป็นความคิดเห็นส่วนตัวของผู้เขียนแต่ละท่านไม่เกี่ยวข้องกับกองบรรณาธิการวารสารสุขภาพและการศึกษาพยาบาล หรือวิทยาลัยพยาบาลบรมราชชนนี นครราชสีมา แต่อย่างใด ความรับผิดชอบองค์ประกอบทั้งหมดของบทความแต่ละเรื่องเป็นของผู้เขียนแต่ละท่าน หากมีความผิดพลาดใดๆ ผู้เขียนแต่ละท่านจะรับผิดชอบบทความของตนเองแต่ผู้เดียว