Learning and Teaching Online in Nursing Education During the COVID-19 Pandemic
Pishet Sasow

Choosak Yuennan

Nattiya Peansungnern
Keywords:
COVID-19, online learning, nursing
Abstract
Nursing education management during the outbreak of COVID-19 requires a completely online learning method. Fully online learning methods have been initiated in response to social distancing measures that aim to reduce the spread of the disease. Nursing colleges, under the Praboromajanok Institute, has adapted their learning management and has chosen proper online applications to conduct teaching and learning, both in the theory sessions and nursing practice. The purpose of online learning is to assist the students to participate in classroom activities and to develop their nursing skills to achieve the standards and learning objectives of the Nursing curriculum. Teachers and students must have a mutual agreement on a systematic teaching plan. Initiating online classrooms must have proper planning which includes preparation for instructors, learners, equipment, and proper applications. Course selection, methods, and the process of online teaching should take into consideration the ability of the students to participate in online learning. The purpose of this article is to disseminate the guidelines for online learning in nursing education during the COVID-19 pandemic. The content includes a summary of the impacts on the nursing education system, teaching strategics in nursing, preparing education institutions both instructor and learners, online learning programs, as well as the benefits and limitations of online learning, and authentic assessments of online learning.
Downloads
Download data is not yet available.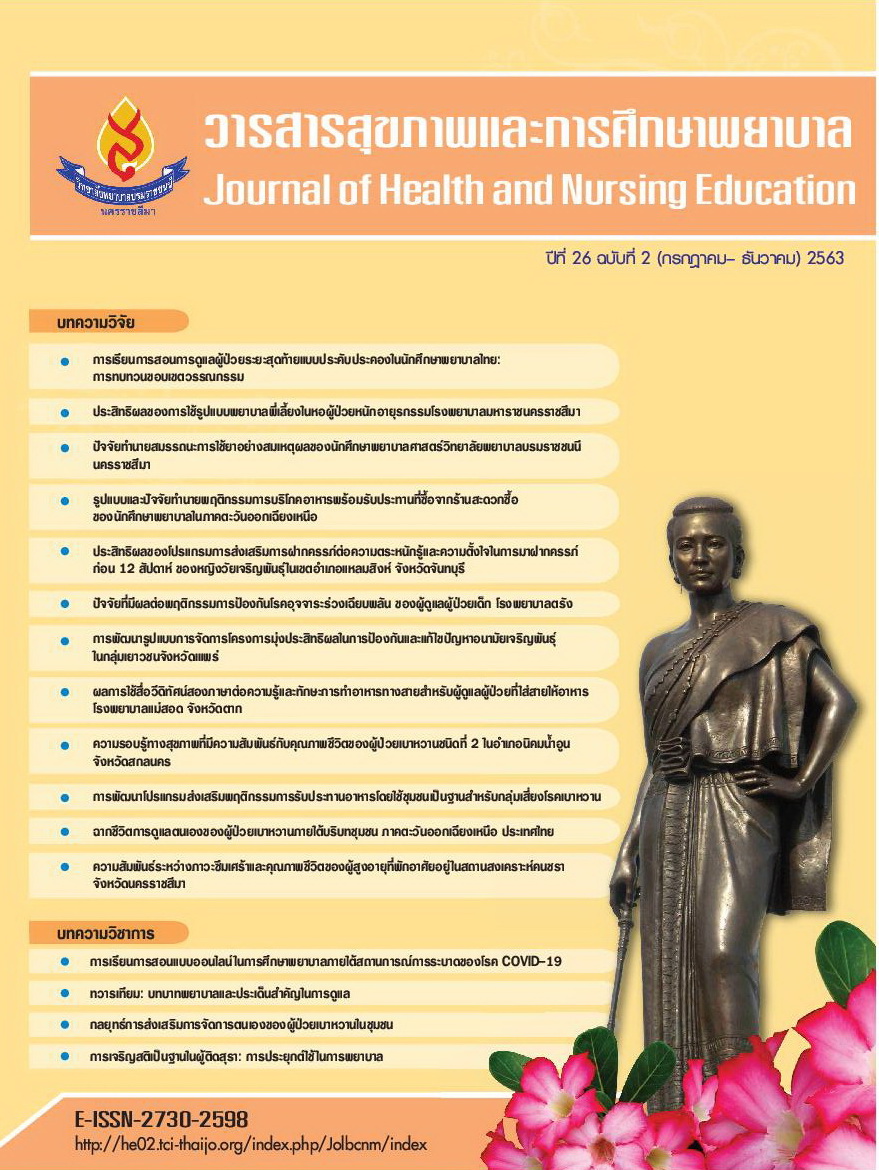 Section
Academic articles
บทความที่ได้รับการตีพิมพ์เป็นลิขสิทธิ์ของ วารสารสุขภาพและการศึกษาพยาบาล
ข้อความที่ปรากฏในบทความแต่ละเรื่องในวารสารวิชาการเล่มนี้เป็นความคิดเห็นส่วนตัวของผู้เขียนแต่ละท่านไม่เกี่ยวข้องกับกองบรรณาธิการวารสารสุขภาพและการศึกษาพยาบาล หรือวิทยาลัยพยาบาลบรมราชชนนี นครราชสีมา แต่อย่างใด ความรับผิดชอบองค์ประกอบทั้งหมดของบทความแต่ละเรื่องเป็นของผู้เขียนแต่ละท่าน หากมีความผิดพลาดใดๆ ผู้เขียนแต่ละท่านจะรับผิดชอบบทความของตนเองแต่ผู้เดียว