Intestinal Ostomies: The Role of a Nurse and the Vital Aspects of Essential Care
Supisara Suwanchat

Sadee Saithong Hamilton

Phitchayanat Kaewampai

Suwimon Maneechote
Keywords:
intestinal ostomy, the role of a nurse, vital aspects of care, ostomy care
Abstract
An intestinal ostomy is a surgical procedure performed on the intestine to create of an opening through the abdominal wall, temporarily or permanently, to reduce the pressure in the intestine and to excrete the feces above the point of a bowel obstruction, to prevent the feces from passing through an anastomosis site, or to divert enteric contents in patients who have anastomosis insufficiency after the removal of a cancerous tumor. Post intestinal ostomy surgery, most patients face physiological changes related to fecal excretion which affects the patients and their families, resulting in a decrease in their quality of life. Therefore, essential care for these changes should be included during the pre- and post-operational periods of care to ensure effective nursing outcomes for the patients in the following areas: the operational safety; psychological, emotional and social needs response; ability to self-care; and optimal quality of life. Nurses should recognize and understand the indications, classifications, and complications related to an intestinal ostomy, the related physiological changes related to fecal excretion and its effects on the patients: the nurse's roles; and the essential aspects of ostomy care. This academic article presents the vital aspects essential to effectively caring for patients having ostomy based on a review of literature and the authors' experience.
Downloads
Download data is not yet available.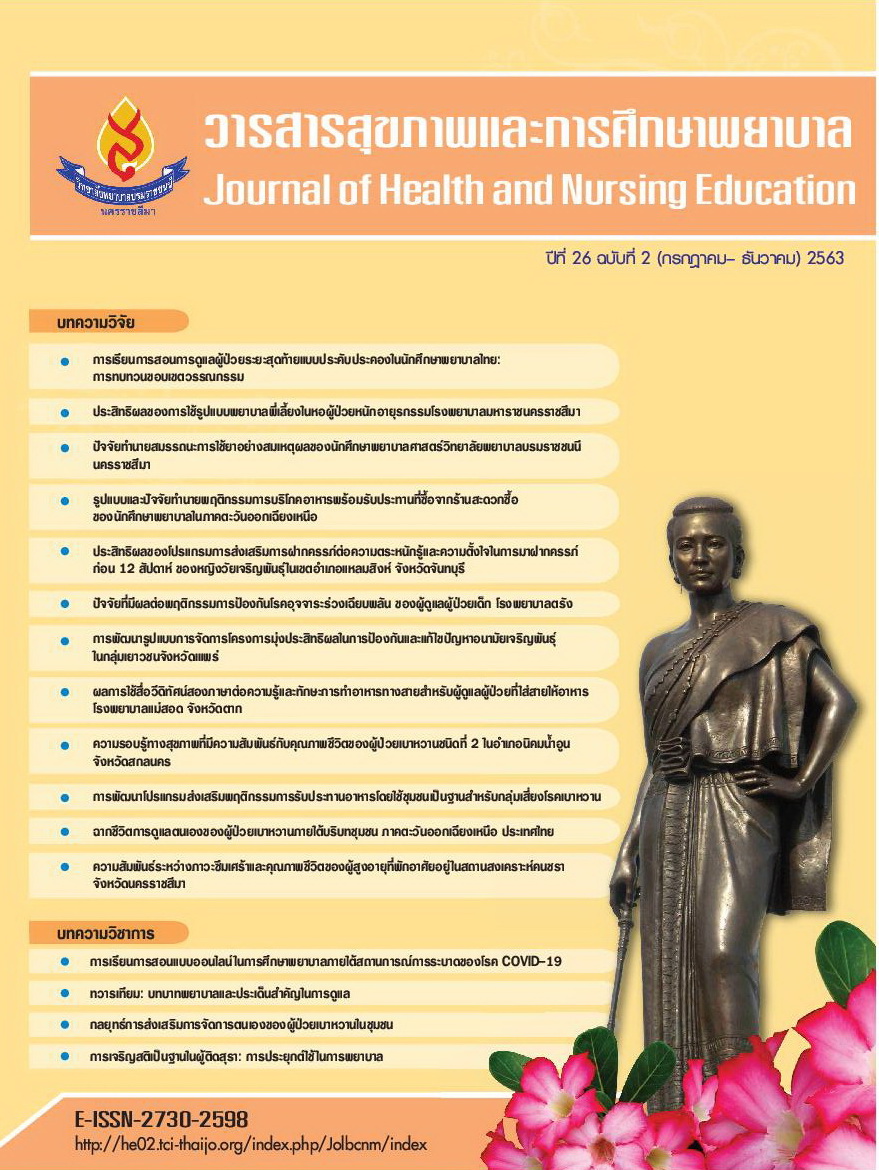 Section
Academic articles
บทความที่ได้รับการตีพิมพ์เป็นลิขสิทธิ์ของ วารสารสุขภาพและการศึกษาพยาบาล
ข้อความที่ปรากฏในบทความแต่ละเรื่องในวารสารวิชาการเล่มนี้เป็นความคิดเห็นส่วนตัวของผู้เขียนแต่ละท่านไม่เกี่ยวข้องกับกองบรรณาธิการวารสารสุขภาพและการศึกษาพยาบาล หรือวิทยาลัยพยาบาลบรมราชชนนี นครราชสีมา แต่อย่างใด ความรับผิดชอบองค์ประกอบทั้งหมดของบทความแต่ละเรื่องเป็นของผู้เขียนแต่ละท่าน หากมีความผิดพลาดใดๆ ผู้เขียนแต่ละท่านจะรับผิดชอบบทความของตนเองแต่ผู้เดียว