Mindfulness-Based Interventions for Alcohol Addiction: Application in Nursing
Tayawee Juntarawiwat

Buppha Jaimun

Sumonthip Boonkerd
Keywords:
mindfulness meditation, mindfulness - based, alcohol dependence, application
Abstract
Current alcohol rehabilitation therapy has advanced significantly in terms of science and technology. However, the therapy is still primarily focused on symptomatic treatment, whilst problems among alcoholics are complex and diverse.  By understanding the changes in the brain and nervous system, motivational behaviours, and their reality are essential to describing the alcoholic addiction cycle and relapse mechanism. This article aims to illustrate the mindfulness meditation foundation knowledge which has been applied in alcohol addiction patients using a literature review of various resources, including research articles, grey literature, and therapist's experiences in applying mindfulness meditation to alcoholics' rehabilitation. By illustrating the drinking mechanism, previous behaviour a rising from alcohol addiction, behaviour of alcoholics, and the effectiveness of mindfulness-based interventions for alcohol addiction, the mindfulness-based interventions help alcoholics to understand the mechanism of addition, reduce alcohol consumption and cravings, and automatically change their drinking behaviours. Therefore, mindfulness-based intervention for alcohol addiction is an option for health care providers to utilise in a rehabilitation programme to help restore the balance of life and prevent relapses among alcohol addicted patients.
Downloads
Download data is not yet available.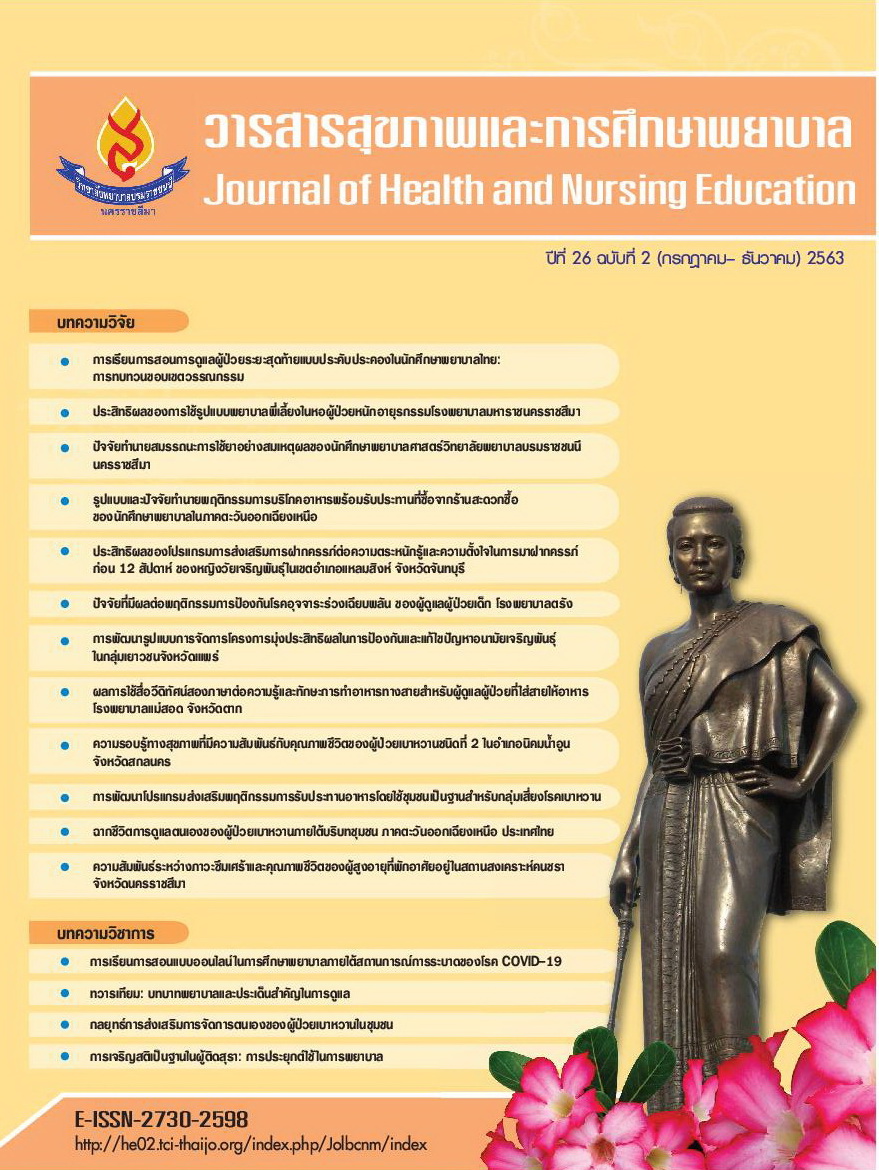 Section
Academic articles
บทความที่ได้รับการตีพิมพ์เป็นลิขสิทธิ์ของ วารสารสุขภาพและการศึกษาพยาบาล
ข้อความที่ปรากฏในบทความแต่ละเรื่องในวารสารวิชาการเล่มนี้เป็นความคิดเห็นส่วนตัวของผู้เขียนแต่ละท่านไม่เกี่ยวข้องกับกองบรรณาธิการวารสารสุขภาพและการศึกษาพยาบาล หรือวิทยาลัยพยาบาลบรมราชชนนี นครราชสีมา แต่อย่างใด ความรับผิดชอบองค์ประกอบทั้งหมดของบทความแต่ละเรื่องเป็นของผู้เขียนแต่ละท่าน หากมีความผิดพลาดใดๆ ผู้เขียนแต่ละท่านจะรับผิดชอบบทความของตนเองแต่ผู้เดียว